Well I've been slower getting up an update than I intended, sometimes life just happens and you have to hang on and enjoy the ride!
I have had a very busy span of days here. I went to a very good friends house, visited the farm, babysat an extremely pregnant bitch for a wonderful breeder, helped another friend with picking up a visiting boy from the States to breed to her girl, and am looking after one of "The Jersey Boys" for Joan while she is away. Now known as "Josh" he is 3.5 months old now and keeping me very busy by chasing after him and following up on all of his antics!
Through all of this I have also broken my camera lens. Talk about feeling lost. 🙁 I did decide to dig out my old point and shoot camera for this post. Maybe I will be brave and take some of Josh as well. Very upsetting.
On top of alll of that, and what this post is about….
I'd like to introduce you to "Teesha" or "Little Girl" as I have been calling her. Little Girl is approximately a year and a half years old, and weighed in at a huge 13 lbs at the Vet on Tuesday. She is very sweet, but extremely shy.
Her first night here.

Little Girl came into the Cavalier King Charles Spaniel Club of Canada rescue on Thursday July 8th. She was rescued from an unfortunate situation along with quite a few other Cavaliers. Many of which have been returned to their breeders. Part of being a Club member is adhereing to certain Club rules and ethics surrounding responsible breeding. One of those important rules is being responsible for every dog you breed in the event that something happens and they need to be rehomed. A dog from a responsible breeder will always have a home to return to, and hopefully will have no reason to end up in a shelter or unwanted.
From this unfortunate situation a total of five cavaliers are now in rescue with the CKCSCC. Little Girl will be staying with us for as long as it takes for me to evaluate her health, social well being, and eventually find her a wonderful home.
When I first met Little Girl on the 8th no one could touch her. She was quivering, shaking, panting with stress, and plain scared. You could not approach her or she would run. From our very fast initial evaluation of all the dogs brought into rescue it was clear to me, our rescue coordinator and another experienced breeder that she would need to be carefully rehabilitated before finding her a new home.
I immediately knew that I was in the best position to provide that. Relatively speaking I have a fairly quiet home and two very well socialized girls that could help her learn to become more confident in herself, and proper doggy etiquette. Without a second thought I brought her home and started the journey in allowing her to become a sweet, well mannered, and confident little cavalier.
It has now been just over a week since she has been here and she is quickly turning into a different dog. She is still cautious regarding touch, petting, and approaching her, however she wants to follow you around and keep an eye at all times on where you are. She will let us touch her, give her a belly rub, pick her up, and finally is going out into our yard without assistance. She has yet to have an accident in the house, and is quiet her crate. She has been an absolute joy to have in our home. She is not destructive or disruptive.
Today since she was doing so well I decided it was time to give her a bath. Due to her limitations regarding touch and her being completely unsettled etc here I wanted to wait and not push things with her until she was more settled. After having a cuddle with me on the couch for the last few nights, letting me pet and touch her without her backing off, and another cuddle this morning I figured it was time to tackle another hurdle. The bath and basic groom.
Like I mentioned earlier my lens on my camera is broken so these are taken with my old point and shoot. 🙁 I'm so upset about that still! I will replace it, just haven't yet.
I ran some warm water, quietly picked her up and put her in the laundry tub. I am pleased to say she did absolutely wonderful with her bath. She sat quietly while I scrubbed her from head to tail. I think she enjoyed the massage I give my guys in the bath. As you can see by the colour of the water, she needed it! I had to rinse and fill the tub back up three times before the water was rinsing somewhat clean.
In the Tub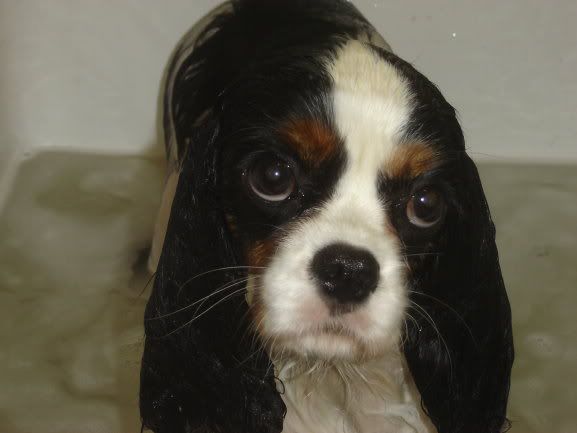 When the bath was completed she was quite happy to let me wrap her in a towel and dry her off. Pink for the princess of course. 🙂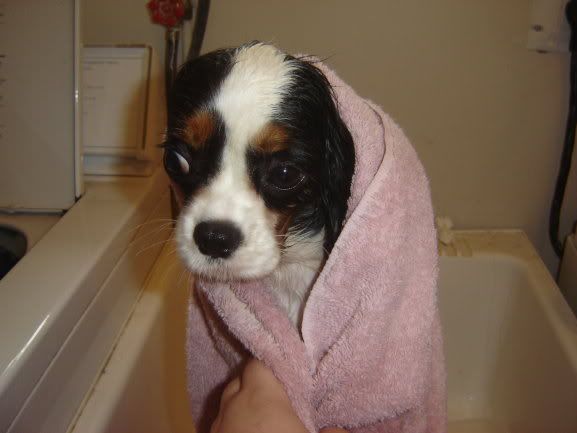 After the bath it was time to tackle another pressing issue. Her disgusting ears and teeth. With the help of some cheese I successfully introduced her to ear cleaning and teeth brushing.
Cheese is wonderful!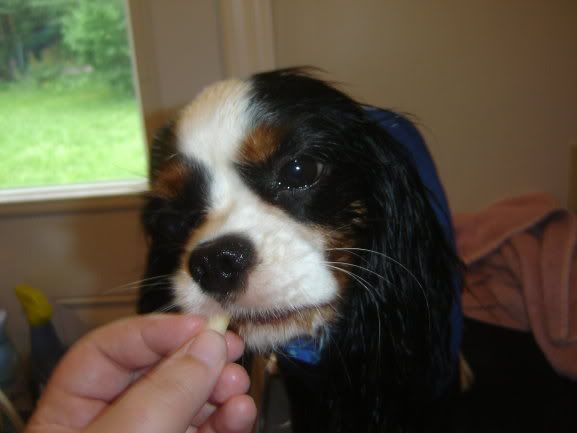 Her ears were an absolute disgusting mess. I made a good start at them as you can see by the picture, however they are not completely cleaned out yet. She was getting a bit upset with the ear cleaning. I can't really blame her at that point as we had dirtied quite a few cotton pads. I will have to go at them again later on. Overall though she was very well behaved since I'm sure her ears were bothering her from being so dirty.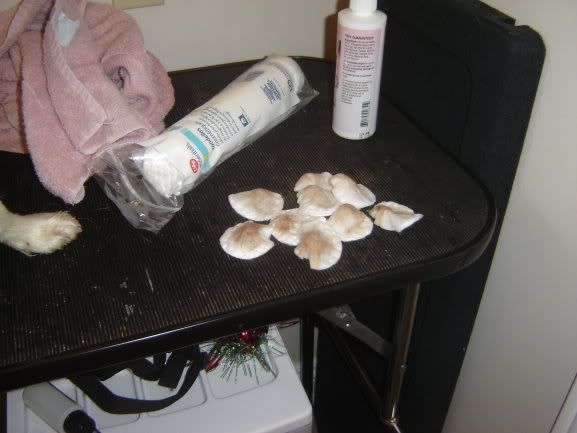 I introduce tooth brushing by allowing my dogs to chew the toothbrush and eat the toothpaste off of the brush. Whatever is in that "chicken" flavoured paste sure tastes good as both of my two love getting their teeth brushed.
I could get used to this tooth brushing thing!

After ear cleaning and tooth brushing, I figured I had pushed it far enough for one day for this girl. I quickly put some of my favourite Vellus Satin Cream on her coat, used some Isle of Dogs grooming spray on her feathers and stuck her in Mylee's drying coat.
All done and clean,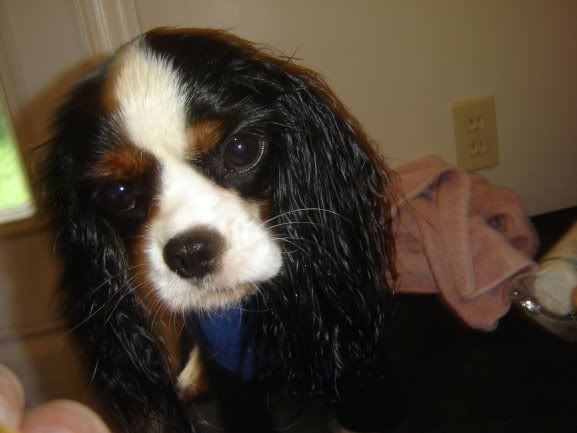 On the couch, with pillows, drying out. Yes my dogs are spoiled!

And a picture of Josh, you can see how he has grown. I hope to do an update on him next. 🙂
I'm hopeful that little girl will be ready for a new home soon. I am planning on tackling some more "challenges" like going to the park and meeting some strangers in the next week or so. If you know anyone or are interested in this special girl please contact me. She does have a health issue however I am encouraged that it will be fairly easy to maintain and manage. She will need a fairly quiet stable home, maybe with another cavalier or two since she is used to having other cavaliers around. I doubt she will ever be the outgoing, love everyone type like most cavaliers however I am confident she will make a very sweet and loving pet for her family. I can't wait to see how she progresses and grows in personality as she stays here.