Yesterday was a very hard day for my family. We said Goodbye to our much loved German Shepherd Riely.
Riely came into our lives about 5 and a half years ago. He was 5.5 years old. His elderly owner had passed away, and poor Riely was not doing well in my brother's good friends house with a bunch of other dogs. He had went from being King of his castle to having his entire world turned upside down. He was not eating, he was aggressive with those who tried to take him from his house, and he was very depressed.
My family had been somewhat searching for a dog to replace my Belgian Sheepdog "Leo" who had passed away months earlier. On a farm a dog is not only a pet, but an absolute necessity and a key member of the family. They alert when someone arrives, and also are a big deterrent for equipment and tools to stop walking off on their own. (being stolen in the night.) Since the passing of Leo several things had went missing from our sheds and workshop. We needed to find a dog for the farm.
My brother David knew this. He also saw Riely's situation when he went to visit his good friend and it was determined that he would be so much happier living on the farm with my family. The problem was my Mother was terrified of most dogs and especially scared of German Shepherds. Dave called and told her that he was bringing home a Collie x Shepherd so that my Mom wouldn't freak before she met him. After all she thought Collie's were beautiful. Needless to say he was the funniest looking Collie x Shepherd any of us had ever seen!
After settling in it didn't take Riely long to decide he absolutely loved the country and farming life. It also didn't take long for Riely to decide that my Mom and Brother were his favourite people in his life and needed to be protected fully. He didn't care that my Mom was scared of him. He watched her and followed her around like her own personal security system. My brother David moved to Calgary not long after and Riely became even more attached to my Mom. As much as my Mom would never admit it, Riely was 100% devoted and in love with her. He really didn't care that well for anyone else. He still barked in alert at my other brother and father when they came in the driveway. In fact the first time I met Riely he wasn't even going to let me in the house! It took me several years of bringing home tasty cookies, and stinky sticks(bully sticks) for Riely to be happy to see me when I visited.
Protecting his new home and family was the most important thing to him and he did it very well. He adored having a job and took it very seriously. In his younger days he would make patrols around the property making sure everything was ok. Even as his body was failing him he still made every effort to follow my Mom wherever she went.
He was also incredibly loving and kind to my Cavaliers. I'm not sure if it was because they were little and they were girls or what, but he was so patient with them. When I first got Zoey no one was sure of how Riely would react. We had never seen him with other dogs, and we knew that he did not particularly get along well with other male large dogs. I was worried but knew that they needed to meet and hopefully get along. I enjoy visitng my family and I especially enjoy bringing my dogs when I do. You'll see by the pictures below that Zoey could pretty well get away with anything. Zoey quickly decided that Riely was wonderful. She loved to crawl all over him and lick his ears. Later on she'd boss the poor guy around and convince him to let her eat his dinner, and any cookies he might have. Always the gentleman he'd graciously let her eat her heart out. Much to my dismay.
My family and I will for sure miss the big guy and the large role he played in our lives. I know my Mom will especially miss him. There is no doubt in my mind he will be looking down over his farm, his family, and especially his favourite person.
A beautiful shot of Riely taken by my sister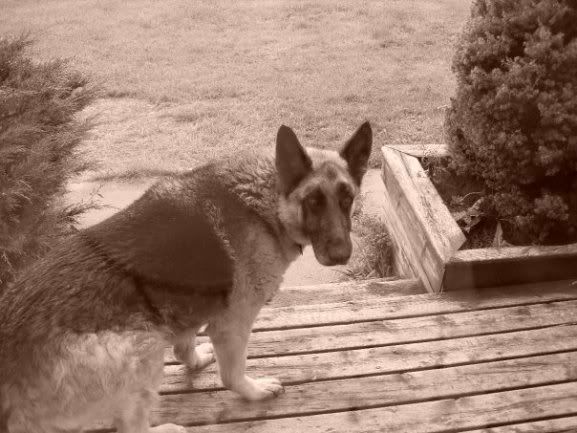 Zo as a baby and Riely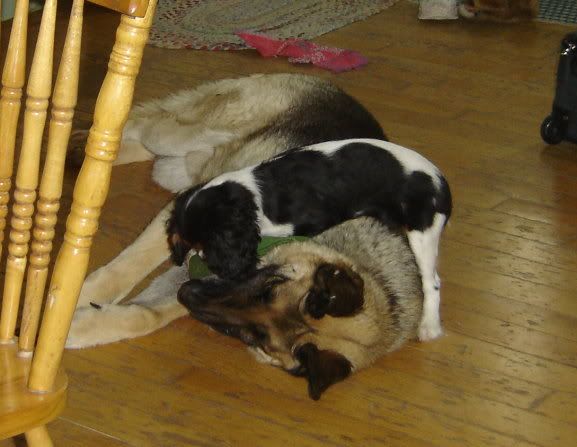 His sweet intelligent face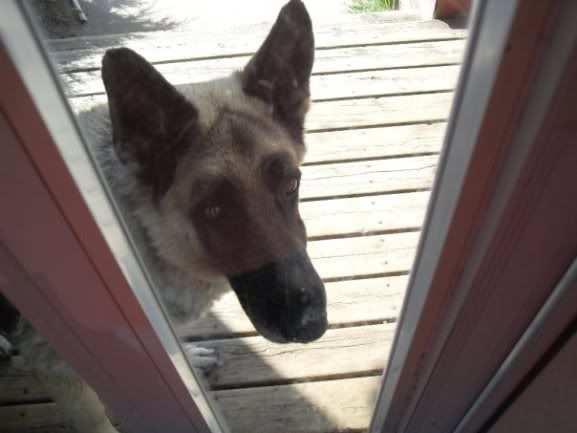 What is a farm dog without a John Deere bandanna?

One of our last walks together. My brother was home from Calgary and took this shot on our walk. Riely wasn't doing well at this point but wouldn't be told he couldn't come. It just made things worse. So we went slow and steady for him.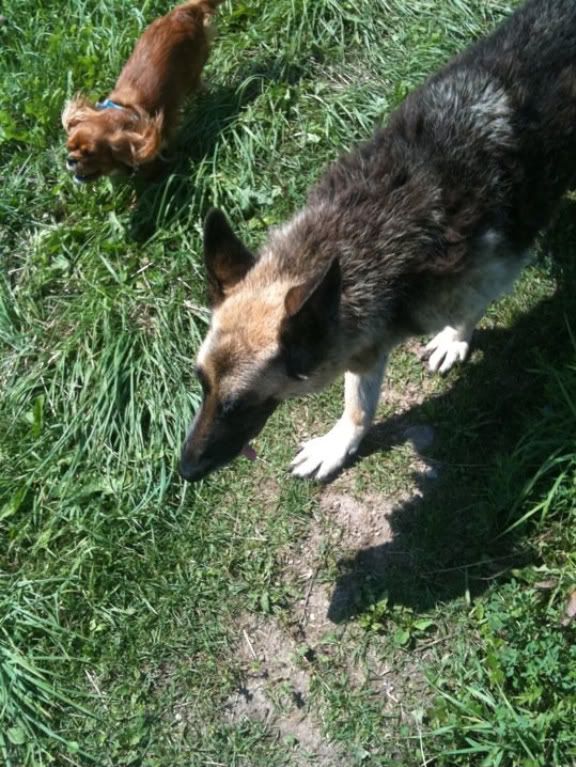 Doing what he loved to do best. Protecting and keeping a watchful eye.