Step One: Place dirty little red dog in the laundry tub.

Step Two: Drench completely with water as little red dog starts to get very unhappy with her owner.

Step Three: Shampoo with your favourite doggy grooming products. For us around here it is Vellus! Everything works best when diluted so use an empty bottle and dilute per the product instructions. Watch as little red dog's face becomes progressively more PISSED at you.

Step Four: Rinse shampoo really well out of the coat. Pay extra attention to soap in the ears. When fully rinsed apply your favourite conditioner. Allow a few minutes for it to soak into the the coat. Try to not laugh at the little face glaring at you impatiently.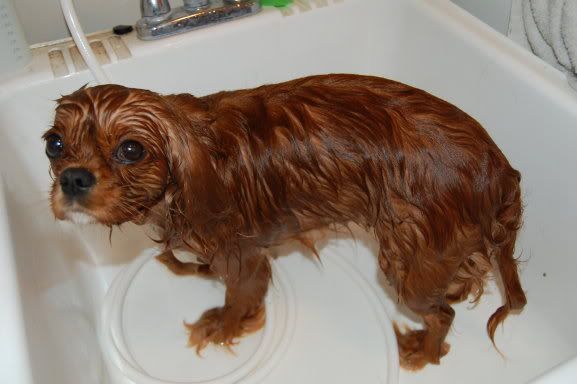 Step Five: Take the Princess's freshly warmed towel out of the dryer.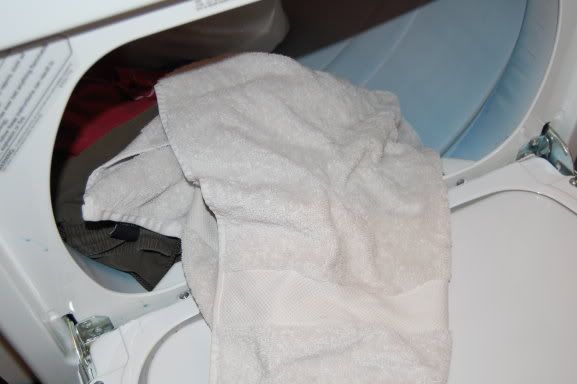 Step Six: Wrap said red Princess in her warm towel.

Step Seven: Complete a pedicure on the spoiled red princess.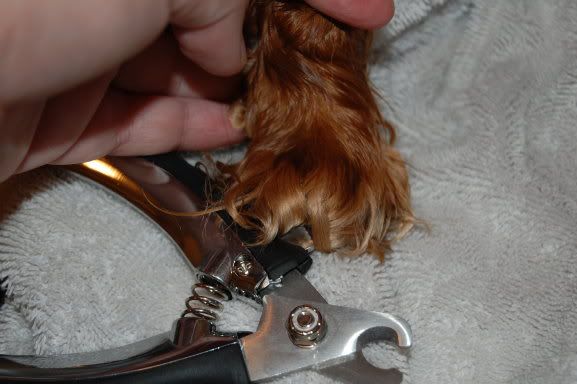 Step Eight: Brush her beautiful white teeth, while trying to avoid the big tongue trying to eat all the toothpaste off of the toothbrush.

Step Nine: Carefully brush out the little red dog's coat so that it is laying flat. Our favourite brush is Chris Christensen's wooden pin brush. It was first recommended to us by my good friend Sara. I then heard about it from a Bernese breeder who was selling IOD and CC shampoo with accessories at our CAvalier National Show. They were all out of purple so I bought a pink one! Perfect for spoiled girls. They are really soft and do not pull, tug or damage the coat. Mylee is very sensitive and she has no problems at all with it. I really like this brush.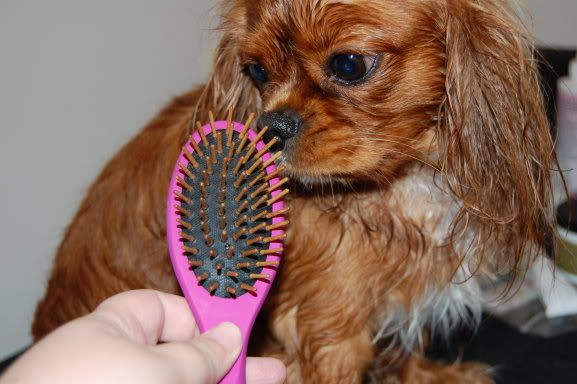 Step Ten: Apply your favourite finishing product. Vellus Satin Cream. It protects the fur, conditions it, and helps the coat lay flat when it drys under the drying coat.

Step Eleven: Check to make sure the ears are dry and clean. Apply a mild cleaner with alcohol if needed to assist in the drying of the inside of the ear.
Wet inner ears can quickly become a wonderful place for bacteria to grow and reproduce. A healthy ear should be clean of brown spots/fluid, wax and have no smell.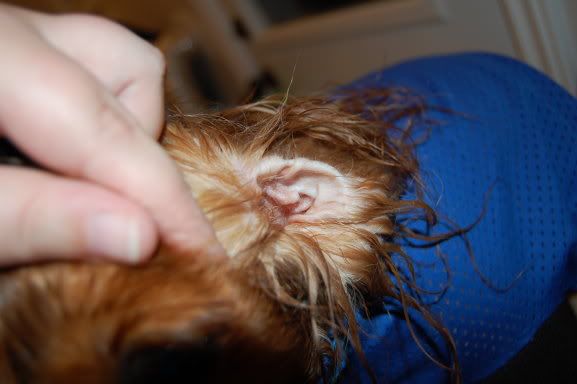 Step Twelve: Dress the little red dog in her drying coat and blow dry her ears. Provide the Princess with her favourite type of cookie while the drying is happening. Drying coats encourage the fur to lay flat when dried. If you start using them after each bath when your dog is little it also trains the fur to grow down and lay flat as well.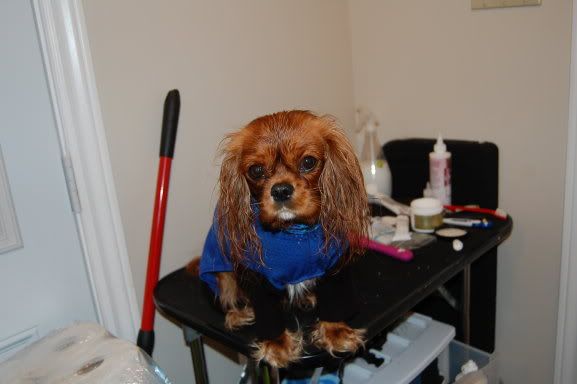 Step Thirteen: Give the other spoiled girl (who miraculously turns up after the bathing part is over) a cookie, so that she does not become upset when she figures out it isn't *HER* on the table getting teeth brushed and fed cookies.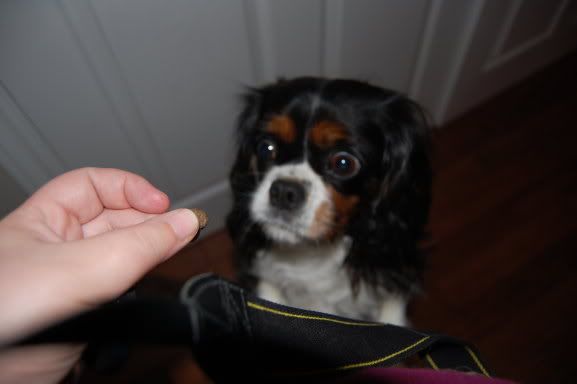 Step Fourteen: Receive the best clean doggy cuddles after, and know that all has been forgiven until next time.