Christmas shopping is not one of my favourite things to do. In fact I dread it and typically put it off to the very last minute and then immediately regret not making the effort to do it sooner. The hustle and bustle combined with an over commercialization on gifts is a bit much for me. I love seeing and spending time with my family, and we have always kept Christmas relatively small in terms of gifts. That is just perfect for me.
My one exception for my shopping rule in general is for my dogs. They are very spoiled and I know it, however it is one of my small pleasures in life. I don't tend to go overboard on them either but we do have a list of favourite things that no dog owner should be without that we wanted to share. If you want to buy your doggy any of them for Christmas we promise you won't be disappointed!
Smoochy Poochy Harness – I strongly feel that all dogs should be on a harness and not a collar. Collars are the number one cause of injuries to the throat and neck in dogs. Cavaliers especially should never be on a collar for long periods of time. Due to their pre breed disposition to having CM and SM the head and neck of most Cavaliers is more sensitive than most. Smoochy poochy is a local Canadian company who makes wonderful harnesses. Their fit is perfect, and they are so durable. They are a bit plain so getting a funky leash is a must. My girls never go anywhere without having their harness on. We love the "step-in" design as Mylee especially is very sensitive to anything near her head.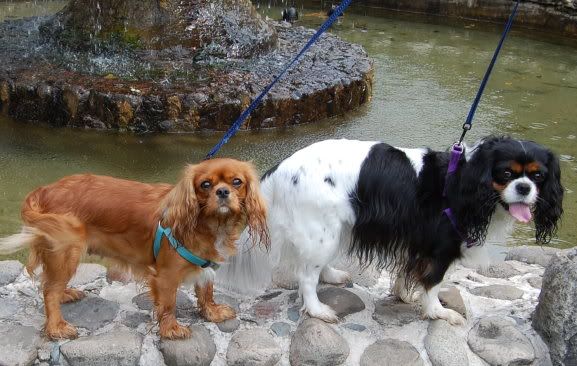 Chilly Dog Sweater– These are a relatively new purchase for me but I absolutely love them. Their construction and fit is completely awesome. Not to mention they look adorable in them! They have only worn them a few times but they are easily the best and warmest sweaters that I have ever purchased for my dogs. My lazy little Mylee was kept toasty warm at the park the other day while Zo happily played ball in hers.
Chuck it Flying Squirrel – If Zo would talk she would say that this is the best thing in the world ever. One only has to say the word "Frisbee" and all mayhem breaks loose. OCD she is about this Frisbee. My only complaint with it is that we are unable to take it to the park to play with as it is automatically stolen by the first dog that sees it. It comes in a small size and a full size. For some reason Zoey very much prefers the full size she can barely carry. I have no idea, my dog is strange.
Puppia Winter coat – If you live in Canada and have a small dog that you walk in the winter this is our favourite coat. They are very expensive however they are well made and keep my dogs warm. Especially Mylee – who if she is cold at all, sits down on her little bum and refuses to move. We haven't had too many all out walking refusals since our good friend Sara introduced us to Puppia.
You can also see the Muttluks which I will mention later in this picture.

Chris Christensen Wooden Pin Brush – I have to credit Sara for this find as well. She originally told us about this brush and at the time I didn't really need a brush so put it in the back of my mind in case I ever saw it. Well while I was at the Cavalier National a wonderful Bernese Mt. Dog Breeder was there selling IOD shampoo and Chris Christensen grooming products. She was selling this brush at a really good price for a show special and was almost sold out by the time I got to her. I've been nothing but thrilled by the way this brush works on Cavalier coats. It may not work well for all breeds but for any breed with long, silky, fine coats this brush is great!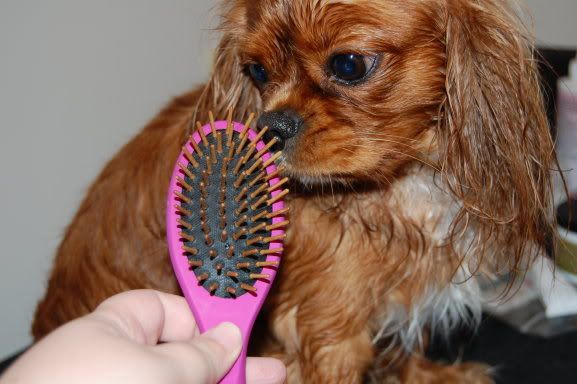 Vellus – I've talked before about my love of all Vellus products. They need another mention here. I just love their grooming products. Any dog I've bathed in Vellus comes out so soft, shiny and smelling good. It is a pricier shampoo option however it is meant to be diluted and truly works better diluted. It leaves a heavy buildup on the coat if not diluted properly. For a cavalier our "vellus" guy told us to dilute even further than the instructions as their coats are different than most. I've been even more thrilled if that is possible since diluting this even further than what I was before LESS is truly better in this case. Start with a sample kit if you want to try before spending a ton of money on shampoo.
All ready for show after being bathed and groomed in Vellus.

Tartar buster bones – There is nothing better for teeth cleaning than a good knuckle or marrow bone. Safe, effective cleaning, and pure utter chewing bliss. They are guaranteed to keep your dog busy and active for a few hours. Like with anything being chewed keep a close watch that nothing is coming off in large chunks, and that they are safe while chewing these. I have never had any problems with either type but I would never leave them unsupervised with them. If you have a cavalier or a breed with long ears I'd highly recommend introducing them to a snood and a bone at the same time. I love making snoods so if you need one please let me know! 🙂
Muttluks – Another must have if you walk your dog in any City or Town where they lay salt on the sidewalks. Salt is very damaging to doggy feet. It is quite painful for them to walk on, and very dangerous if ingested when they come back inside and lick their paws to clean them. Muttluks have been wonderful for us. They are also Canadian made. (I love supporting local and Canadian products!) They can be a bit tricky to get on Cavalier feet; however once on they tend to actually stay on. People think I'm nuts to dress my dogs in coats and boots. But for small dogs in Canadian winter, if you are not doing coats and boots you are the one who is nuts. They do truly need the extra protection.
Hide a Squirrel – Also known as Chippy's in this house. They really do look like chipmunk and not squirrel's. Aside from Zo's Frisbee this is the favourite toy here and has been for years. We have been through 3 sets of replacement chipmunks and probably are due for another set this Christmas. The house is still in great shape. This is a puzzle toy where the dog is required to get the squirrel out of the house. My two are very fast at getting the Chippy's out of their house. The chipmunks without the house would be equally as entertaining if not more.
CFSO Calendar – Last but not least – supporting a favourite doggy organization. There are so many organizations and Clubs out there working hard for various breeds and causes. As a member of the Cavalier Fanciers of Southern Ontario I'd encourage you to buy a calendar for any Cavalier lover. Our Club uses the money to put towards research, health, education, and initiatives in the breed.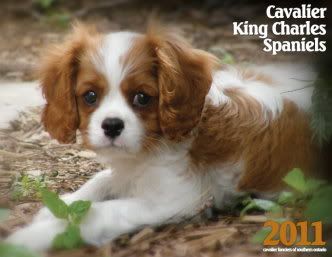 Another I will be donating to this year is the Foetal Tissue Research Project. A very important research initiative happening in our breed right now. They need support and funding and as Cavalier lovers regardless of breeder, or pet owner – if you have any extra to give this season this would be where I would send it.
We wish everyone a wonderful holiday season and happy doggy shopping!