For most, owning cavaliers comes with a love and hate relationship for their long silky coats. We all adore looking at beautifully groomed Cavaliers, we love their long ears, flowing tails, and their breed characteristic furry slippers. Its the practicalities of keeping a well groomed cavalier that most find daunting.
I really feel that with the right tools and equipment even the most unskilled can get some control over crazy cavalier coats.
I never have perfectly groomed dogs. They are far too busy being dogs to aim for perfection!
Zoey and Molly have natural affinity to burr bushes, Mylee loves puddles and mud and Sadie's white legs show everything. That being said, Mylee is a nightly bed hog, Zoey sneaks up in the mornings to act as my alarm clock, and while visiting, Sadie and Molly both enjoy cuddling on the bed too. Nothing grosses me out more than having dirty dogs in my bed, so I have learned some tips and tricks along the way.
Here are some of my favourite tools and tricks:
1. Grooming table: If you don't own a grooming table, make this the first on your list. Grooming tables provide easy access for grooming your cavalier, and contains them so they can't escape. Prior to a grooming table I used the bathroom counter, and the top of my washer as alternatives.
2. A rubber curry: This stems from my years experience with horses. They work great on loose dead coat! Zoey is shedding enough for 3 cavaliers right now and every few days I take her on the deck and tri-colour fur starts flying. Pictured is a Kong ZoomGroom
3. Kids detangler spray: I came across this tip largely by chance. My Mom always used detangling spray on our hair when we were little to ease ouchy tangles. When she got Molly she asked if there were any reasons why she couldn't try it on her. Mom found the cheapest spray she could find to try it out and has never looked back. It has been wonderful and works better than most of the expensive sprays made for dogs. It is especially wonderful at getting burrs out of dry coat…. yes we are unfortunate experts at burrs.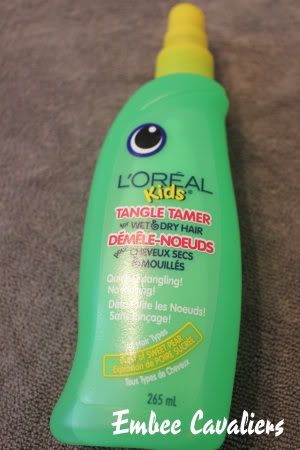 4. A good shampoo: My favourites are Chris Christensen Spectrum 10, and The Original Mane and Tail for a cheaper option. (Its cheaper if bought in the human section of Walmart vs the Pet section, same product)
5. A buttercomb: Perfect for tangles on ears and feathering.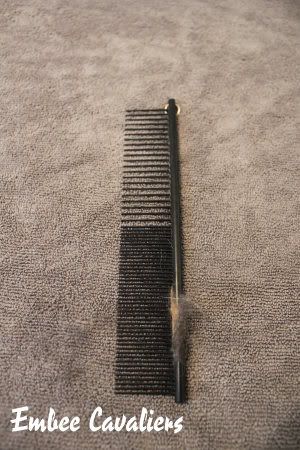 6. A finishing product: This one was recommended to me to give Molly a little bit of extra shine when she went into the ring. The person who suggested it says she uses it on her own hair every day and loves it. I'd say it worked.. she took Winners Bitch that day at the Purina National!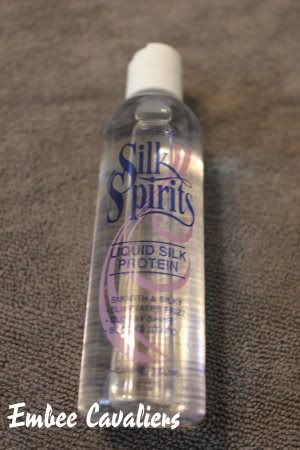 7. A drying coat: I can't say enough about the importance of owning a drying coat and using it from the start..even when they don't have much coat yet. A drying coat keeps the coat laying flat while you are drying it or while they air dry. It also helps to train the coat to stay growing in the right direction. Even now that Zoey is spayed she has kept her beautiful straight coat.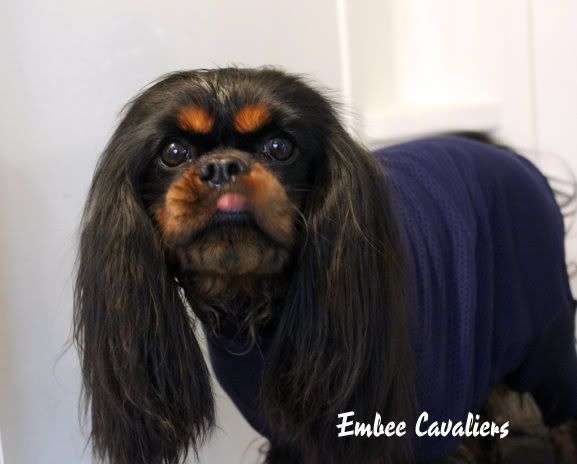 8. Yummy treats: Last but not least, don't forget the most yummy high value treats you can find. You always want the grooming experience to be very wonderful and positive for your dog. The girls love these right now.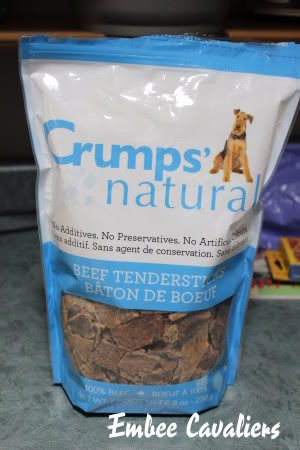 Grooming Giveaway Details
Let us know by commenting on this post what your favourite grooming tool, product, or tip is by May 25th at midnight. The furry beast and I (Zoey) will draw two random names to receive a custom made drying coat.
If commenting anonymously make sure your comment includes your name so that I can contact you directly if you win. Our giveaway is for everyone no matter their location.
Good luck and happy grooming!