We have a new champion in our family. Princess Molly found her elusive last point, and received her Canadian Championship on the weekend by going Best of Breed on both Friday and Saturday (the only days she was entered). She's officially now known as CH. Mysticmoon's Danika. Our girl sure knows how to finish with a splash! The icing on the cake was the grand championship points she picked up. We won't be aiming for her GCH. but those points definitely don't happen every day!
I did not have an official photo taken at the show. I wasn't happy with the last show photo I had taken with the company doing the photography, and I wasn't about to pay another $50.00 for a similiar result. I plan on doing some professional photos with a different photographer. For now.. you'll have to put up with the ones I took today. Not in a show groom, but still looking gorgeous! (I'm allowed to be biased)
Molly's the first dog that I have put points on, and I thank her for teaching me that showing can be fun. She thrives on the show scene and even if I don't particularly enjoy it, she puffs up her chest and prances around like she knows shes incredible. (she is) How can you not enjoy her?
I can't take all the credit for her Championship. I owe a big thank you to my friend Ivan (Fabina Shelties) for handling her to her last point while I was at work. He did a fantastic job and I'm sure they looked amazing together. Molly definitely thinks he's wonderful! I also need thank my friend Marianne Creary (Cempa Cavaliers) for showing Molly to her first two points. It seems like it was a long time ago!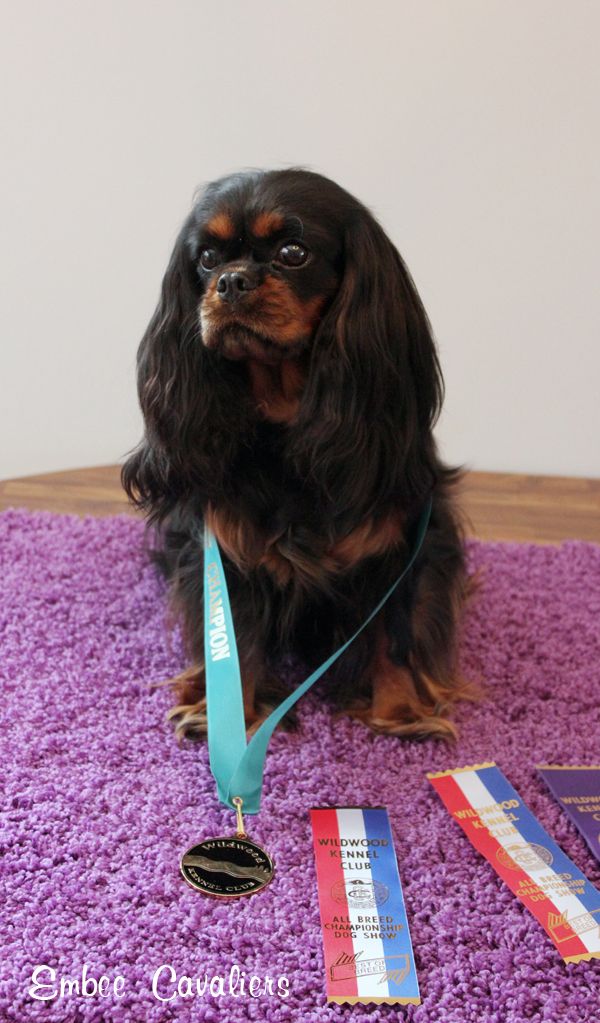 Black and tans are a bit of a challenge to show at all breed shows. Blenheim's dominate the rings, and there just aren't many wholecolours being bred and shown. They have to be extra special to get any attention at all, and it certainly isn't uncommon for them to take longer to become pointed.
My biggest thank you goes to her breeder Karen Murray at Mysticmoon Cavaliers for parting with Molly and giving me my foundation. Molly is in every way a credit to her breeder, and without her generosity "Embee Cavaliers" would not exist. Our future generations will be incredibly blessed to have Molly's name behind them. In my eyes she is the perfect combination of an incredible temperament, beautiful type and structure, and thus far stellar health.
I'm very distracted by someone cooking bacon!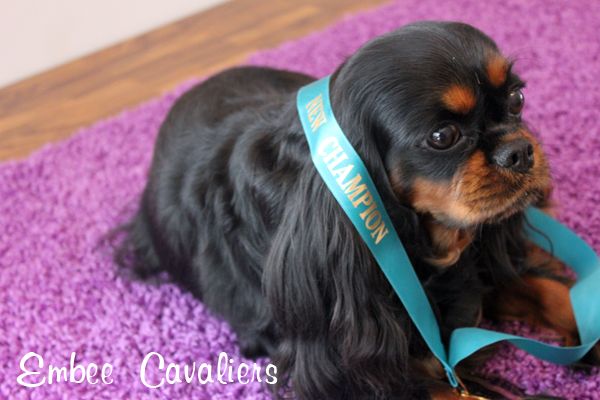 Our princess is done showing for awhile. We may do a bit later on just because she loves it so much, but for now its time for her to go back to being a scruffy farm dog. She has several months to run the fields, be spoiled rotten by my Mother, and give Rusty (the neighbours dog) you know what for daring to step on her property before hopefully expecting a litter of puppies in the summer.
Me? I get to start all over again with Sadie, Loki and Ebby! Oy.. yes it is a sickness.