We've been neglecting our blog again but I figured it was time for an update. Below is just some of what has been going on around here.
I've been to a couple dog shows with Ebby, Ruffi, and one with Zac. We're going to do one more show before the end of the year and then look at some for February. While at our shows we coordinated and participated in two meet the breed booths. Breed education is so important. It made for some really long show weekends but Ruffi is turning into a booth pro.
Working at our meet the breed booth at the Caledon dog show last weekend after winning Reserve Winners Bitch and Best Puppy in Breed with her good friend Jen.

Ruffi – Our little lady is growing up!

At the end of October the Cavalier Fanciers of Southern Ontario held their annual heart and eye certification clinic. It's an event that I feel is very important and make sure that I am around to help all day if needed. We completed close to 100 exams for both heart and eyes and I was at the clinic from 8:30 to around 5pm. This is a clinic that any owner can attend, breeder or not.
Most of the Embee crew attended and had their heart and eyes updated. As we all know, Mitral Valve Disease is very prevalent in our breed. It's not a question of IF it's going to occur, it's almost always a question of WHEN. Our goal is to eliminate early onset cases of MVD from breeding programs, breed knowing the inside and outs of their familial history, and to monitor all Cavaliers closely so that treatment can be started immediately if symptoms start occurring.
An old picture of Mylee helping with an echocardiogram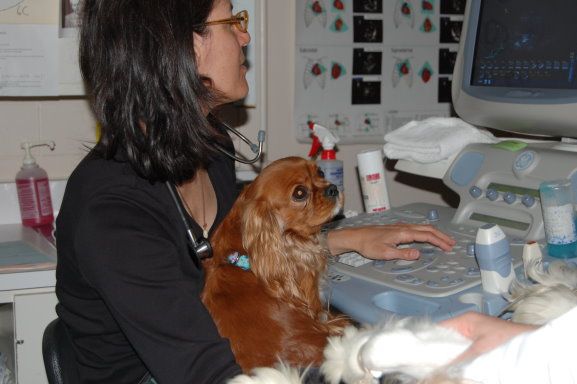 The problem with MVD is that it doesn't have a consistent pattern. Cavaliers can be diagnosed with murmurs early in life and have them never progress. They can also get murmurs when they are older and have them progress quickly. There can be many variants and you never know what path it is going to take. That is why having an annual auscultation by a cardiologist once a Cavalier reaches 5 years old is extremely important for both breeding dogs and family pets. If you are still in contact with your breeder (and I very much hope that you are!) let them know the results. Monitoring heart health, feeding a high quality diet and keeping your Cavalier fit are the best defences against the disease.
Our news on the day was mostly good. Molly at 5 1/2 years was heart clear, along with her sons Loki and Bucky. Ebby and her brother Hansel also had clear exams. Both Sadie and Zac need to be updated in the next few months, and Nika isn't due until April. Zoey's murmur (originally diagnosed when she was 6, has progressed but only slightly. It hasn't progressed very much in two years. My downer of the day was my little red dog. She just turned 7 and had a clear heart on her previous exam. She now has a moderate murmur that we will be watching carefully. No matter how prepared you are to hear the news that your Cavalier has a heart murmur, it still completely sucks. Everyone had uneventful eye exams.
Mylee says if you are over 5 consider having your heart checked by a Cardiologist!

After getting his health clearances all up to date, Loki received the news that his painting was done. He's now convinced that he is famous! Talented artist Charlene Elliott fell in love with one of Loki's photos (taken in our magic photo bathroom!) and approached me about painting him for her collection. It certainly wasn't a hard decision for me, of course she could paint him if she wanted to! I believe that prints of Loki's sweet face will be available to purchase. I will let you know when I know more.
Charz is so incredibly talented, LOOK at this gorgeous piece

Mr. Famous himself has adorable puppies in Kansas. I've been very much enjoying watching them grow up from afar. Every time their breeder/owner sends me cute pictures, its taking all of power to not jump in the car to go for a visit and snuggle.
Can't.handle.the.cute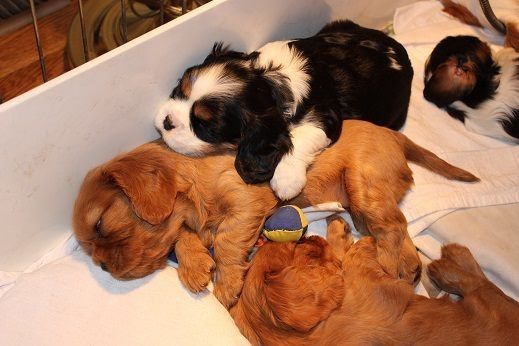 I've also been having some fun with my camera again. I took this beautiful photo of Lolly, now 15 months old at the Caledon dog show. She's officially known as Brinklow Embee Lollipop and I co-own her with Norma Moffat (Brinklow Cavaliers). Some may recognize her as Dottie!
People are usually surprised to learn that both of her parents are black and tans. She's just my type!

While Zac was visiting for his show he had to put up with my photo taking as well. I'm so thrilled with how this boy is turning out. He is such a sweetheart and completely gorgeous. He's just the right combination from his parents.
So handsome – Embee's Burning Bright "Zac"

Poor Riff-Raff and Zo had to visit the Vet to have teeth pulled. Zoey cracked a tooth right along the gumline and it was starting to abscess underneath. I of course was freaking out about having her put under anesthesia due to her heart. Ruffi had retained puppy canine teeth that needed to come out at some point, so I decided they both could go together and keep each other company. They did just fine, despite my worry and anxiety over Zo especially!
What do you mean I have to go get teeth out?!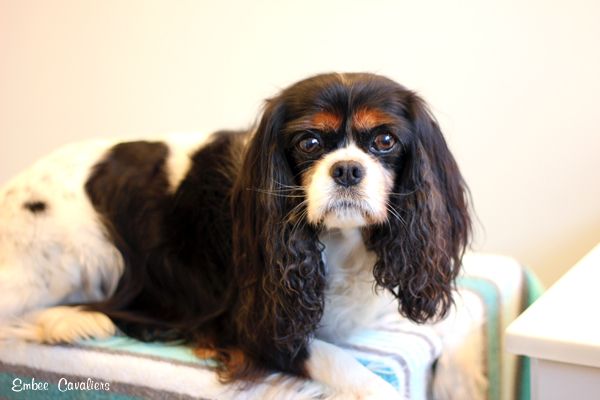 Zo is feeling much better and is back to chewing with both sides of her mouth.

That's it for now! As a bad blogger I won't promise anything but I do have more to write…. at some point, 😉 Happy Friday!