Well I've been slow with both updates and pictures…
The problem is that when you have puppies, all you do is spend time with the puppies! Mostly cleaning up pee… but also playing in the living room, going for very short trips outside, feeding, snuggling, shopping for cute toys and harnesses, having a ton of wonderful visitors over, and did I mention cleaning up pee?

The puppies are 6 weeks old on Sunday. They started the week off by moving into their new "digs" that are located right in the middle of my living room.

They also had their first real bath. Stinky? Understatement for sure… disgusting would be more accurate. Without an extra set of hands, I've decided that group baths rock.

5 babies, in the big bathtub.. together.



Not sure I like this bathing thing..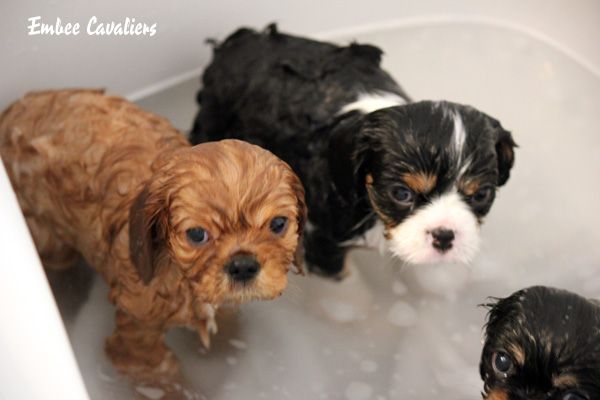 Abuse! Help!



What's the matter? You guys are wimps.. I love the bath!

This week we've also started making lots of trips outside with the puppies. I really feel that puppies need to get outside at this age. The problem is that our weather has turned very yucky. It's been both COLD and WET.. not exactly nice for little ones. I snapped some pictures on one of their quick trips outside.
"Fatboy" He is so incredibly sweet and handsome. He lives to be in someone's lap.



An adorable girl with a new nickname.."Garnet" to match "Diamond"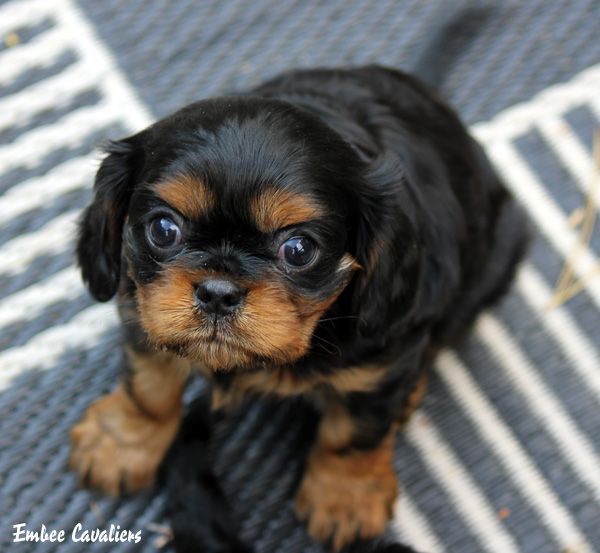 Beautiful Garnet



Our little Diamond. She's the littlest but full of attitude and spunk.



The wild man of the bunch, Boomer!



Pleeease let me out to run after Rob and Zoey! Cowboy reminds me very much of someone we know incredibly well around here (Zo). I'm very sure he is learning all of her best tricks too.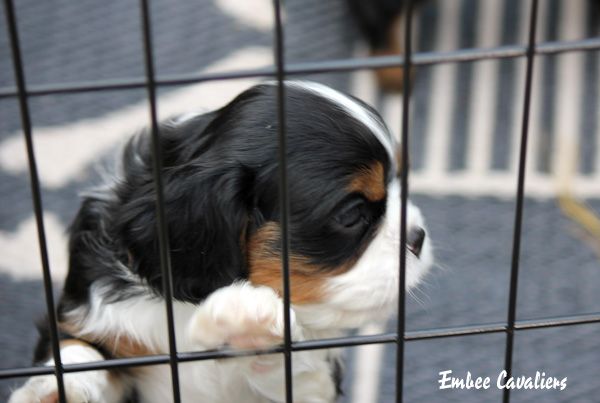 And lastly….
We bid farewell to our little Queen last week. She went to an incredible home that I couldn't have planned for her any better. The problem is that when you spend that long trying to save a puppy, watching her succeed at life, and then not only living but completely thriving…it made it so damn hard to think about, let alone actually go through with. To say I miss her just doesn't begin to cover it.
The Queen gets daily walks down to Lake Ontario, has a wonderful little cavalier sister, and has already been on a trip up to their family cottage (which our adventurous little girl adored). She is definitely living the life of royalty, and her new owners love her to pieces. For me….that makes all the heartache so incredibly worth it.
In the meantime we'll continue to miss her like crazy.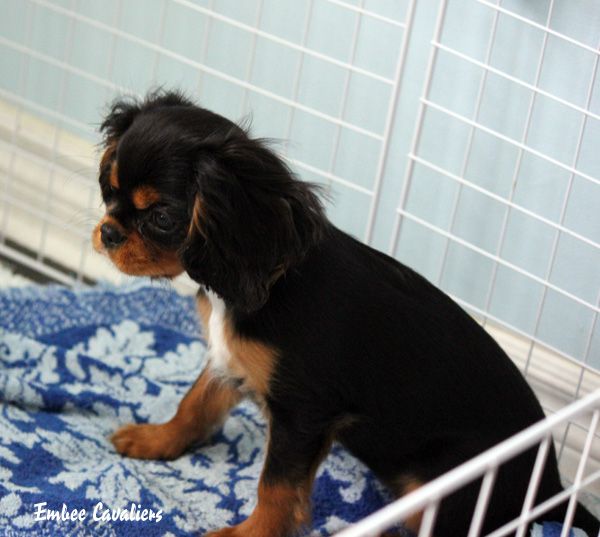 alt="Photobucket">
To a busy Sunday filled with puppy stuff. More snuggles, more playing, more wonderful visitors, more outside adventures, and yes… lots more puppy pee!
Too tired to write very much tonight, but I just wanted to share some that I took just over a week ago. A week may not seem like a long time, but for little puppies it is a ton of time for growth and development. They are already looking different, and it is time for new pictures… but these were too cute not to share.
Handsome boy!

Pretty little girl, she was the first to have her eyes open

Little girl who is fondly referred to as "Diamond", she has a tiny diamond white marking on her chest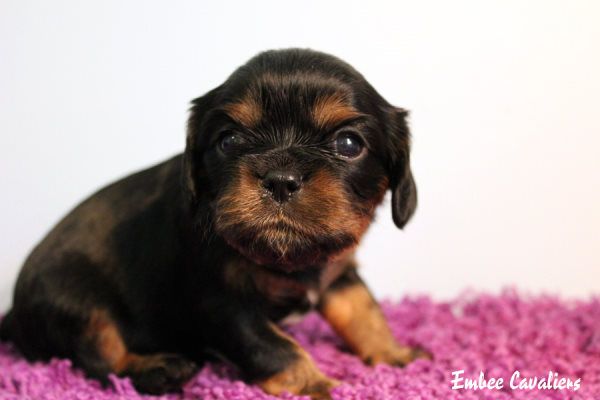 Ruby boy.. this little guy is already quite the character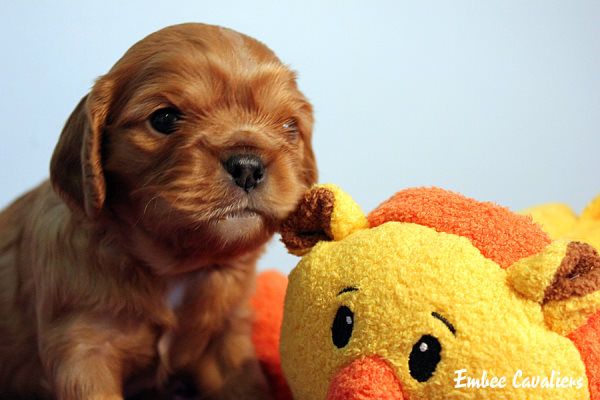 "Cowboy" not named by me, and already proudly known as someone's favourite…hmm I wonder why? He is so biased!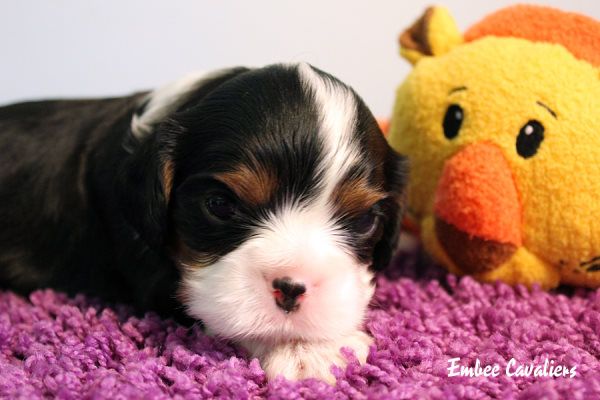 Ruby meet ruby. Mylee says "really?"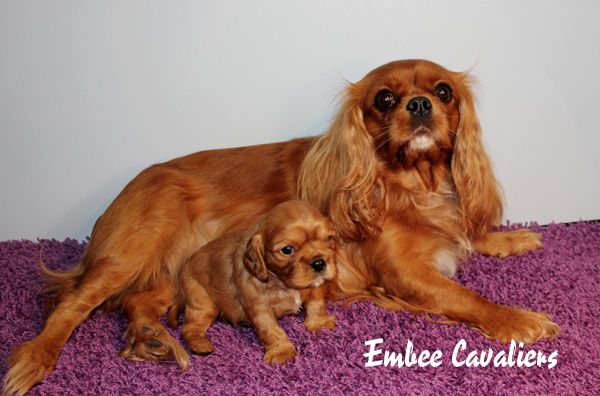 Hey, you look like me!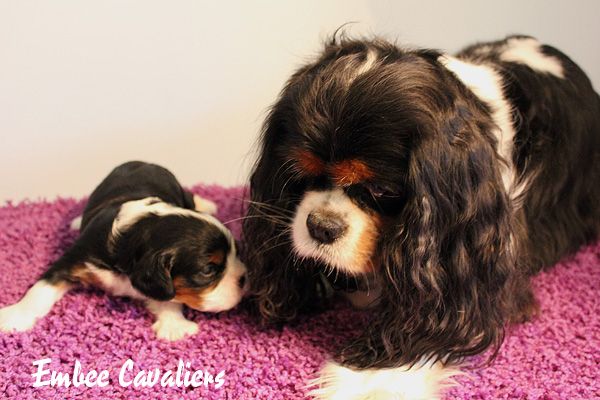 Our very hairy but adorable Loki at 14 weeks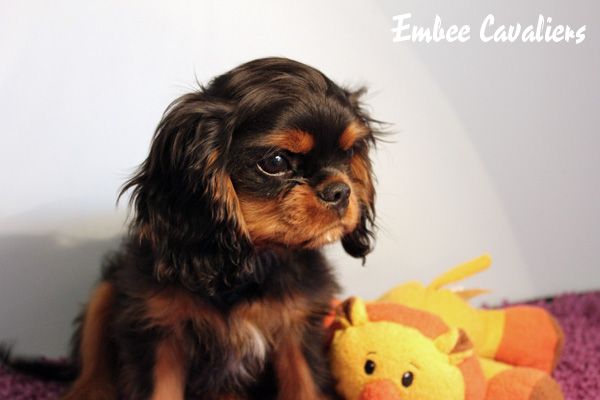 The Queen herself

14 weeks, brother and sister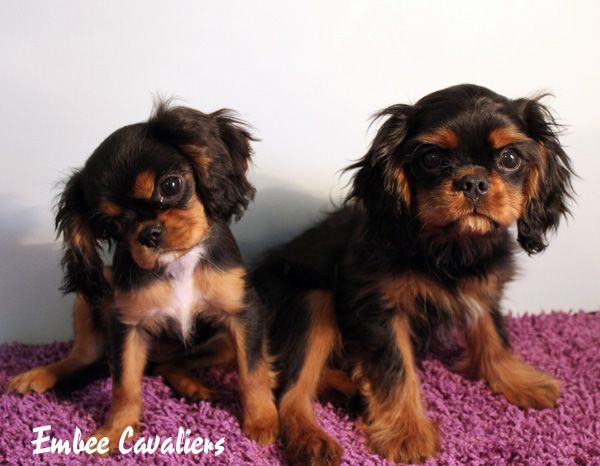 We love fall around here for so many reasons.
For me it means:
Quilts with flannel backing
Warm cups of tea
Comfy sweaters
Bubble baths and
Dragging my camera everywhere with me to capture the amazing colours.
For the doggies it means:
More frisbee for Zo
Tons of ball for Nika
Chipmunk hunting for Mylee
and the puppies never tiring of chasing each other around the yard.
Yesterday morning I decided I needed fall pictures of everyone. It was a beautiful day, and we all needed some fresh air! I got a ton of great photos but have picked a few to share tonight.
Our beautiful Zoey

And her incredible tail. She is determined to win longest tail at the picnic next year!

Mylee and Kismet. Kismet had just interrupted Mylee's sunbathing.

Our resident gorgeous "Mom"!

Something caught Nika and Kismet's attention…a chipmunk perhaps? Can you tell these two are related? Molly and Nika are half sisters making Kismet her… niece?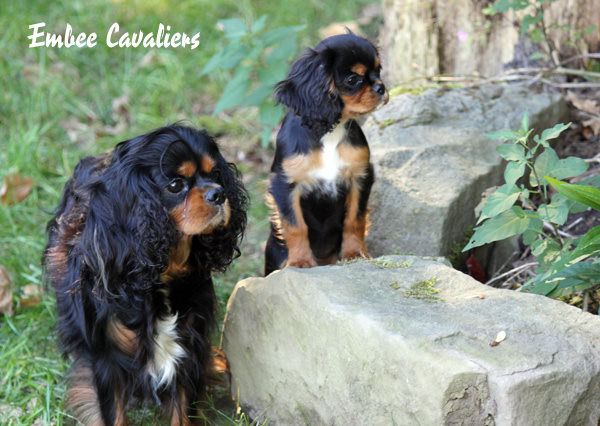 Our handsome man looking for trouble

Rawr! Let's play!

The beautiful Queen herself. She had another completely boring Vet check this week (we love those kinds of checkups!). She was finally big enough for my comfort level to do her first booster. Parvo and distemper only of course.

We adore her so much.

Kismet and Loki – adorable trouble x2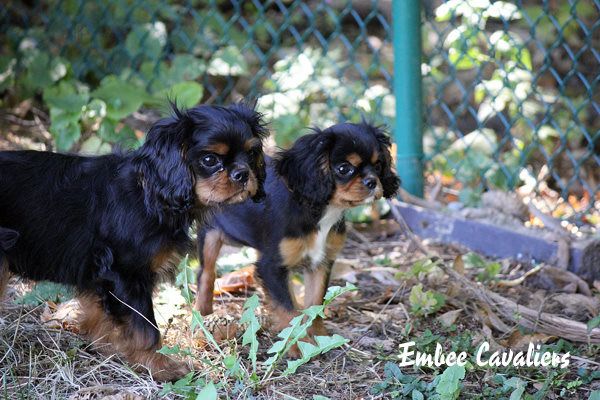 To a gorgeous fall weekend! Ours will be filled with warm mugs of tea, puppies and photos…the best kind of fall weekend there is.
Embee Cavaliers
Embee Cavaliers is a small hobby breeder located in the Greater Toronto Area. We breed in equal parts for health, temperament, type and conformation. This blog was created to promote purebred dog ownership, preservation breeding and to celebrate living every day with royal spaniels.