I'm so fortunate to have a very good friend who is extremely talented with her camera. She doesn't like to think so, and she would never admit it….. but I, and most of my friends think she is a fantastic photographer.
Debbie visited last week when the puppies turned 8 weeks old. She wasn't able to stay very long, but like always she had her camera in tow ready for that perfect shot.
She is the reason I became so interested in photography. By spending hours going to photo meetup groups, taking courses, reading everything possible her talent has continued to develop over time. Me, well… I just like taking pictures.
In the short amount of time that she was here, she took some gorgeous photos of the puppies and has kindly let me share them on my blog. It just seemed like such a waste to have them sitting in my email.
The puppies are 9 and half weeks old and I will update on them soon, but for now I will share the photos that a good friend spent hours on for me. We appreciate every minute you spent.
If you want to see more of her beautiful work visit her photography site: Beyond the Dog Dish She is entirely self taught and completely amazing.
All photos courtesy of Beyond the Dog Dish, please do not copy.
My favourite.. the rowdy boys. Bucky, Charlie, and Calvin

Calvin (formerly known as Super Bill)- He is the first to leave home and we're missing him very much!

Sweet Calvin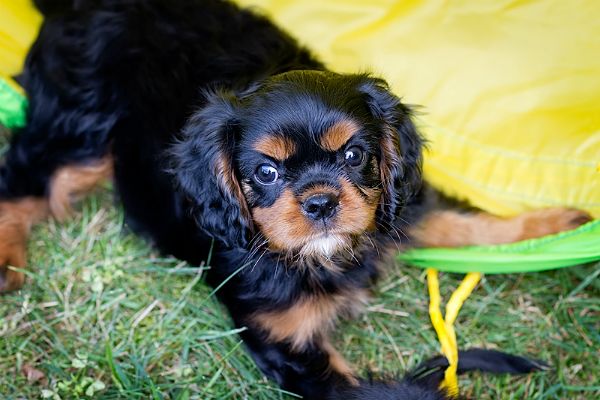 Kismet, 2lbs 4 oz(as of today) of pure attitude. She is already 10x more demanding than her Princess mother. A good friend told me she is more like a Countess or maybe even Queen. Countess or Queen Kismet.. yep sounds right!.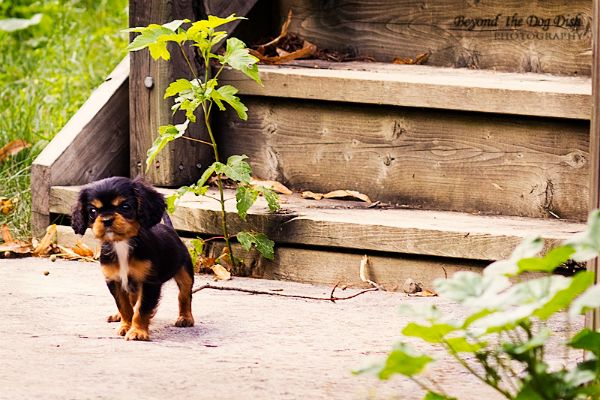 Miss sassy pants

I hope you enjoy the photos as much as I do!
Not too many words tonight, but I hope all of the cute pictures make up for it!
7 weeks old
We're starting to potty train
Beginning crate training
Eating solid food *so* much better this week
Everyone is drinking on their own from a bowl – SUCCESS
Tug of war is the greatest game ever invented
The yellow tunnel is completely awesome
Still lots of sharp teeth but they are starting to realize they hurt!
Molly is still nursing them at least 3x a day, I keep telling her she doesn't have to!
Kismet weighs 1lb 9oz and her cleft is almost entirely closed. No food is coming out of her nose any more, even if its mushy.
Lots of visitors means lots of laps and very happy puppies!
The four boys wanting OUT

Please let us out, we'll be good – Little guy, Spot, Chunky Monkey and Super Bill

My little guy – Our litter theme is superhero's. He may end up being "Mr. Fantastic"

Super Bill loves to pose

Zozo also loves the tunnel. Pretty girl.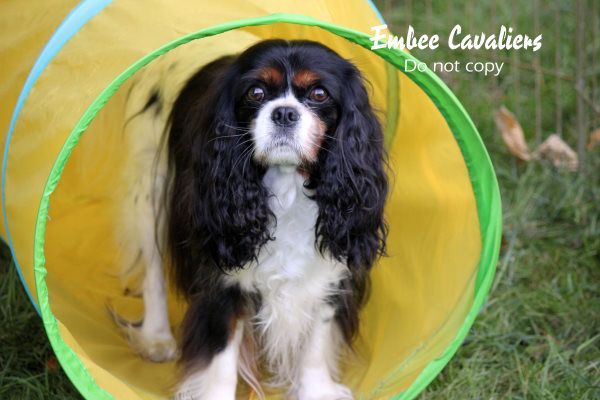 Rawr! We love to play

Chunky Monkey still loves Zoey

Molly quit feeding those fat boys! I promise I am feeding them too.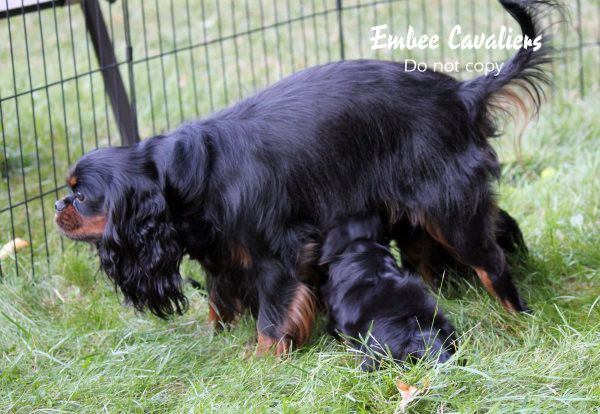 I love my brother – Spot and Super Bill

Chunky Monkey loves to play in the tunnel

Spot really loved having his picture taken tonight

Handsome fella!

Not the best picture but Super Bill was trying so hard to play with Zo tonight.

And last but not least.. the boss of our entire house at the moment. "Kismet". She is SO sassy and gets her way almost all of the time. How can I not give into that face?

The puppies are all doing really well and growing up far too fast.
Our days are spent taking them out into the yard as much as possible, feeding several meals a day, and attempting to teach them how to drink out of a bowl. They are almost entirely litter box trained and although we have to clean up the odd mess they are very smart and clean puppies.
We've had lots of wonderful visitors and hopefully it will translate into very happy, confident, and social puppies.
Tonight I had them out just as the sun was going down. It's been hot so early in the morning and in the evening have worked the best for letting them play. I managed to get a few pictures before we lost all of our light. They are so hard to take pictures of, everything is done at full speed, and the minute you sit down they are in your lap or chewing on your pants!
Their personalities are definitely starting to come through, and i'm seeing more and more glimpses into who they are going to be.
Our little girl who I am calling "Kismet" at the moment. She still gets "Squeak" and more often than not "little girl", "girlie" and "girlie-girl"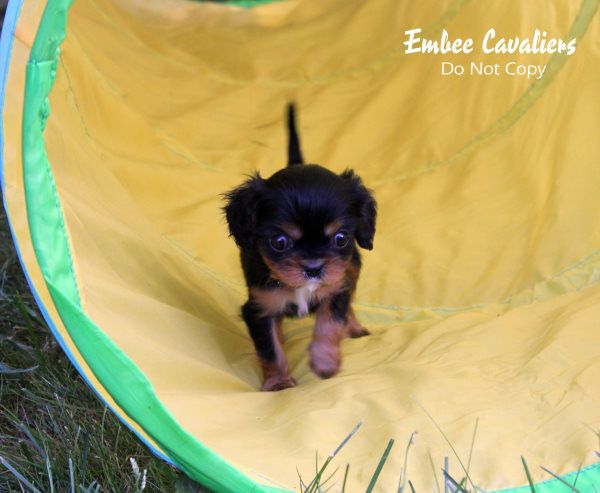 She already loves to pose for the camera and believes the world revolves entirely around HER. She's right. It does.

This is "Spot". He is impossible to get pictures of and is a complete hellion. Can you see mischief written all over his face? He can be plain bad!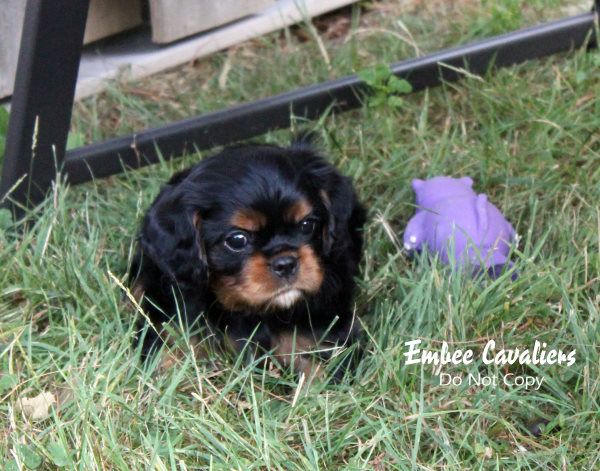 I also should have had my zoom lens on, I would have had better luck getting this shot.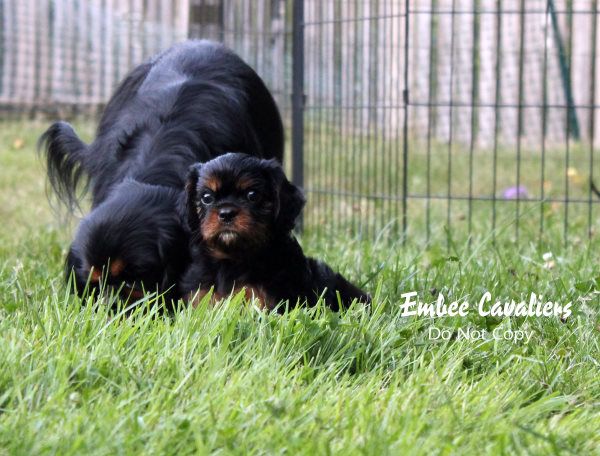 Mr. Chunk. He's huge. His body is big. His paws are big. He's just plain BIG. He's also full of attitude and is in complete love with Zoey. Truth be told…Zoey thinks hes pretty swell too although she'd never admit it.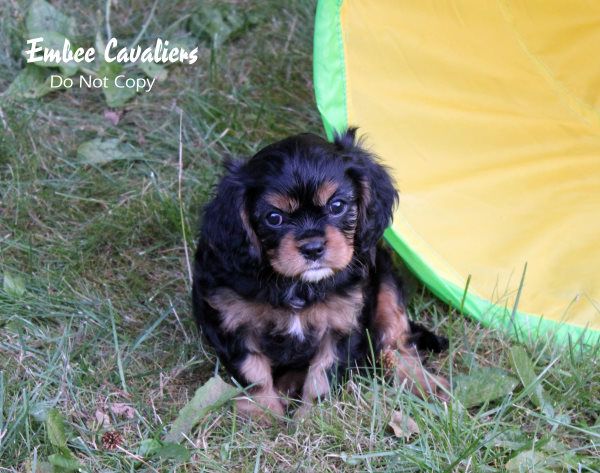 Our little guy who I'm having a horrible time getting a picture of. I'm in complete love with his head, overall type, and extremely sweet easy going temperament. Still not the best picture of him. I tried forever to get a good one of him tonight.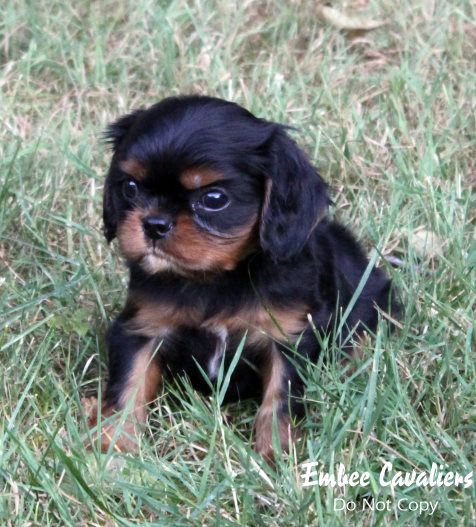 >
And last but not least "Super Bill". He is going to end up being the sweetest little guy. He adores people and is the first one in your lap. He's also not shy about rough housing with his brothers, and cuddling with his sister. He also seems to enjoy posing for the camera!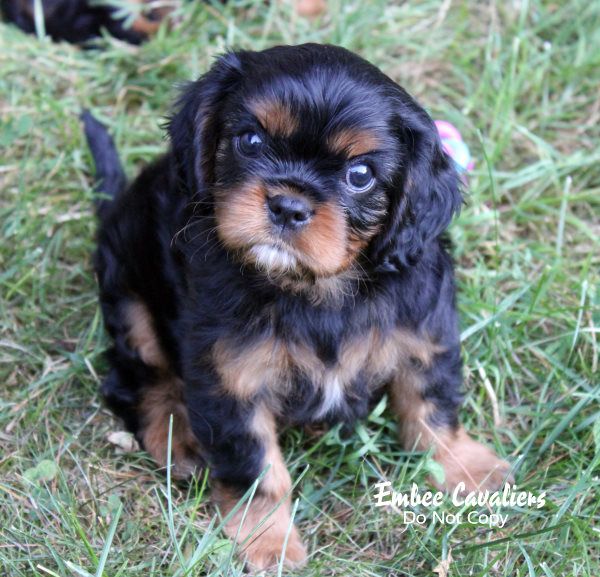 I hope everyone had a fantastic weekend. I can't believe mine is over.
Embee Cavaliers
Embee Cavaliers is a small hobby breeder located in the Greater Toronto Area. We breed in equal parts for health, temperament, type and conformation. This blog was created to promote purebred dog ownership, preservation breeding and to celebrate living every day with royal spaniels.