And no, I don't mean my girls…at least not today anyways.
Aren't they cute? Its not the best picture, but it is the best of the many I took trying to get that shot. It is so hard trying to get all four at once.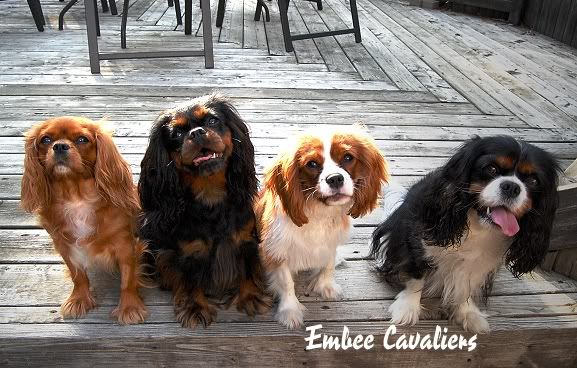 Back to the giveaway.

The Cavalier King Charles Spaniel Club of Canada's (CKCSCC) health and education committee has put together a completely awesome and very practical, two-pocket folders.
We are selling these folders as a fundraising initiative. In my house this type of folder has been used for just about everything. Veterinary records, resume's, school projects, meeting minutes, they are just so handy to have around.
All proceeds from the sales of our folders go into the CKCSCC health and education committee's general health fund.
The CKCSCC health and education committee is responsible for many health initiatives in our breed including:
Ongoing Mitral Valve Disease research and diagnostics. Started in 1993, this initiative has provided many pet owners and breeders with expensive diagnostic testing, and researchers with important data regarding MVD.
Offering lower cost MRI's to breeders in partnership with Matheson Blvd. Veterinary Services to assist with the high costs associated with screening for chiari malformation, syringomyelia and PSOM.
Donating to CKCS research projects and initiatives worldwide.
Funding older cavaliers to be scanned for the genome project.
Organizing educational seminars for breeders of all types of dogs to attend, on topics such as reproduction and genetics.
Our folder and snood giveaway
!
To show just how awesome these folders are, I am giving away folders to readers of this blog. In addition to the folder I will include a snood in your cavalier's favourite colour.
Here's how to enter:
Leave a comment on this blog post telling me what *you* would use one of our folders for. I will take entries from wherever in the world you are. Feel free to pass the link on to other cavalier fanciers. The more the merrier, especially when its for a great cause!
It is easiest to comment on Embee Cavaliers by signing up or into a Google account. Using a Google account you can also become a "follower" of Embee Cavaliers and know exactly when I update this blog through Google's reader or by signing into Blogger. I fondly refer to my followers as "creepers" over on the sidebar.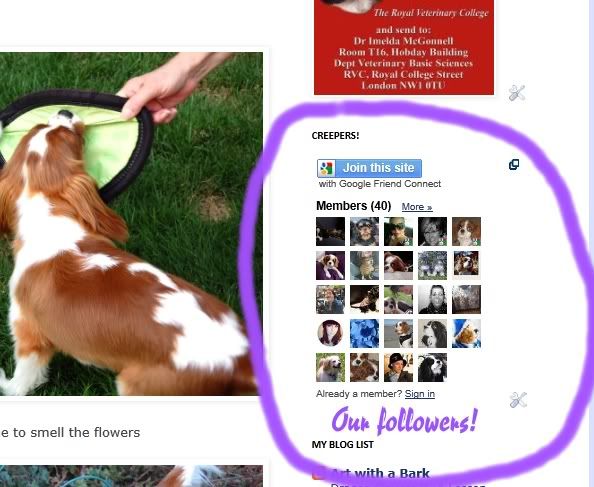 You can also comment without having a Google account. Just make sure to post your first name, and visit next week to see if you need to send me additional information, so that I can send you your folder and snood.
Winners will be selected at random a week from today.
Depending on how many comments I receive, I may elect to send a folder and snood to everyone! (Thank you to my Mom who avidly reads my blog and lets me know when I need to update it, for letting me raid her fer fabric stash. Free fabric = ability to share with everyone.)
To purchase these folders please contact me at embeecav at gmail dot com.
Folders are:
$3.00 for one or 4 folders for $10.00. Postage extra.
Thank you for supporting local breed clubs and the CKCSCC health and education committee. Without the support of breed enthusiasts like you, initiatives such as the ones above would not be possible. On behalf of our cavaliers, thank you.
I often take time to reflect on what happens in my life. I am someone who likes to consider all angles and never jump to any conclusions. I pride myself on being level headed and able to look at the big picture. For me reflection is healthy.
I have spent most of today and yesterday in reflection. Going over every little detail, reading as much as I can, and wondering what went wrong when the likely answer is…nothing.
My heart aches for a friend and what could have been, what should have been, and what will be.
Breeding is an emotional roller coaster. There are extreme highs and there are deep lows. As I venture into what is the very start of becoming a breeder, I have already experienced both of those emotions.
The high of Molly doing well in the show ring.
The high of experiencing a puppy being born.
The high of evaluating a promising litter.
The low of Zoey not becoming pregnant and almost losing her to pyo.
The low of Mylee experiencing a painful day.
The low of losing a tiny puppy.
Sometimes mother nature is cruel.
The irony is that as I reflect today, I also wait in excitement as another friend eagerly anticipates the arrival of what could be.
***
We've been busy around here.
Sadie is growing up.
Zoey has taught her how to play ball
and Frisbee.
Mylee has taught her to always take time to smell the flowers
and appreciate the joys of hunting mice and rabbits.
Mylee's MRI for research did not phase her at all. I wish the same could be said about me. I was so worried about my girl.
Lastly we are all yearning for more lazy summer days. How is it the end of August already?
The girls and I have been away this week. One word can sum up our week…amazing. My girls would love to be full time cottage dogs. Maybe in another lifetime.
Until then we are very fortunate to have friends that let us glimpse into what living in paradise feels like.
Thank you to my good friends for having us. Your hospitality and kindness is truly appreciated. We enjoyed every minute.
Here are a few of my favourite photos. I haven't even managed to get through them all yet.
This is what paradise looks like
Our good friend almost lost her dog when he fell off the boat near a dock. He very easily could have drowned to death without a life-jacket on, instead he was calmly swimming to shore. His owner? Not so calm but incredibly relieved she spent $18.00 on a life-jacket for him. They are worth every penny!
Mylee posing with her life-jacket on
Zoey decided she loves being at the beach


I love the colour contrast in this photo


Zozo and Mylee play tug with a stick


Wind in my ears, sand in my fur


Leave it to Zo to figure out that you don't have to put your face in the water to fetch sticks from the lake. Just use your paw! Zo would carefully fish sticks out of the lake by using her paw and batting them towards the shore. Only when she had them safety on the dry shore would she pick them up with her mouth.
Zoey demonstrating her fetching in water technique
I hope no one minds a lot of upcoming cottage photos.
Lastly, please keep your fingers and toes crossed for Mylee, who once again be undergoing an MRI tomorrow for the sake of research.
Like most who make the choice to contribute to research I am a mess about my girl and will be until she is safely back in my arms tomorrow morning. Research is not easy on any involved but it is especially hard on the owners and breeders waiting patiently on the other end.
Embee Cavaliers
Embee Cavaliers is a small hobby breeder located in the Greater Toronto Area. We breed in equal parts for health, temperament, type and conformation. This blog was created to promote purebred dog ownership, preservation breeding and to celebrate living every day with royal spaniels.