This weekend Molly and I were showing at Kilbride Kennel Club with a few other breeders in the area.
As my Mom would say, I had Princess Molly on one day of the show and then the toad who wouldn't settle in the ring yesterday. Congratulations to all the winners and owners who were showing their dogs this weekend.
At the show we somehow got onto the topic of cell phones. One of the breeders was trying to decide if she wanted to get a normal cell phone and a small camera, or if she should just get a smart phone. I am firmly in the I LOVE MY IPHONE category.
Today as I was looking through my phone trying to find a picture I wanted to post, and I realized just how many pictures i've taken with my phone. Its not always convenient to have a camera with you. It made me realize just how many moments I would have missed if didn't have my phone on me.
I decided to share a few of my forgotten on my phone photos as I had fun looking through them all.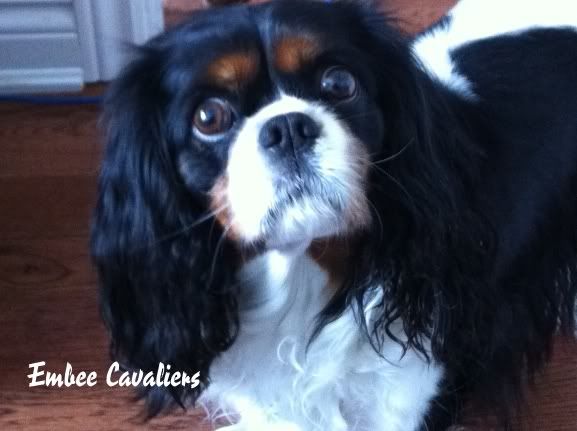 A cute English Toy Spaniel, taken at the Purina National in March

Purple hair dye for dogs. Purple feathers and slippers? Yes! Zo i'm looking at you.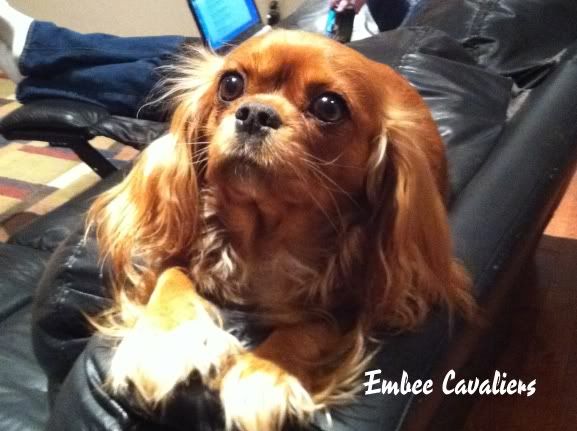 Happy Mylee monster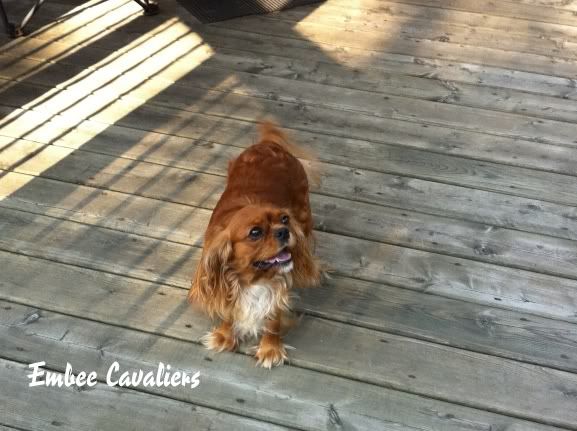 This series of photos especially made me smile. On a cold and very stormy winters night, I helped a good friend deliver puppies. I found pictures from that night still on my phone… long forgotten about. It is especially fitting as I took a picture of Talia's daughter who was born on that night with my Iphone, winning Best of Breed this weekend at Kilbride Kennel Club.
Talia's gorgeous daughter Burbrook Snow Flurry at Kilbride this weekend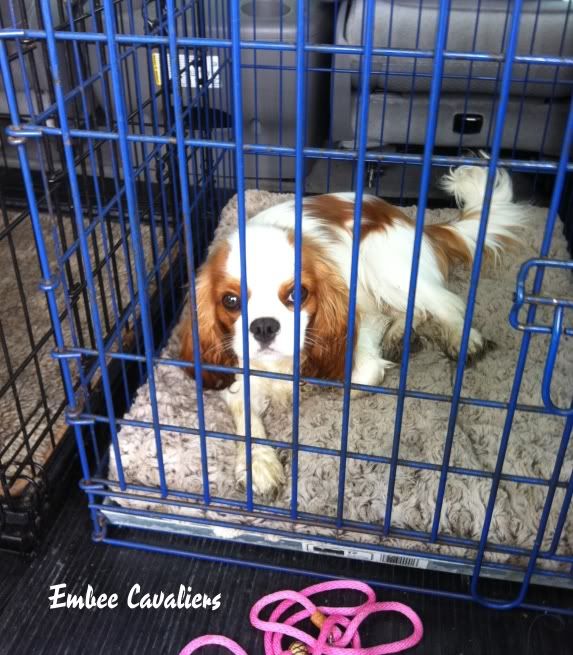 Do you have a smart phone you use to take pictures with? What kind of photos have you captured that you otherwise wouldn't have?
Many have heard me talk about foetal tissue research(FTR) and the Cavalier King Charles Spaniel. I am absolutely fascinated by the work being done in cerebellar growth and what has been learned so far from this research.
Yesterday, a major funding announcement for FTR was made. I am so excited about this announcement and the impact it has on our cavaliers. A grant like this ensures that further research into chiari malformation and syringomyelia can be completed. This research not only impacts our dogs, it also greatly benefits humans who suffer from CM and SM as well.
Sheena Stevens has given me permission to cross post a message she wrote yesterday on Cavalier Chat.
Do you remember a while back I said I hoped to have something exciting to say in relation to the FTR? Well … this is it …

The Wellcome Trust are granting £400,000 (and yes, I have counted the zeros) for an Integrated Veterinary Training Fellowship over a period of six years. The candidate had her interview last week, and the news came through today. It's a very prestigious award for one of Dr McGonnell's students, and she, Dr McGonnell, Dr Holger Volk and Dr Albert Basson of King's College, London, will be involved in studying cerebellar growth.

So … now you know. I know it sounds dry and possibly unexciting – as ever, it's possibly the way I tell them. But I can't stop smiling. Dr McGonnell is delighted and remarked on what a long way we've come since we started … yes, we have.

And it's all down to those who've donated tissue. You know who you are. You know you deserve the gratitude for going that extra mile. You know you want to help the breed, and you know you're continuing to do it.

THANK YOU.
Very incredible news for our breed.
Thank you to The Wellcome Trust for seeing the potential in FTR research and hopefully ensuring its future successes.
Thank you to all the Cavalier breeders in the UK that have made FTR research possible by donating deceased whelps and companions who have passed on. I can't imagine how hard it is to make that decision.
Lastly thank you to Sheena Stevens for your tireless efforts and dedication to this breed. The Cavalier is lucky to have you.
Mylee thanks you.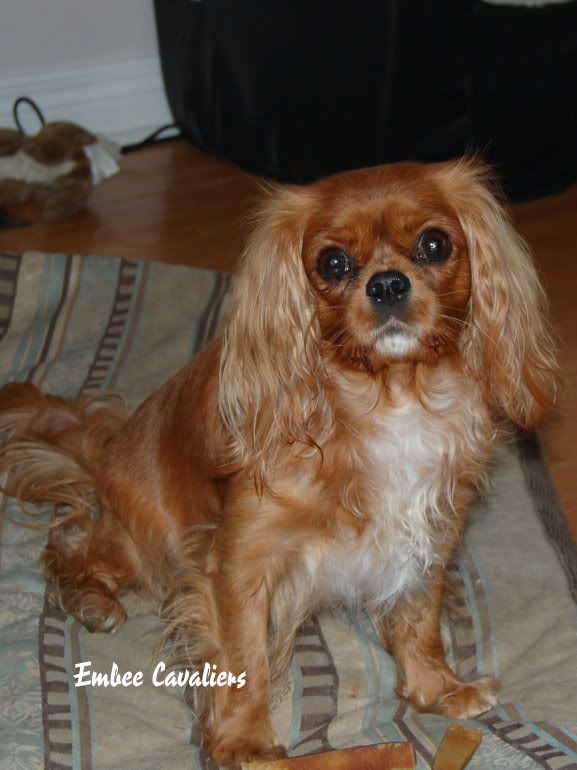 The Cavalier's future is looking brighter than ever.
I came across this on a forum I was reading yesterday. Its definitely worth a read and the author has given permission for it to be re-posted.
Many people believe that puppies are all fun and games. You breed a dog, you have puppies and like most want you to believe the breeder makes a ton of money! Seems easy right? HA.. if only that were the case. In fact, it couldn't be further from the truth.
So many are unaware of the hard work, the dedication, the heartbreak and the disappointment that comes with breeding dogs.
A Breeder (with a capital B) is one who thirsts for knowledge and never really knows it all, one who wrestles with decisions of conscience, convenience, and commitment.
A Breeder is one who sacrifices personal interests, finances, time, friendships, fancy furniture, and deep pile carpeting! She gives up the dreams of a long, luxurious cruise in favor of turning that all important Show into this year's "vacation".
The Breeder goes without sleep (but never without coffee!) in hours spent planning a breeding or watching anxiously over the birth process, and afterwards, over every little sneeze, wiggle or cry.
The Breeder skips dinner parties because that litter is due or the babies have to be fed at eight. She disregards birth fluids and puts mouth to mouth to save a gasping new-born, literally blowing life into a tiny, helpless creature that may be the culmination of a lifetime of dreams.
A Breeder's lap is a marvelous place where generations of proud and noble champions once snoozed.
A Breeder's hands are strong and firm and often soiled, but ever so gentle and sensitive to the thrusts of a puppy's wet nose.
A Breeder's back and knees are usually arthritic from stooping, bending, and sitting in the birthing box, but are strong enough to enable the breeder to Show the next choice pup to a Championship.
A Breeder's shoulders are stooped and often heaped with abuse from competitors, but they're wide enough to support the weight of a thousand defeats and frustrations.
A Breeder's arms are always able to wield a mop, support an armful of puppies, or lend a helping hand to a newcomer.
A Breeder's ears are wondrous things, sometimes red (from being talked about) or strangely shaped (from being pressed against a phone receiver), often deaf to criticism, yet always fine-tuned to the whimper of a sick puppy.
A Breeder's eyes are blurred from pedigree research and sometimes blind to her own dog's faults, but they are ever so keen to the competitions faults and are always searching for the perfect specimen.
A Breeder's brain is foggy on faces, but it can recall pedigrees faster than an IBM computer. It's so full of knowledge that sometimes it blows a fuse: it catalog's thousands of good bonings, fine ears, and perfect heads…
and buries in the soul the failures and the ones that didn't turn out.
The Breeder's heart is often broken, but it beats strongly with hope everlasting… and it's always in the right place!
Oh, yes, there are breeders, and then, there are BREEDERS!!
Have you talked to your breeder lately?
Send them a picture of your dog and a brief update on how they are doing. Nothing reassures or makes a breeder happier than a dog they have bred doing well in a loving home.
Embee Cavaliers
Embee Cavaliers is a small hobby breeder located in the Greater Toronto Area. We breed in equal parts for health, temperament, type and conformation. This blog was created to promote purebred dog ownership, preservation breeding and to celebrate living every day with royal spaniels.