Thank you to everyone who came out to Embee Fam Jam 2016, we had a great time as always! A special thank you to my sister for running the photo booth for me. It was a very hot day and our silly photos reflect that. Enjoy some of the photos of our crazy cavalier family, you can sure tell many of them are closely related with similar expressions and mannerisms! Can't wait for next year.
Our very important post on Water Intoxication is being shared all over Facebook today and I'm thrilled that dog owners are recognizing it's importance. The goal isn't to keep our dogs out of the water completely, it's to keep a watchful eye on how they are playing/how much water is being ingested in the process and following the cardinal rule of everything in moderation. It's also inspired me to get an update up, we'll see how long that inspiration lasts 😉
The Little Lolly's aren't so little anymore. They've made their way to new homes and are taking part in all kinds of adventures. We're missing them, especially since finding out that our Ebby girl is not going to have puppies this summer. We are thrilled though to have added some wonderful new owners to our Embee family. Looking forward to seeing everyone at the Embee Fam Jam. I haven't sent out invites yet but will get them out in the next little while.
Bo now known as Milo

Atlas now known as Kane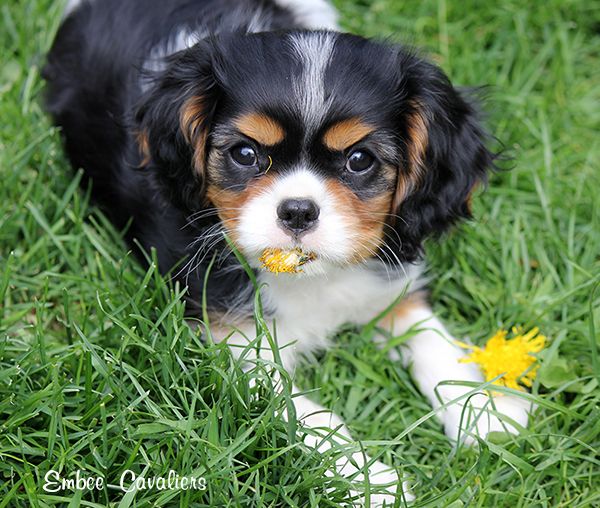 Gizmo now known as Montego

Luna now known as Kanda and living with my good friends Tessa and Josée and the Amitola Cavaliers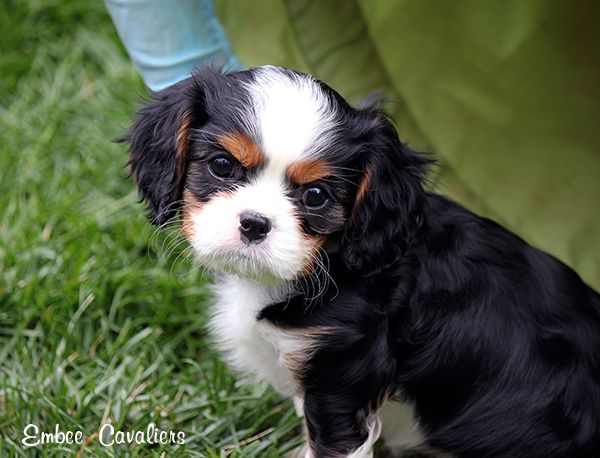 And Miss Sassypants… I mean Nova, now known as Queenie

We've also been busy showing a wild crew of black and tans and having a very successful spring and early summer!

Our gorgeous Embee's Mischief in Maui "Tigs" owned by my good friends Chris and Paul, made his official show debut this spring. In only a few shows he's 1 point short of his Canadian Championship and won Reserve Winners Dog at the Cavalier Fanciers of Southern Ontario specialty show. So proud of this boy!
Tigs at his first show going Best of Breed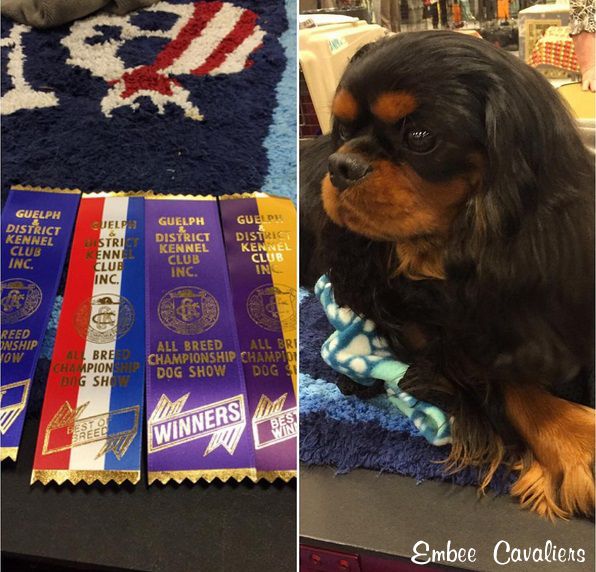 And our Reserve Winners Dog win at CFSO under breeder judge Jenny Macalpine!



His sister, Embee Jewelcroft Midnight Luau "Chai" also obtained back to back Winners Bitch majors, under breeder judge Elaine Whitney and all breed judge Dr. Gail Forsythe at the Monarch Kennel Club for her first points towards her Canadian Championship. Chai lives with Bonnie Sands at Jewelcroft Cavaliers and she's doing a fantastic job with her. Our Chai baby has grown up!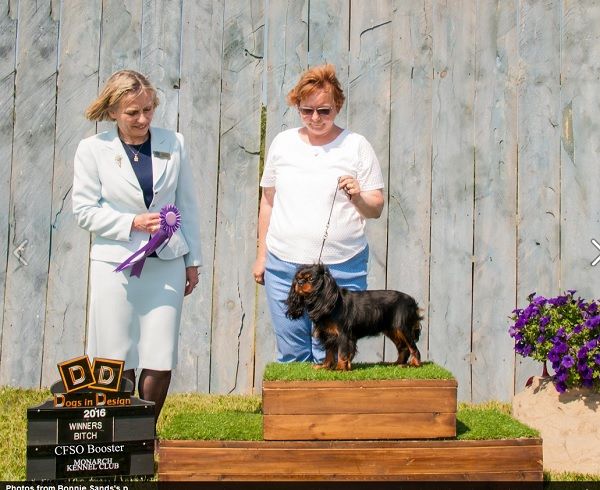 Our Embee Brinklow Fenton, CGN also made his show debut this spring but his brags are more about Cavalier health than show ring wins. We're incredibly proud of him for being MRI'd this spring and having a beautiful MRI scan just like his parents and grandparents and a few great grandparents if you want to get technical 😉 CM and SM clear, second generation. His little round cerebellum is a work of art and I'm thrilled to have another generation of MRI tested Cavaliers to move forward with.
A rare glamour shot for this active and smart boy!

What you lookin' at?!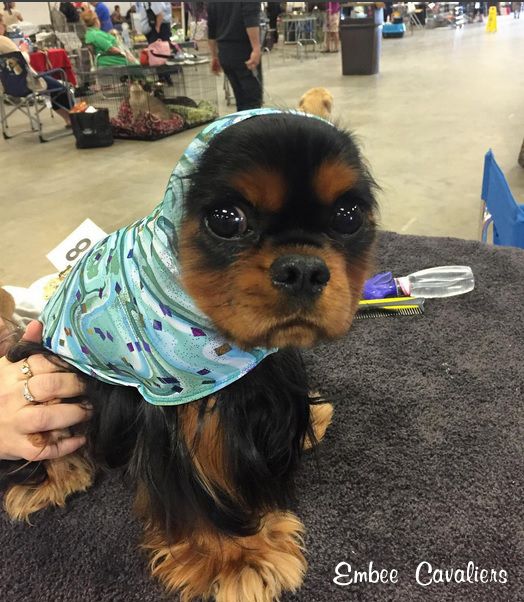 Come a little closer and I'll wash your face!



And the highlight of my year so far, our gorgeous Riff Raff girl (CH Embee's Raising the Stakes, CGN) won Best of Opposite sex at the Cavalier Fanciers of Southern Ontario Specialty show under Jenny Macalpine. I couldn't be more proud to have owned and bred such a special girl.

Win photo!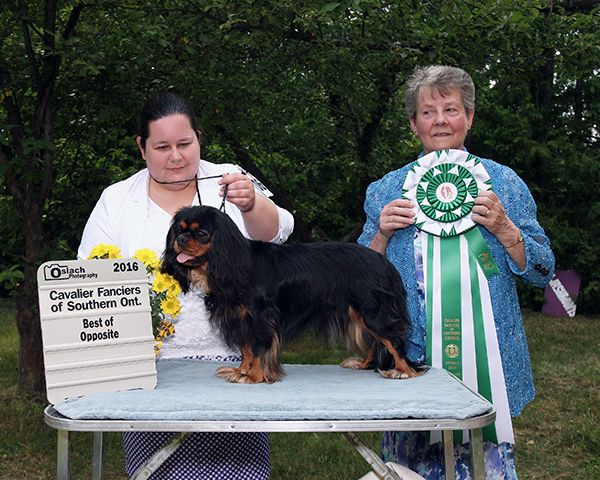 The weekend before she won her first Grand Championship points under Dr. Gail Forsythe at the CFSO Booster show at Monarch Kennel Club. Dr. Gail Forsythe was one of the most kind and thorough judges I've ever shown to. She took her time to evaluate everyone and made my day when after our win wanted to know more about my girls (Ruffi and Chai) and complimented them on being beautiful wholecolours. I agree.. they are 🙂 It's very rare that any judge at an all breed shows takes time to give feedback and it was just so appreciated. Not such a great photo of me or the judge but Ruffi looks gorgeous so I cropped it!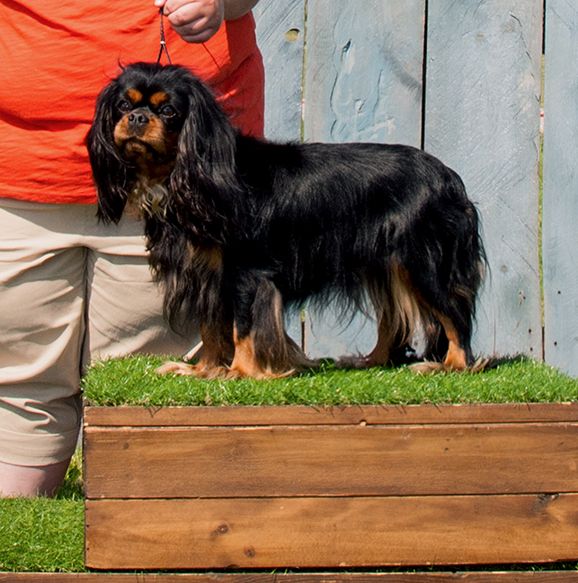 Next task.. update my poor top pages. Such a neglected site lately. A little tlc should help.


Norma(Brinklow Cavaliers) and I would like to introduce our new litter born on March 7. GCH Revelry's Blue Moon Rising (Jace) x Brinklow Embee Lollipop. 2 tri boys, 2 tri girls, 1 blenheim boy. All are doing fantastic, including our beautiful little Momma.
Their Embee names in birth order:
Atlas – tri boy
Bo – tri boy
Luna – tri girl
Gizmo – blenheim boy
Nova – tri girl

Head count, how many can you see?

Brand new. First born at 4am, last born around 9am. Lolly just wanted to be sure I couldn't have any sleep.

A few days old and already growing

Just over a week old, yes Gizmo is the biggest! That little blenheim dude sure knows how to eat

Taken a few days ago by our good friend Gwenne. Our beautiful Momma and her little ones

We're just starting to see hints of eyes thinking about opening. I love it when they are first able to discover their world! Looking forward to sharing more puppy photos soon.
Our next litter is planned for the summer and will be black and tan and rubies.
Embee Cavaliers
Embee Cavaliers is a small hobby breeder located in the Greater Toronto Area. We breed in equal parts for health, temperament, type and conformation. This blog was created to promote purebred dog ownership, preservation breeding and to celebrate living every day with royal spaniels.