The weather here still isn't very spring like but we're starting to see some hints of it coming. The grass is turning green, there are buds on the trees, and all the girls want to do is chow down on grass outside. This afternoon I ventured out with my camera. Its been awhile since i've had time to play with it. It is an overcast and somewhat dreary day. Perfect lighting for photos!
You'll notice that I have started to watermark my photos. Unfortunately I've been finding my photos and other content, in places I haven't given permission for them to be. If you are interested in using a photo or any other content from here, please ask.
I almost always will say yes as long as there is credit given back to my name or this site – Embee Cavaliers. Online content is automatically copyrighted to the individual it belongs to. You wouldn't want your personal photos spread all over without your permission, so please treat others the same way.
My beautiful Mylee

Nothing makes Zozo more happy than playing frisbee

Princess Molly

You want me to pose? Sure!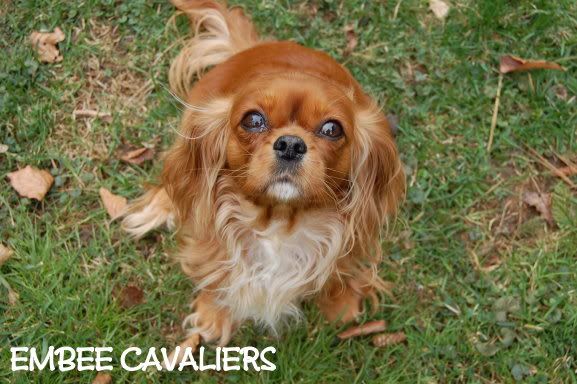 Gorgeous Zozo

Molly is the definition of perpetual motion, most of my pictures of her look like this

Happy Easter to everyone! Enjoy the long weekend. I know I will despite all the work that needs to be accomplished between now and Monday.