And no, I don't mean my girls…at least not today anyways.
Aren't they cute? Its not the best picture, but it is the best of the many I took trying to get that shot. It is so hard trying to get all four at once.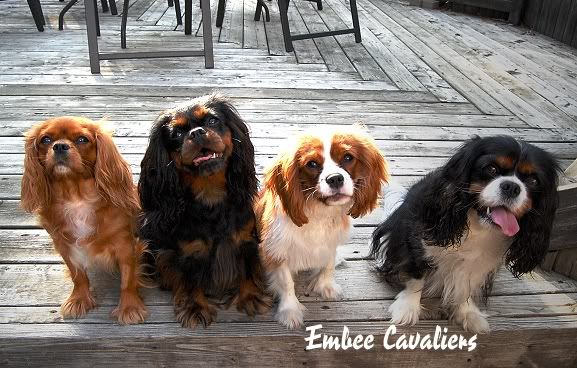 Back to the giveaway.

The Cavalier King Charles Spaniel Club of Canada's (CKCSCC) health and education committee has put together a completely awesome and very practical, two-pocket folders.
We are selling these folders as a fundraising initiative. In my house this type of folder has been used for just about everything. Veterinary records, resume's, school projects, meeting minutes, they are just so handy to have around.
All proceeds from the sales of our folders go into the CKCSCC health and education committee's general health fund.
The CKCSCC health and education committee is responsible for many health initiatives in our breed including:
Ongoing Mitral Valve Disease research and diagnostics. Started in 1993, this initiative has provided many pet owners and breeders with expensive diagnostic testing, and researchers with important data regarding MVD.
Offering lower cost MRI's to breeders in partnership with Matheson Blvd. Veterinary Services to assist with the high costs associated with screening for chiari malformation, syringomyelia and PSOM.
Donating to CKCS research projects and initiatives worldwide.
Funding older cavaliers to be scanned for the genome project.
Organizing educational seminars for breeders of all types of dogs to attend, on topics such as reproduction and genetics.
Our folder and snood giveaway
!
To show just how awesome these folders are, I am giving away folders to readers of this blog. In addition to the folder I will include a snood in your cavalier's favourite colour.
Here's how to enter:
Leave a comment on this blog post telling me what *you* would use one of our folders for. I will take entries from wherever in the world you are. Feel free to pass the link on to other cavalier fanciers. The more the merrier, especially when its for a great cause!
It is easiest to comment on Embee Cavaliers by signing up or into a Google account. Using a Google account you can also become a "follower" of Embee Cavaliers and know exactly when I update this blog through Google's reader or by signing into Blogger. I fondly refer to my followers as "creepers" over on the sidebar.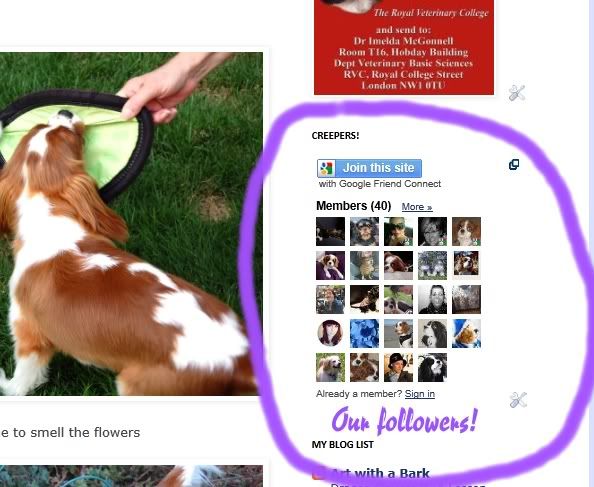 You can also comment without having a Google account. Just make sure to post your first name, and visit next week to see if you need to send me additional information, so that I can send you your folder and snood.
Winners will be selected at random a week from today.
Depending on how many comments I receive, I may elect to send a folder and snood to everyone! (Thank you to my Mom who avidly reads my blog and lets me know when I need to update it, for letting me raid her fer fabric stash. Free fabric = ability to share with everyone.)
To purchase these folders please contact me at embeecav at gmail dot com.
Folders are:
$3.00 for one or 4 folders for $10.00. Postage extra.
Thank you for supporting local breed clubs and the CKCSCC health and education committee. Without the support of breed enthusiasts like you, initiatives such as the ones above would not be possible. On behalf of our cavaliers, thank you.