I've had a busy few cavalier weeks around here, but thankfully they have been mostly good.
I've attended lots of conformation training classes with my good friend Jen,
Gone to a few dog shows,
Made a trip to the States,
Had a film crew here for two days, (more on that soon)
Attended an MRI clinic with our Sadie lady, and
Looked after a special visitor for 2 weeks.
Now I'm in process of treating an eye injury that resulted from too much fun.. poor Loki.
Saddest sadface ever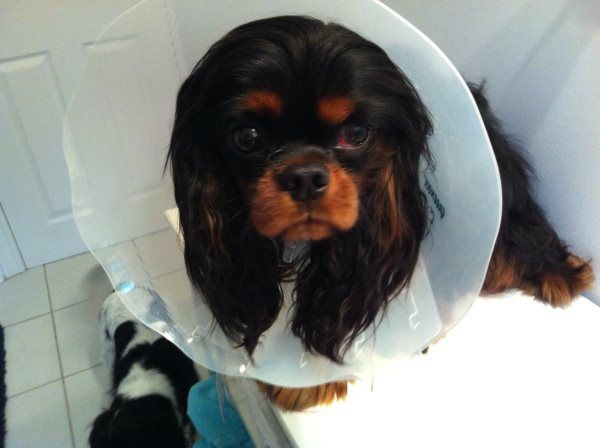 And am also starting to look forward to the end of the month where I will attend the Cavalier Fanciers of Southern Ontario's annual specialty show.
As part of the getting ready process for CFSO, Jen and I entered into a couple of all breed dog shows. Our boys are re still new to the dog show scene and we wanted to make sure that they'd have some practice ring time before showing at a big breed specialty. Not only are our boys new to showing, but Jen is learning about conformation too.
All that practice is turning out to be worth it as Jen and Bucky are turning into quite the team. Bucky reminds me so much of his mother Molly, both in looks and attitude. He walked into that ring like he owned it, and at their first dog show for both of them Bucky won Winners Dog, Best of Winners, and Best Puppy in Breed for 3 points. We are so proud of both of them!
Their "win" photo with Jen edited out. Bucky is more formally known as Embee's The Winter Soldier. For those who are wondering where his name came from. It was our super hero litter after all!
I certainly didn't start my show career like that. In fact, I vividly recall Zozo pulling me around the ring like a wild woman, with her nose firmly planted to the ground sniffing the grass. She never did end up liking the show ring, but I definitely learned a lot! 😉
Zozo looks like a good show girl here, we know photos can lie

Our other good news happened at the MRI clinic with Sadie.
Sadie has spent the past few months completing her breeding health clearances. The last and of course biggest hurdle for a cavalier is that dreaded MRI. I had to be at a very special 90th birthday party that afternoon so Sadie was first up with an 8:00am appointment in London.
All went well with her MRI. She sailed through the procedure, and our good news came via email in the form of her report a few days later. Sadie is currently clear of Syringomyelia, and had a beautiful scan. Thank goodness! A special thank you to her breeder Karen Murray for letting us have Sadie. We will be breeding Sadie either this summer or early next year.
Thanks for letting us share our good and bad news! Hopefully see you at the specialty show in June.