The Cavalier Fanciers of Southern Ontario picnic of course!
The picnic is my favourite Cavalier event. I love all of our speciality shows, health clinics, education seminars, and other events… but there is just something extremely special about the picnic. It's entirely about celebrating our breed, and fabulous owners. There is always a ton of good food to eat, gorgeous cavaliers everywhere, and lots of laughs. You just can't go wrong with that.
Like usual, I had a ton of work to do in a short amount of time. Between helping with setup, sewing last minute snoods, cooling coats, and drying coats, making food to bring, bathing 2 dogs and 2 puppies, and putting together my Chinese auction donation baskets, my weekend flew by. Honestly.. I'm still exhausted.
Zoey, Mylee, Loki, and Kismet all were on their best behaviour at the picnic.
This probably won't be much of a surprise but guess who stole the show?
Queen Kismet of course.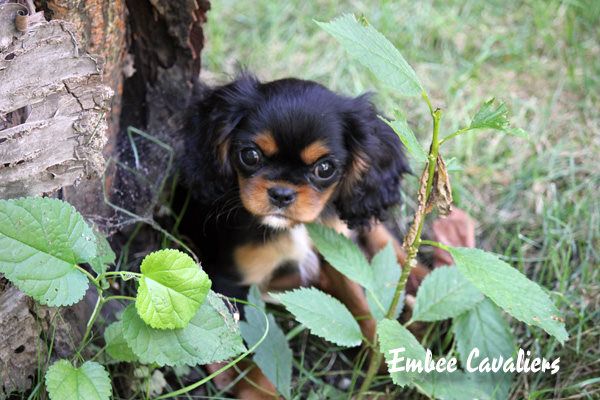 She loved meeting all of her faithful subjects, and prancing around the middle of the paddock to the sound of awwww!…. the Queen is far too cute for her own good.
Once again I didn't get nearly enough pictures at the picnic. Not only did I not get enough pictures, I didn't get any of poor Kismet actually at the picnic! (If anyone has photos of my dogs at the picnic they'd like to share with me, I'd love to see them!)
Loki spent most of the afternoon wrestling with his brother Bucky who he hadn't seen in 3 weeks. It was quite the reunion. They had a blast together.
Why do I gotta be behind bars?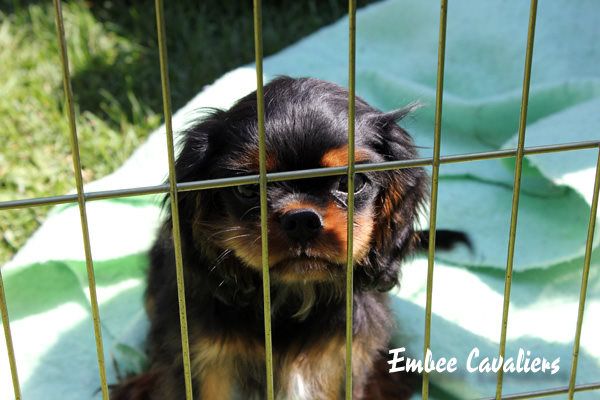 Zozo looking gorgeous

This year's theme was the Olympic's. The Woodmere girl's came fully decked out in Olympic vests!

The auction table

A snapshot of the relay races. Poor Zoey was trying to figure out why her boyfriend(and relay race partner) Charlie ditched her, and she decided she just wasn't into races this year without him.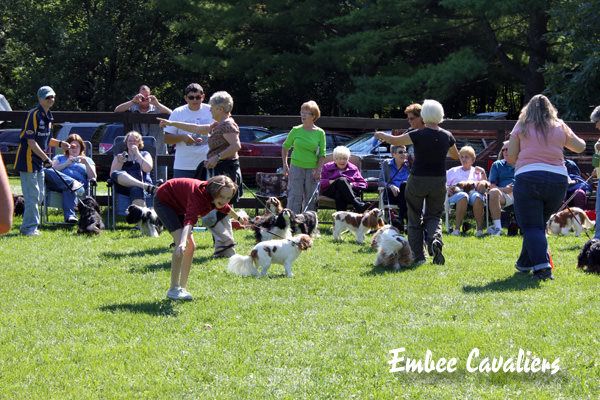 Mylee and Zo, all picnic'd out and ready to go home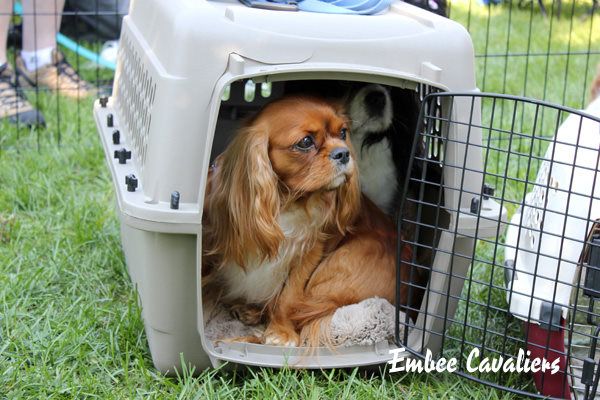 And not picnic related at all… everyone is now eyes open wide and doing really well. More of these pictures coming soon!
Hello baby girl!

Not entirely clear in focus, but oh so cute

Thank you to Kim Hergott for the amazing work she put into the picnic. You did a fantastic job. The picnic would not be a picnic without the dedicated group of volunteers that make up CFSO. No one enjoys setting up, cleaning up, or taking down, but without it there isn't an event to enjoy. It's hard work, but the same core group always manages to get it done, and everything always falls into place.
If you live in Southern Ontario and enjoy coming out the picnic, or want to support Cavalier events, please consider joining the Cavalier Fanciers of Southern Ontario as a social member. It's a $10.00 a year membership that enables us to support our incredible little breed and the responsible breeders who protect it.
The count down begins until next year.
On Sunday, Molly's half sister Nika gave birth to 5 beautiful puppies. 3 boys and 2 girls. All are doing incredibly well. They love to eat!
Nika was offered to me on a breeding lease by her owner and breeder Norma Moffat (Brinklow Cavaliers). Although the timing completely sucked, and it was never my intention to have two litters so close together, opportunities are funny things….they always seem to present themselves when you least expect them.
Thank you so much to Norma and Lang for trusting me to whelp and look after their beautiful girl. She's a joy to live with and we are very much enjoying her time here.
Poor Nika was very big and uncomfortable! This is two days before she delivered.

Only a few days old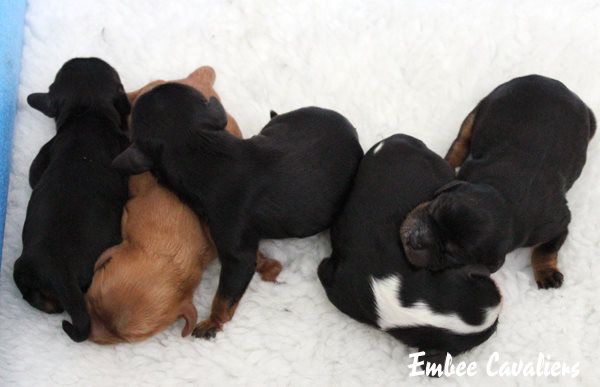 Ruby boy

Black and tan boy affectionately known as "Fatboy"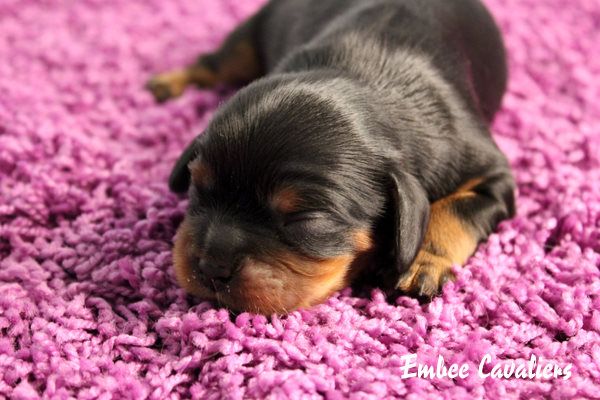 Tri boy. Nika was bred to a black and tan dog but both of them carried the parti colour gene so we knew having a parti colour was possible. He does look kind of funny in with his whole colour siblings but his little white feet and pink toes are adorable.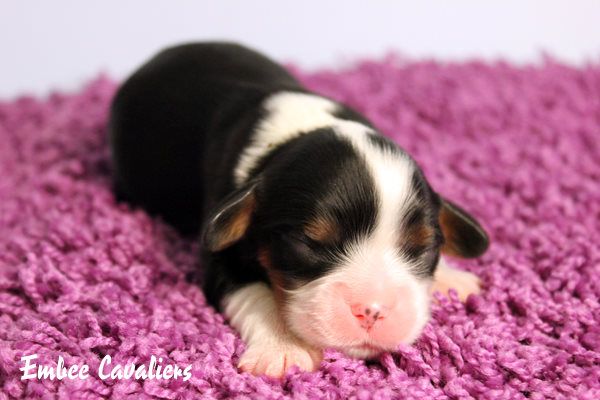 Black and tan girl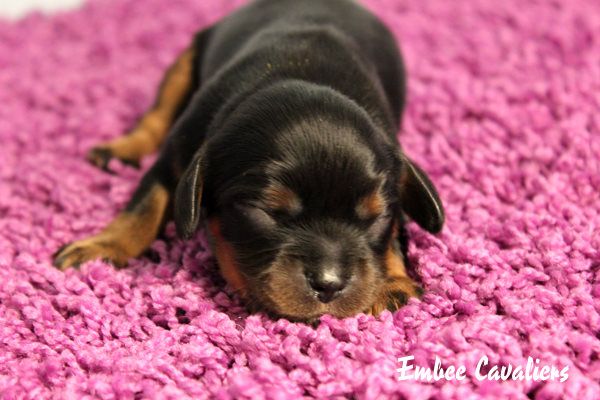 Another black and tan GIRL!

Nika feeding her little ones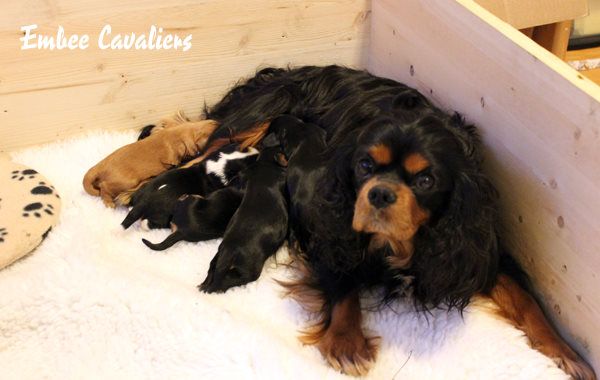 This is a funny picture I shared on Facebook the other night. Nika adores playing fetch. She thinks balls are the greatest thing ever. Much to our other crazy ball dog in the house (Zoey), Nika has taken to gathering up every ball she can find and putting them in with her babies. She always neatly arranges her babies on one side, and her precious balls on the other.

No Loki and Kismet pictures tonight but they are both doing really well too. We'll have lots more puppy pictures to share in the next few weeks. I hope no one minds!
Our puppies were 10 weeks old on Friday. All but two have started on new journeys. The other two are staying at home awhile longer!
Three of our boys have incredible new homes, and I couldn't be more happy or proud. We've done our best, and now I'm looking forward to seeing them grow up. I'm going to do an overall update on them soon.. especially if I can convince their new owners to let me steal some pictures to share!
One of them will be very easy for me to keep tabs on even though he's incredibly far away from home! Super Bill is now known as Calvin, and his Mom has a blog i've been following for a very long time. Feel free to creep on her anytime… I certainly do(a lot)! There are already lots of pictures of our little man with his new siblings Maizey and Magnus!
For now I want to share some pictures I took this evening in our backyard.
Queen Kismet is quite the explorer. She is always on the go and as demanding as the come(we're working on it). She's 2lbs 8oz and finally fits into her xs puppia harness..in pink of course.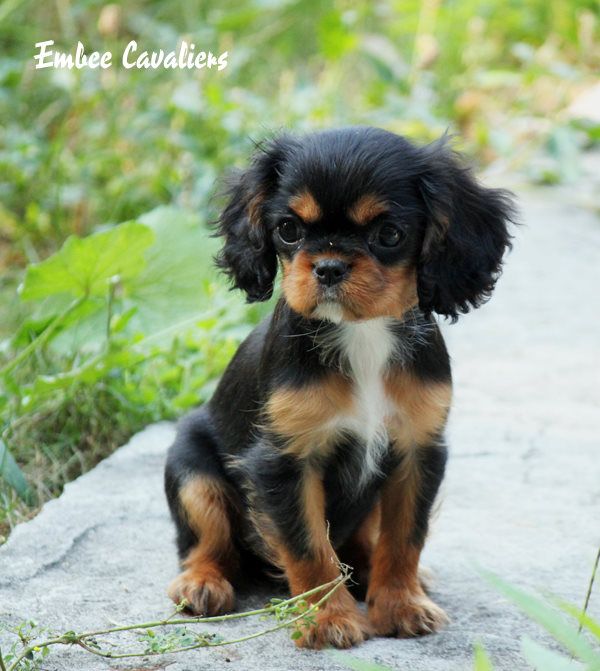 This is our little guy who I've named Loki. He's sticking around here to see if he wants to be a show dog. His brother Bucky(formerly known as Spot) is now with a good friend of mine also trying to figure out if he wants to be a show dog.
I'm very hopeful that one of the two will end up being nice enough for the ring. For now we're working on potty training, and learning that cords are not for chewing!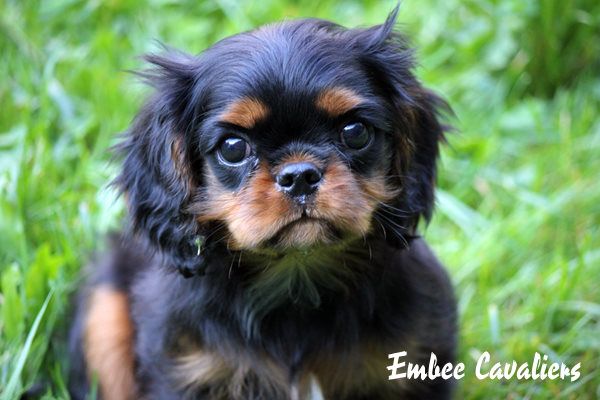 Mylee really likes Kismet.

My Mylee monster. I missed her but I know she really enjoyed her vacation at the farm and was very much spoiled! While Molly was here with her babies, Mylee kept my Mom and Sister company at the farm.

I get in trouble from someone if I leave his dog out of a blog post. He of course believes that a blog post is not complete without lots of Zoey pictures. She's done a wonderful job of teaching the puppies about personal space. Grumpy girl with puppies? Yes, most of the time.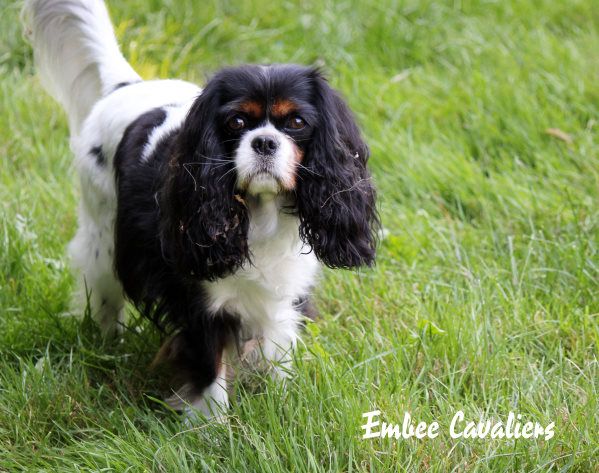 Zozo and her true love.. (not me, i'm just good for treat balls and dinner) She adores him.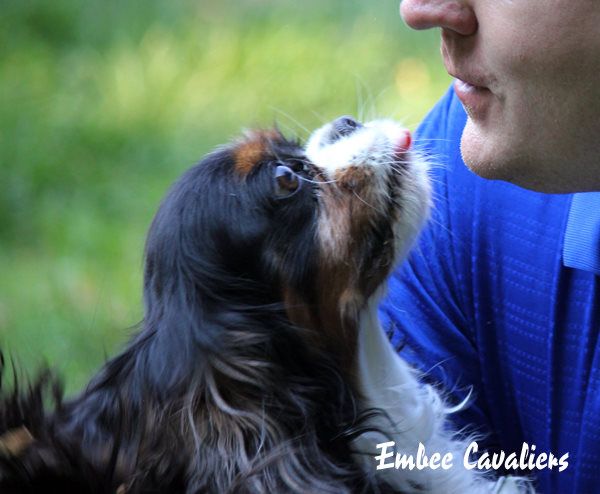 Embee Cavaliers
Embee Cavaliers is a small hobby breeder located in the Greater Toronto Area. We breed in equal parts for health, temperament, type and conformation. This blog was created to promote purebred dog ownership, preservation breeding and to celebrate living every day with royal spaniels.