Our little girlie is doing very well these days. It seems impossible, but she is becoming full of life and spunk. It didn't seem very long ago that we were supplementing her around the clock. In fact I'm pretty sure i'm still sleep deprived over it!
She is starting to play, and get a mouth full of teeth. She is still developmentally behind her brothers but if she continues on the same path it won't be long until she catches up.
Needless to say I'm head over heels in love… How can I not be?
She will be staying here until we're sure that she is well on her way to living a normal healthy life. Hopefully when that happens, the right home (close to us and where we can see her often!)will come along, and she will be completely adored and spoiled rotten.
We had a special visitor come over and help take some photos last night. She even helped me bath some very stinky puppies. Thank you so much for your help Jen!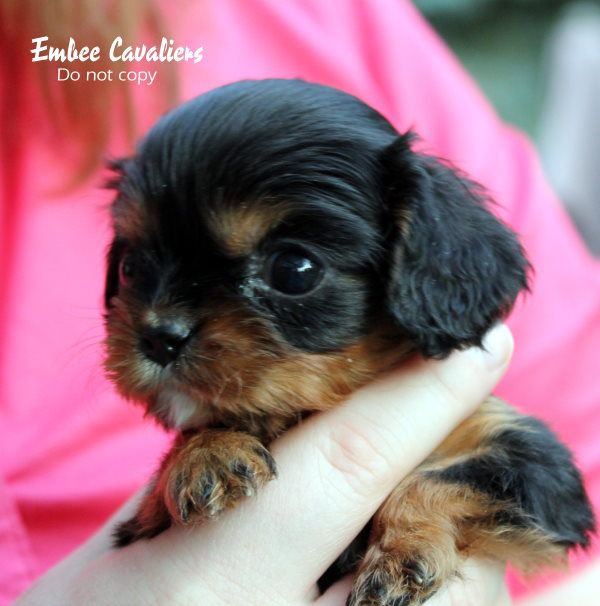 Friday evening was a big night for our little guys. They adventured for the first time outside. I setup a small matted area on our back deck for now. They've been spending some time outside this weekend and are starting to become more comfortable.
This series was posted on Facebook this weekend, sorry to those who have seen them already. Needless to say I think she enjoyed her first trip outside.
I see you ball!

Do you smell good?

I'm going to get you! *winding up*

Rawr!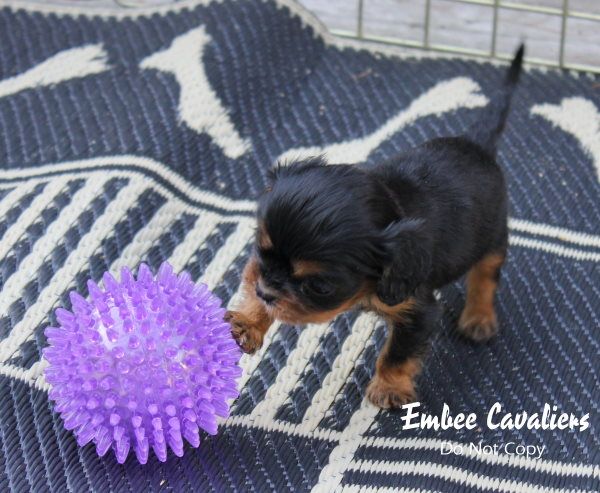 Our little girl is desperate need of a proper name. Any suggestions for a very feisty little girl who beat the odds?
Five little reasons have been keeping me very busy. So busy that I've been slow sharing some photos from the annual Cavalier Fanciers of Southern Ontario show in June.
This year was a very different for me. With the puppies being born just a week before, I was lucky that I made it there for half of the day. Normally I am around to help setup and get things organized. This year.. not so much. I was sleep deprived but thrilled that Rob was able to look after the babies (including feeding a little girl every two hours) while I took off for the afternoon.
I even managed to bath Sadie and show her in the 12-18 month bitch class. Sadie surprised me by taking 3rd place in her class of 7 or 8 (I can't remember right this minute). I've been in no hurry to start showing her, she has been very slow to mature and I did not welcome her into our crew as a show prospect. I was more interested in her pedigree, overall health history, and structure. It is taking some time but she is coming a long very nicely. We may venture out to a few shows this summer and fall.
I had Sadie's picture taken by Neil Kinnear and Lesley Chung at the show for Sadie's other Mom. If you visit the link you can see some other photos taken that day. Most of the time Sadie lives with a good friend of mine and has the very serious job of welcoming visitors into her Quilting Shop. Sadie loves her job!
Our Say-deedee

The rest of the photos were taken in the Specials class and the puppies who competed for Best Puppy. I was lucky to get so many good ones to choose from. It was a beautiful day for picture taking.
Here are my best shots of the day.
Smiling in the heat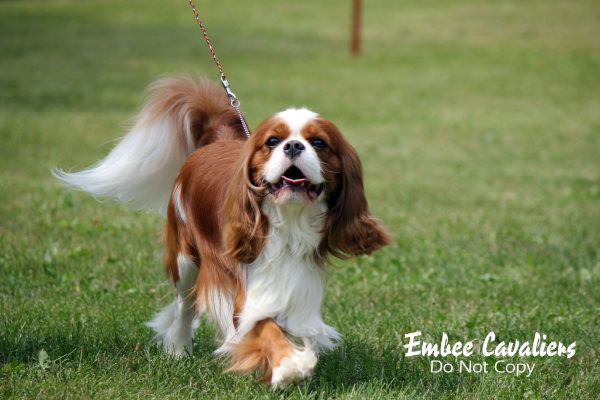 Beautiful ruby boy

Happy happy!

It's show time!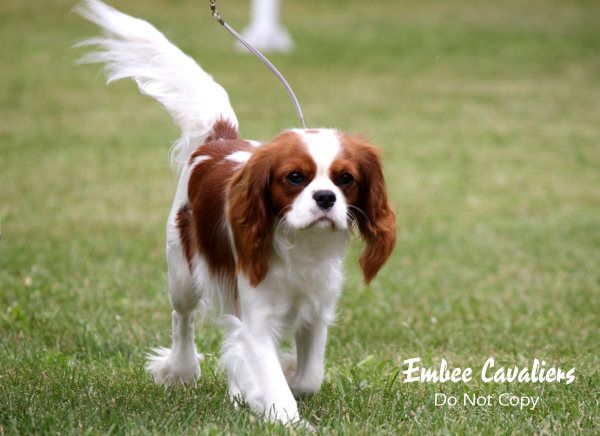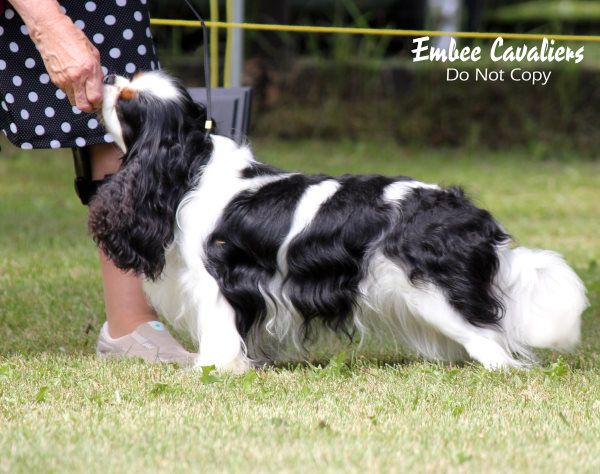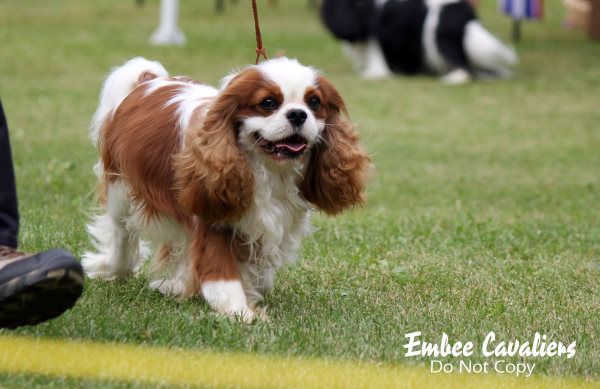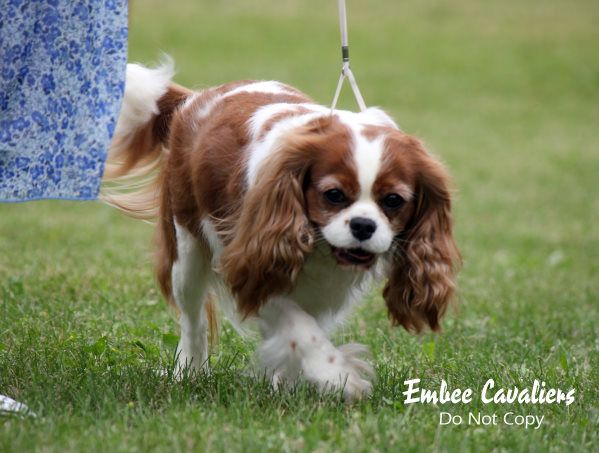 Will work for yummy treats!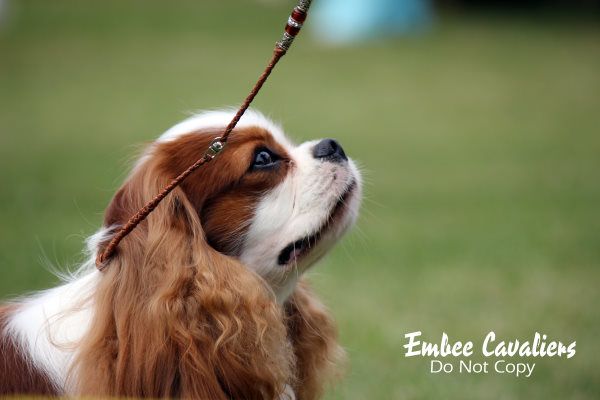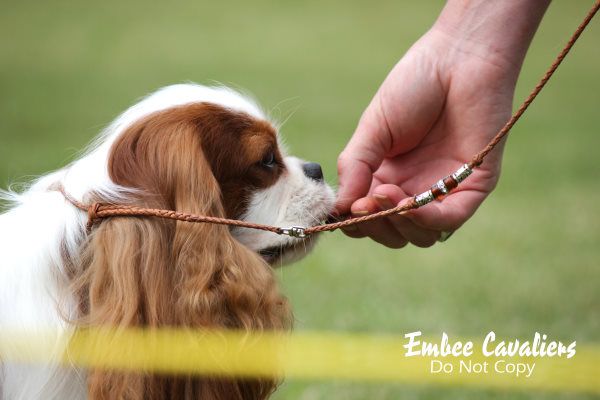 More puppy pictures coming soon…
Little girl is doing very well and we need to think of a name for her as she has made it clear she will be sticking around for awhile. I will update with more details on the gang later in the week.
To say things have been crazy here is an understatement.
They have been INSANE.
I started a new work contract, made two whirlwind trips to NY State and back, all while making sure a little wee girl is fed as much as we possibly can. I'm so fortunate to have a sister who doesn't mind staying over and looking after everyone as well as I do. She still isn't doing as well as her brothers but she is gaining weight, LOVES to eat, and is is completely adorable.
I finally managed to take some pictures tonight. Everyone got a few pictures done except for the little girl. She had just eaten and was far too sleepy for any picture taking nonsense. The more she sleeps the better her growth..so we'll let her sleep. I'll try again later. .
Our little babies are figuring out how to be dogs. We're starting to hear little growls from the whelping box, teeth are just beginning to poke through, and that gang of boys are contemplating becoming escape artists. It won't be long until they make a break for the freedom outside of their box.
Only Molly and the babies have had time for lazing around!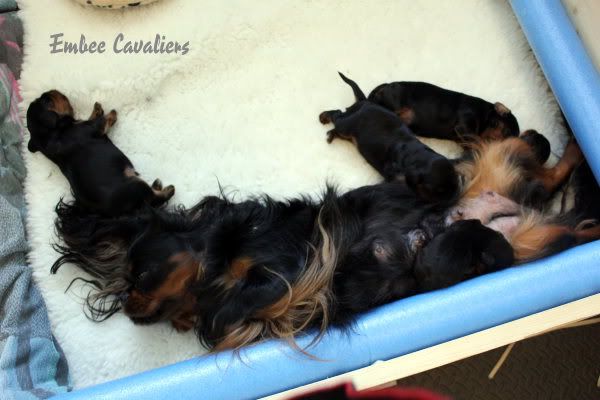 Our handsome fella's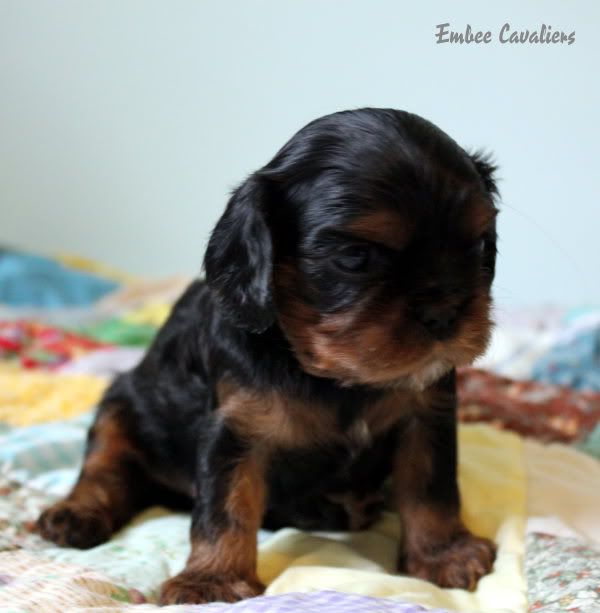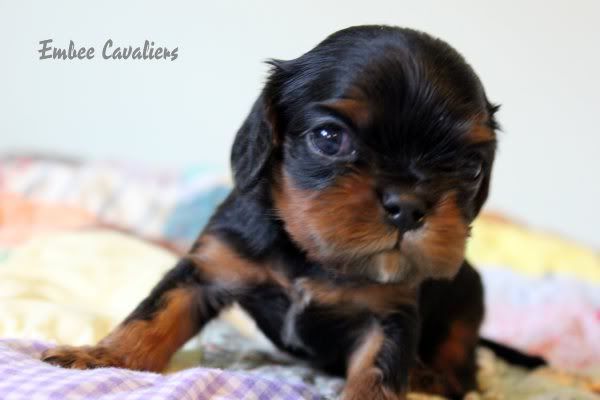 Embee Cavaliers
Embee Cavaliers is a small hobby breeder located in the Greater Toronto Area. We breed in equal parts for health, temperament, type and conformation. This blog was created to promote purebred dog ownership, preservation breeding and to celebrate living every day with royal spaniels.