Yeah, yeah, you've heard it all before..
"Do your homework before buying a puppy"
"Interview breeders"
"Be picky"
"Talk to more than one"
"Visit their home"
But what does that all really mean?
Consider the following:
An add on Kijiji for Cavalier King Charles Spaniel puppies for sale. "First shots, dewormed, raised in the home, vet checked." The add pictures a beautiful puppy in a cute flower pot, and Sire and Dam are pictured snoozing on the sofa.
You decide to visit the breeder and the puppies. When you arrive you have a meeting with a friendly breeder who seems very professional and well spoken. You are able to meet the puppies, but are unable to meet any other dogs, and the puppies clearly aren't living in this part of the home.
There isn't a dog bed in sight, and finding a dog hair on anything would be a challenge. The puppies are friendly. The breeder talks about never having any health problems in their dogs and has a 5 year health guarantee, but when you ask to see and have copies of the clearances, you run into excuse after excuse.

What is the problem with this you wonder?
The fact that a breeder registers their puppies (or not) with the Canadian Kennel Club, and that they are home raised with all vaccines and vet checked, does NOT automatically mean that they are coming from a GOOD responsible breeder.
When purchasing a Cavalier King Charles Spaniel puppy please be sure to see the following health clearances.
If the breeder cannot provide the following, look elsewhere! If you are stuck, contact me and I can forward you on!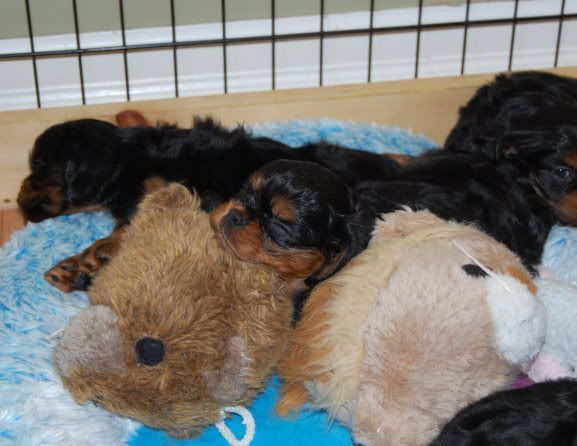 There are lots of Cavalier King Charles Spaniel puppies in Ontario from amazing breeders that are looking for homes.
Be sure to check the Cavalier King Charles Spaniel Club of Canada's breeder directory, and also contact the regional club in your area. For Southern Ontario that is the Cavalier Fanciers of Southern Ontario.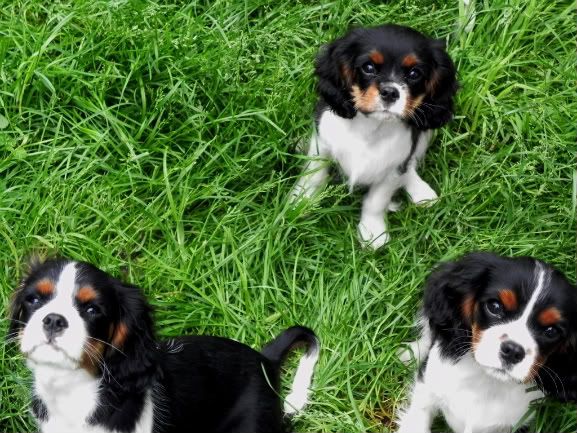 Meanwhile our example above continues to pump out puppies with no concern for breeding protocols or health testing. Infuriating.
People buying cavalier puppies are just as responsible for this breeds welfare as those breeding them.
If you are NOT purchasing Cavaliers from responsible breeders, you are not doing your part to protect and help this breed.
On the weekend Mylee and I ventured off to Toronto for Summer Woofstock 2011. North America's largest festival for dogs makes it both big and awesome.
This year was no exception. The cooler weekend weather brought people and dogs from everywhere to the streets of Toronto. So many owners, so many dogs, and so much shopping. Mylee and I had a blast.
We met up with some Cavalier friends and had a wonderful time.
Lazy Mylee loves to sneak in Faith's stroller to ride like a princess every chance she gets. Her horrible mommy doesn't own a stroller for her. If there was ever a reason for a dog stroller, Woofstock is a good example of it. As much as I hate to admit it, they are awfully handy to have sometimes.
Faith and Mylee checking out Woofstock from their throne

Kosmo looking handsome

We met lots of other Cavaliers at Woofstock this year

I shopped but could have spent wayyy more. I even managed to contain myself at Smoochy Poochy, we love their stuff!

Rows and rows of outdoor shopping. When we were leaving I discovered rows that I hadn't even ventured down yet. Probably a good thing for my wallet.

We met lots of other doggies besides cavaliers.
Small ones

Hairy ones

Old ones – isn't this boy sweet?

Short ones

Even Batman and Robin made an appearance! Look closely to find Robin.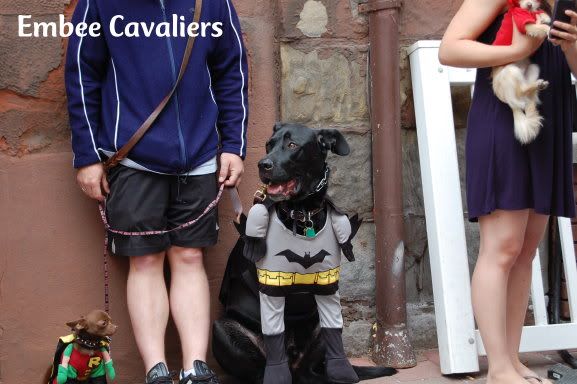 Mylee really enjoyed herself. Smiley Mylee!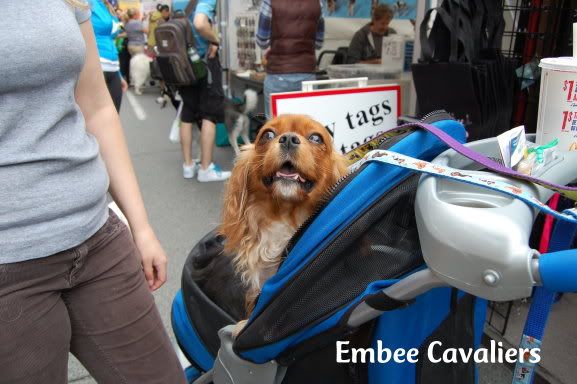 Daisy tried to steal treats off of a table and got herself locked up in jail. Doesn't she look like she is feeling sorry for herself? "Sorry Mom! I didn't mean to help myself."

We even met dogs who looked like their owners.

Woofstock is so tiring

See you next year Woofstock!
(Skip Winter Woofstock, and save your money for the summer…trust me on that)
The last weekend in June marks a very special time for cavalier lovers in Southern Ontario. For the past 20 years we get together at Brinklow Hill for our annual specialty show. This year the date falls on June 26, 20111; mark your calendars! The stage is set for a beautiful weekend of competition, friends, and fun.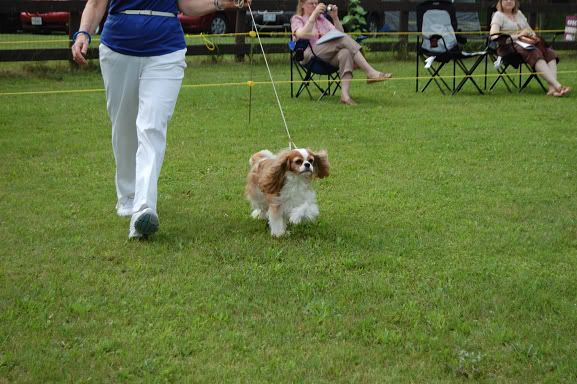 This year happens to be extra special as the Eastlake Cavalier Club will be joining us to put on a second specialty show on Saturday June 25, 2011 . A FULL weekend of gorgeous cavaliers in one location. Can you think of anything better?
For more information visit our premium list, or the Cavalier Fanciers of Southern Ontario.
For those wanting to enter their dog in conformation or exhibition… better hurry, entries close 8 p.m. on Wed. June 8, 2011.
We'd love to see you there!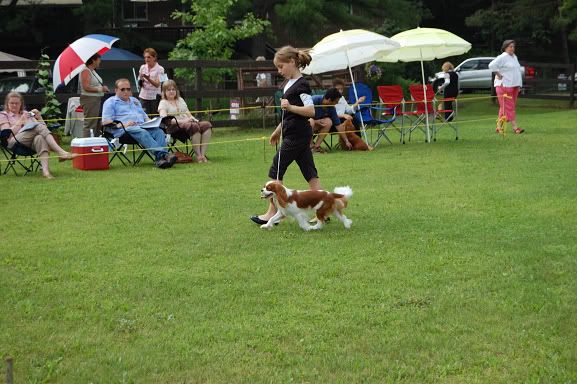 As much as we love visitors; here are some general courtesies to follow if you are planning on being in attendance.
We love cavaliers and appreciate that you do as well; however it is common courtesy to leave your dogs at home if possible unless they are entered as exhibition only. Extra dogs at ring side are a distraction to those working hard in the ring. Even more so if they are disruptive. You don't want to be *that* owner.
Bring a comfy chair/blanket and an umbrella for shade. We've had some extremely hot show weather, come prepared!
Try and be mindful when approaching exhibitors; especially if you notice that they are busy brushing, blow drying, or getting ready to go into the ring. Most exhibitors and breeders really enjoy talking about their cavaliers EXCEPT at ring time.
Bring some cash for our famous raffle table. Trust me, you don't want to miss it!
Most importantly, come and have fun, and meet some people who are as passionate about the breed as you are.
Additionally this year we have a beautiful painting by Barbara Bond – Revelry Cavaliers that we are raffling. I am IN love with this painting and am dying to win it. Completely gorgeous, and truly breath-taking in person.
If you would like to purchase tickets and cannot make it to the specialty please contact me directly. All proceeds go to the Cavalier Fanciers of Southern Ontario. Tickets are $5.00 each or 3 tickets for $10.00. If you win, I reserve full rights to come and steal it!
Remember keep your fingers and does crossed for a black and tan princess to show and hopefully place well! She has really matured lately and looks stunning.. (completely biased I know)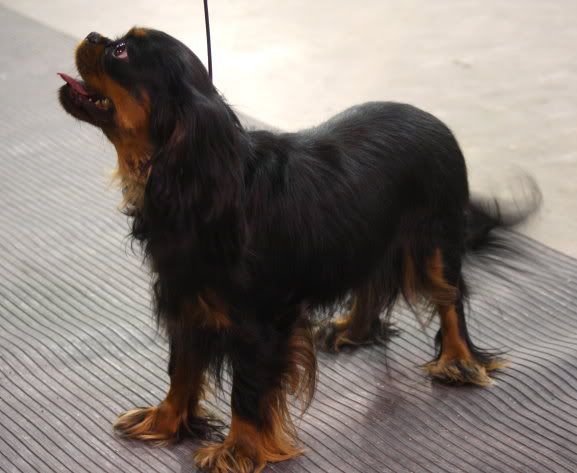 Embee Cavaliers
Embee Cavaliers is a small hobby breeder located in the Greater Toronto Area. We breed in equal parts for health, temperament, type and conformation. This blog was created to promote purebred dog ownership, preservation breeding and to celebrate living every day with royal spaniels.