I had big plans today. Plans to go visit some good friends of mine in London and ring in the New Year with black cherry rum, thai food, an owed combined Birthday and Christmas present and a lot of fun and laughs. As we all know sometimes even the best of plans don't work out. Her gifts will have to wait, and our black cherry rum will keep until the next time.
I have a horrible, rotten, disgusting, cold. I've had it for six days now and yesterday, and today have been the worst so far. My normal remedies of living on cough and cold medication and dristan just isn't cutting it. I plain feel awful. It has to get better sooner rather than later right?
So instead of being in London I am at home tonight. I'm at home in comfy pajamas, surrounded in quilts, the humidifier running full steam, and spending New Years with my dogs on the couch. A wonderful second option in this case.
We will watch the cheesy New Years specials, maybe a girly movie or two, and probably be sleeping long before midnight.
Zo is thrilled with this change of events as it means I will be home to play with her, taken earlier this evening;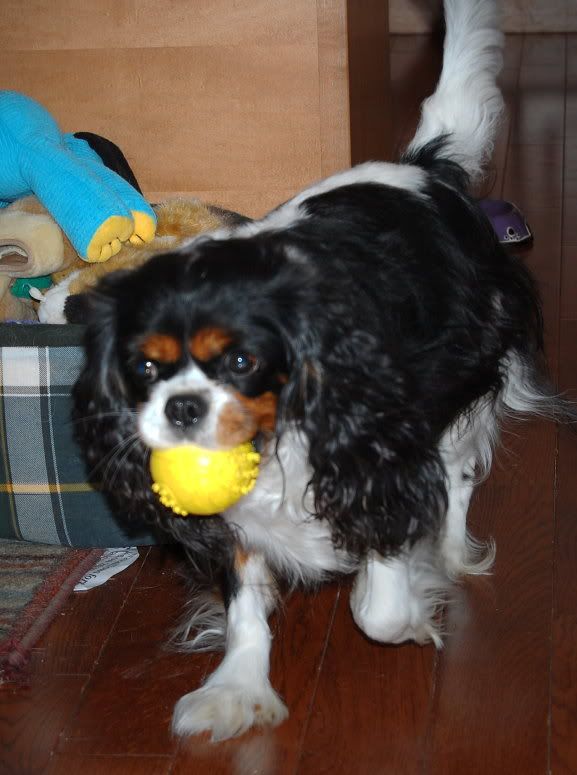 and Mylee.. well Mylee already has the right idea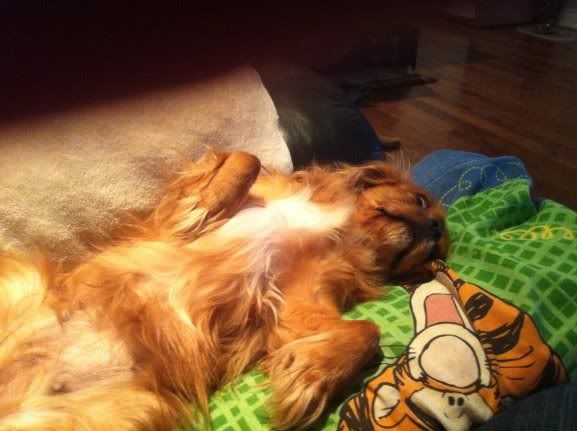 Sleeping this well just doesn't happen with a horrible cold, I am jealous.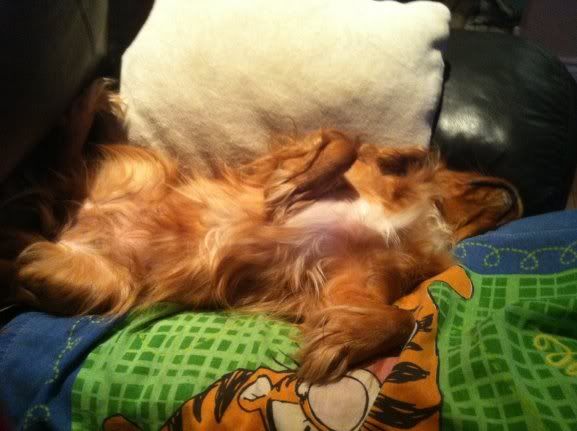 Have a happy, safe, and healthy New Year.
My smelly Christmas candles are burning, my table is completely covered in wrapping paper, tape, and the gifts in which the paper should be on. My little last minute details are *mostly* done, and Christmas officially starts for us tomorrow with family. Life is good. 🙂
If I get ambitious later tonight I think I am going to attempt to make some vanilla fudge. My good friend inspired me. I'm betting on a disaster but I'm hoping to be pleasantly surprised.. we will see.
The card I sent out this year. I normally try and do a little Christmas photo shoot but I think this worked out just as well. By the time I was in the "mood" to even start thinking about Christmas cards they should have been in the mail!
Zoey's idea of helping with cleaning and getting ready for Christmas this afternoon. Does anyone else have this problem? Vacuum's are apparently evil intruders from space, who suck up cavaliers…no matter how many times a week they visit your home. It's always the same, like she has never seen a vacuum in her life!

I hope everyone has a happy and safe holiday!
So often this topic is posted about and discussed. What breeders are doing, what are they not doing, who are they using for breeding, who is doing their MVD testing, who isn't, who is following protocol, who isn't… etc etc.
The sad reality of it all is that regardless of who is doing what and who isn't almost all Cavaliers at some point or another will develop Mitral Valve Disease. It can also be said that many dogs regardless of breed will develop MVD as it is the most common form of heart disease found in dogs. The issue in our breed is how soon they can develop it and how fast it may progress even if it is developed late.
Like other problems in our breed there are more unanswered questions than there are absolute certainties regarding MVD. Making good breeding decisions, buying from a reputable responsible breeder, and completing yearly breed screening are really our only plans of action.
One thing remains constant and it is the single best thing you can do for your Cavalier in regards to MVD is to book them a yearly appointment with a *Cardiologist* for at minimum an auscultation. Yes a Cardiologist. Not your normal Veterinarian.
Your Vet may be the best Vet ever, extremely knowledgeable. and treat you and your Cavalier wonderfully, however the bottom line is that they are not skilled in regards to picking up early and lower grade murmurs. They may be able to detect a murmur if it becomes quite serious, however with our Cavaliers early detection and careful monitoring gives them the best defense for MVD. The extra cost and or trip is worth it for peace of mind.
Monday was that day for us. Miss Zo and a good friends visiting Cavalier made the journey down to see Dr. Minors at Mississauga/Oakville Veterinary Emergency Centre. Dr. Minors is very familiar with Cavaliers after working with our CKCSCC Heart Study for soooo many years. She is excellent with our Cavaliers and has listened to thousands of CKCS hearts.
I put Zo up on the table where she happily wiggled her hellos and then I started the agonizing wait as Dr. Minors carefully listened to her heart. After what seemed hours I finally heard what every cavalier owner and breeder wants to hear, Zoey's heart sounds good, no murmur detected. Relief and peace of mind… until next year that is, when we get to do it all over again.
Taken with my Iphone earlier today.. Not the best quality but great for snapping those shots when you don't have your camera in reach.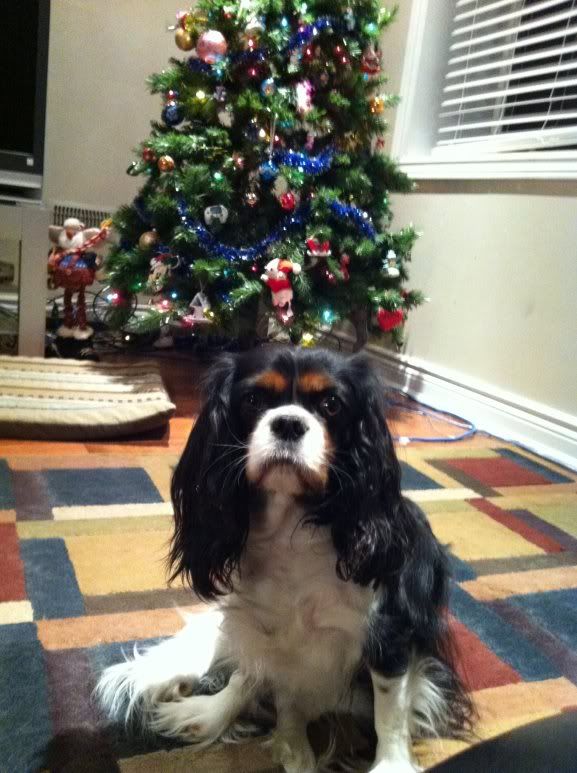 Embee Cavaliers
Embee Cavaliers is a small hobby breeder located in the Greater Toronto Area. We breed in equal parts for health, temperament, type and conformation. This blog was created to promote purebred dog ownership, preservation breeding and to celebrate living every day with royal spaniels.