This is version 2.0 of our popular post written in 2011 on how to buy a Cavalier King Charles Spaniel Puppy from a breeder.  It's mostly the same post with a few things changed and revised. 
Yeah, yeah, you've heard it all before..
"Do your homework before buying a puppy"
"Interview breeders"
"Be picky"
"Talk to more than one"
"Visit their home"
But what does that all really mean?
Consider the following:
An advertisement on your local online classifieds for Cavalier King Charles Spaniel puppies for sale.  "First shots, dewormed, vet checked." The ad pictures a beautiful puppy in a cute flower pot (insert whatever fake scene) and a couple of adults are pictured pictured snoozing on a sofa.
You decide to visit the breeder and the puppies.  When you arrive, you have a meeting with a friendly breeder who seems very professional and well spoken.  You are able to meet the puppies but are unable to meet any other dogs and the puppies clearly aren't living in this part of the home. There isn't a dog bed in sight and finding a dog hair on anything would be a challenge.  The puppies are friendly but maybe a bit cautious. The breeder talks about never having any health problems in their dogs and has a 5 year health guarantee, but when you ask to see and have copies of the clearances you run into excuse after excuse.
What is the problem with this you wonder?
The fact that a breeder registers their puppies (or not) with the Canadian Kennel Club and that they have had vaccines and vet checked, does NOT automatically mean that they are coming from a  responsible breeder.  The following example above could be a backyard breeder or worse a front for a puppy mill.  Millers have become very smart and send their puppies to be sold by brokers.  The broker takes cute pictures, posts them online and sells to the first buyer that comes along.  Needless to say this type of breeder is probably not where you want your puppy to come from.
When purchasing a Cavalier King Charles Spaniel puppy make sure you ask lots of questions;
How old are the parents?
Are you an active member of your regional and national breed club?
Do you show your dogs or participate in performance sports? (agility, rally etc)
What are you currently feeding your dogs?
How long have you been active in the breed?
These type of questions can have a wide range of answers.  The goal isn't so much answer itself (within reason) but to start developing a relationship and trust with the breeder.  The more responsible the breeder, the harder you are going to have to work to develop a relationship and trust with them.  We want to know that our puppy is going to the very best home possible where it will be well looked after, loved, and cared for properly.
You'll also want to ask a lot of questions about breed health and current health clearances on the sire and dam.  Cavaliers can be a healthy breed but they can also face a lot of health problems.  Responsible breeders are doing their best to combat these problems but we aren't able to control everything.  Health problems can and do happen and any breeder who tells you otherwise is lying.  Ensuring your puppy comes from healthy parents is the first step to owning happy and healthy Cavalier.
You'll want to discuss with the breeder and view clearances for:
If the breeder cannot provide the following, look elsewhere! Yes, finding a well raised puppy from a responsible breeder can be time consuming and a long wait but it is completely worth it.  I'd also highly suggest reading and following THIS article for a greater understanding.
Be sure to check the Cavalier King Charles Spaniel Club of Canada's breeder directory and also contact the regional club in your area.  For Southern Ontario that is the Cavalier Fanciers of Southern Ontario.
Purchasers of cavalier cavalier puppies are just as (if not) more responsible for this breeds welfare as those breeding them.   If you are NOT purchasing Cavaliers from responsible breeders, you are not doing your part to protect and help this breed.
You probably have noticed that things here have been a bit of a mess. Â My poor neglected website was in desperate need of updates to begin with and then Photobucket went and royally screwed things up for it's long time users. Â They seemingly disabled 3rd party hosting over night with no warning in advance, not even to their long standing paid customers like myself. Â  IÂ had been using 3rd party hosting over Blogger simply because it was the easiest way to get the sizing I wanted for my photos. Â This essentially made all of my content with photos (and there was a lot!) completely ruined. Â Photobucket users have the option of paying $400 USD a year to have their 3rd party links turned back on. Â Yes you read that right… $400.00! Â Not only is that an absurd amount of money, they have completely lost my trust in them as a company. Needless to say I won't be paying it and I learned a hard lesson, it's better to host your own photos.
The easiest way for me to do this was to convert everything over from Blogger to WordPress software and start hosting it on my own server. Â I've had to redesign my website from scratch and much of it is still incomplete. Â The annoying Photobucket 3rd party hosting photos will likely continue to plague me for awhile to come, especially if you want to look at content in the past. I have to individually update each post and attempt to put things back together. Â Sadly, close to 10 years worth of content will never be the same again. Â I have no idea what photo was with which post.
The good news is I finally have interest in blogging and posting again. Â I'm also considering developing a Youtube channel, we'll see. Â For now enjoy a couple puppy pictures! Â Things won't be quite the same but there is nothing an adorable puppy (or two 😉 ) Â can't fix.
I followed Ruffi home from the States and I'm pretty cute!
I'm very outgoing and wasted no time checking the place out

Can you catch me standing still?

I've got beautiful structure and movement for a little guy and maybe one day I will grow up to be a show dog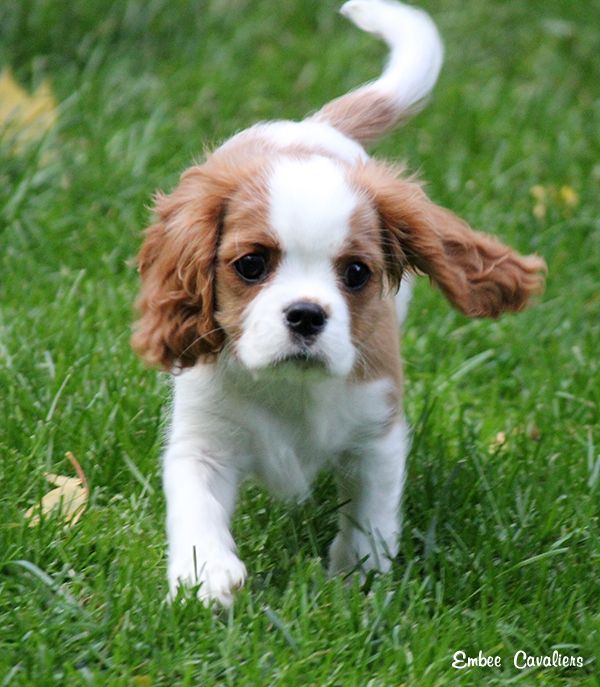 For now my job is to be adorable and give lots of kisses

Oh and do a lot of this!

Norma and I would like to officially welcome Chanctonbury Wild Abandon aka Rex. Rex is growing up at Brinklow Hill with Lollipop, Nika, and Geordie. We're very much looking forward to seeing how this little man develops. So far he's everything we possibly could have hoped for, yes even for me.. blenheim suit and all! 😉 A special thank you to his breeder Janet Beck for entrusting us with his care and to Carol Rose for letting him come to Canada.
Embee Cavaliers
Embee Cavaliers is a small hobby breeder located in the Greater Toronto Area. We breed in equal parts for health, temperament, type and conformation. This blog was created to promote purebred dog ownership, preservation breeding and to celebrate living every day with royal spaniels.