Questions
Do you ask them?
Why?
What do they mean to you?
What do they mean to the person you are asking?
For me questions are a way to seek further information and understanding.
Without them, where would we be? Where would we go?


I love to ask questions about information that doesn't necessarily make sense to me. In my profession this is seen as curiosity and a highly sought after quality. Without being curious progress is never made. Without progress nothing ever changes.
When I ask questions and point out areas of information that may not make sense, it does not mean that the information is not credible or appreciated. It really means that I am passionate and care deeply.
When breeders ask questions they are seeking further information. We love our dogs, and we love this breed. We are truly vested in their future.
Why is it that breeders can't ask questions about the future and things that do not make sense without it being seen as an attack on a profession?
The commitment and hard work that goes into research is deeply appreciated. Without it we would never progress. Without questions and furthering our knowledge what would we research?
Researchers need breeders as much as breeders need researchers. We consent our dogs to undergo procedures without a second thought, yet in return questions seem to draw the most controversy.
Thank you to researchers for all that you do, it is probably not said enough. Thank you to all the breeders out there doing the same, it is also not said nearly enough.
I will apologize now for my questions, but I will keep being curious. After all… it is in my nature to do so.
"Sadie"
My house is in puppy chaos but I am loving almost every moment of it. Some how I always forget how much work puppies are.
Embee Cavaliers is now home to all four colours. Who would have guessed that would happen? Certainly not me!
I hadn't planned on adding a little blenheim girl to our crew. In an ideal world she would have been ruby. 🙂 Since I loved everything about her I will have to wait longer for my little ruby.
For now Sadie is here growing up. We will see what the future brings and how she turns out.
Her eyes, ears, and deep pigment remind me very much of her half brother – Woodmere's What a Dreammaker, scroll down to the bottom of the page.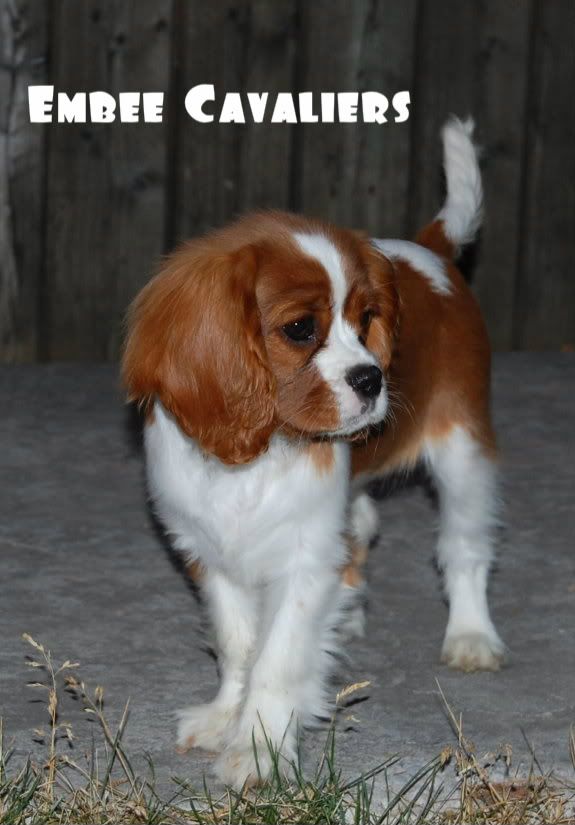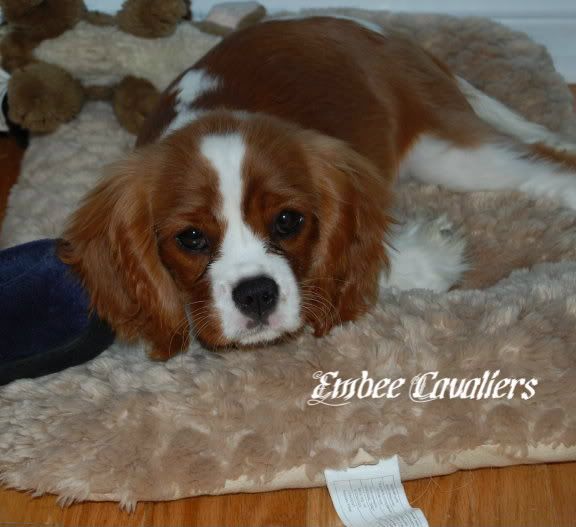 My girls have had their noses a bit out of joint but are coming around. Zoey had a good run with her today and is now sharing her donut bed.
Mylee is peeved but crackable with some more snuggles.


Puppies… everything goes IN the mouth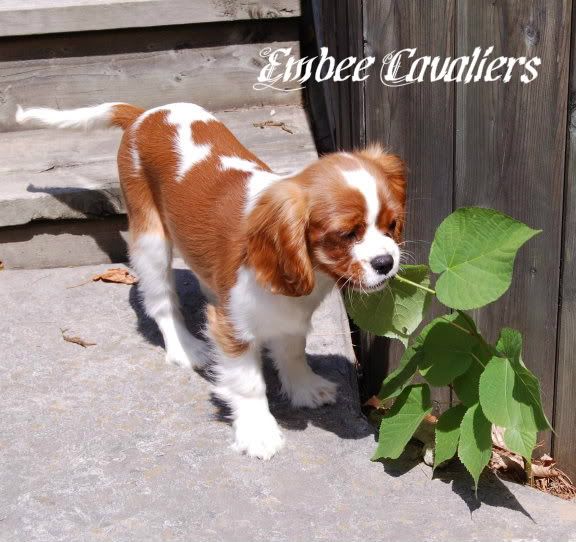 Poor girl doesn't know whats coming.. August. A whole month to play with my camera again.
We wish everyone a Happy Canada Day! Have a wonderful and safe long weekend.
We will be doing some of this,

and a lot of this,

The week here has been insane. School is…kicking my ass. My college decided to compress our summer semester. It will be incredible when I finish my program a month earlier than anticipated.. until then I reserve every right to complain. It has been a wild ride.
Even Zo is feeling sorry for me.
Here is our update on an incredible weekend.
Last weekend was our annual Cavalier Fanciers of Southern Ontario specialty show. This year CFSO was held in combination with the Eastlake Cavalier Club's specialty show. It meant for a full weekend of beautiful dogs and friends.
Most years I go to the show camera in tow and take a ton of pictures. This year I decided I wanted to watch as much as possible. Watch the dogs, watch their movement, and just enjoy the show. I really did enjoy the show but I'm now regretting not taking my camera.
Thank you to Debbie Souch and Lisa Lott (Wug Cavaliers) for capturing some amazing moments at CFSO and Eastlake shows. All photos taken this weekend are courtesy of Debbie Souch – Bark'n About
Debbie caught my new all time favourite picture of Molly in the ring. Isn't she gorgeous? (biased yes I know)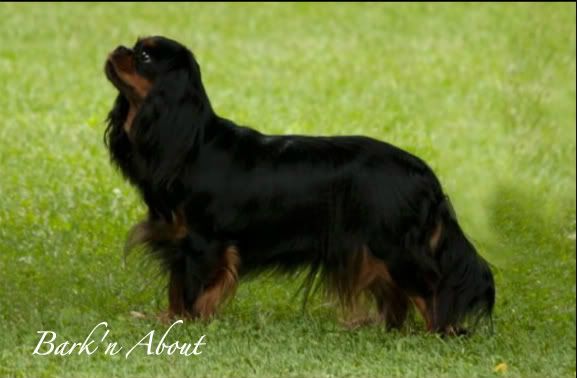 Full results of the day can be found on the newly re-launched CKCSCC website. Eastlake HERE, and CFSO HERE.
Princess Molly and I had a fabulous weekend. She showed well for me winning her class on Saturday, and losing to a beautiful tri girl on Sunday. Molly's class was small but the girls in it were both beautiful and being shown by my friends. It truly didn't matter which one placed first.
Jem – CH. Burbrook's Opal at Jewelcroft and our Zoey's mom won best veteran bitch on Saturday's specialty. She is 7 years old and was shown by a 12 year old girl who owns Zo's half brother.

Cassie winning best puppy at the Eastlake specialty on Saturday. Isn't she cute?

This was her in September when she decided to be born on CKCSCC National Speciality show weekend. You can read about that weekend HERE.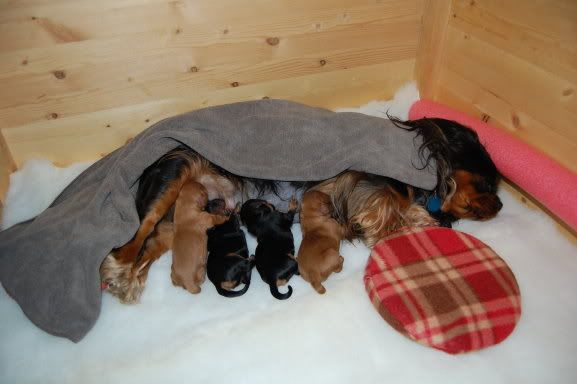 A beautiful ruby boy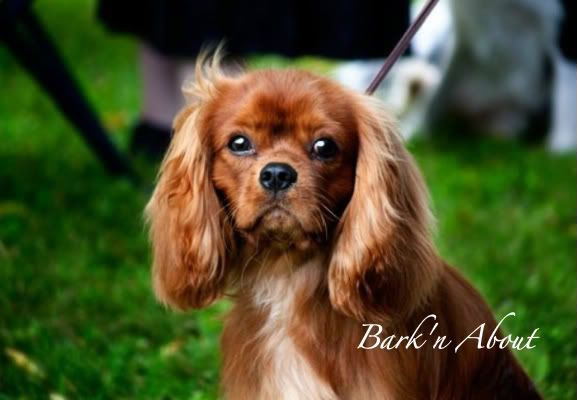 And just when I thought the weekend couldn't get any better…
is now hanging in my front hall.
A huge thank you to Barbara Bond – Revelry Cavaliers for both painting and donating this incredible picture. I am over the moon thrilled about winning it.
Embee Cavaliers
Embee Cavaliers is a small hobby breeder located in the Greater Toronto Area. We breed in equal parts for health, temperament, type and conformation. This blog was created to promote purebred dog ownership, preservation breeding and to celebrate living every day with royal spaniels.