This past week has been very stressful for me. I've had several late nights spent worrying about a special black and tan princess. Add a little red dog wanting to go out on middle of the night excursions and you have the recipe for a *very* over tired owner!
Molly recently turned 2.5 years old. For Cavalier breeders who choose to have MRI scans done on their dogs it is a milestone number. It represents the age in which an MRI scan should be completed prior to breeding. Most severe cases of SM show up prior to 2.5 years old.
Yesterday was that day for our girl.
I would once again like to say thank you to Matheson Blvd. Veterinary Services for what they do for our Cavaliers in Ontario. Yesterday 11 breeding dogs were MRI'd at MBVS. Without Jane Sykes and her team's compassion and expertise, MRI's for Cavaliers in Ontario would not be affordable for breeders, nor performed as often as what they are. We are so fortunate to have them.
Molly sailed through her MRI with flying colours. This is always the biggest concern and risk for Cavalier breeders performing MRI's. The dogs must undergo a general anesthesia which is both invasive and does not come without risk.
You've starved me all day, can I have a cookie yet?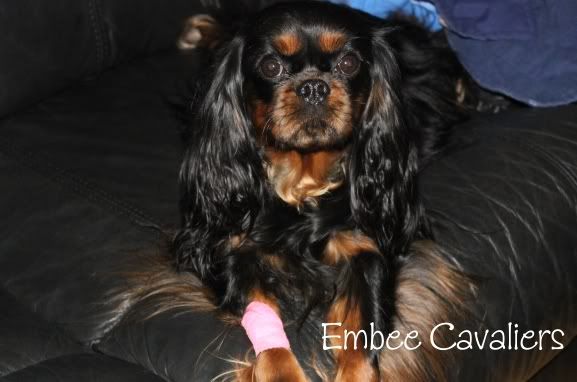 Seriously? Not yet? What do you mean I'll throw up!

Only a pink bandage is suitable for a princess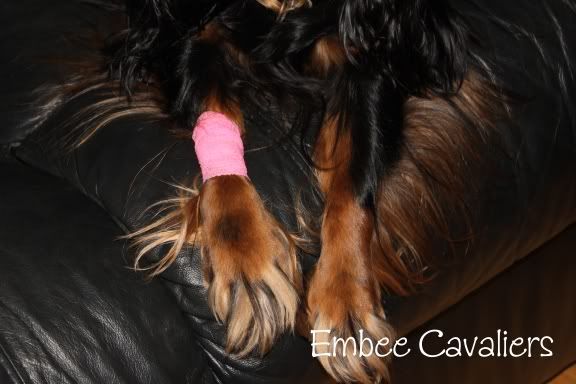 Not only did she recover easily from her procedure she also had a beautiful clear scan.
I'm so happy and thrilled with this special girl. Thank you especially to her breeder Karen Murray (Mysticmoon Cavaliers) for sharing this healthy princess with us. I am excited for what the future will bring…
A few weeks ago I encountered a very nasty problem. I went to open one of our favourite types of treats and the entire bag was moldy. So disgusting!
Wetnoses pride themselves on being organic and safe for pets. In fact on the front page of their website it states:
"We know that caring pet owners want to be absolutely sure that what their dogs are eating is safe as well as beneficial to their health."
Nasty mold was so far from that statement that I decided to contact them. I only half expected a reply, let alone a detailed response. Much to my delight and surprise they not only responded, they were wonderful! 🙂
The representative let us know that they had a problem with a leaky skylight and only a few boxes of their cookies were impacted. They gave me the offer of replacing my box which I kindly accepted. No company is perfect but the ones who truly care about their customers and pets are worth buying from again.
Without a quick email and a response on their behalf, chances were very low that I would have bought Wetnoses cookies again. Now its the opposite.. I'm here posting a great review for them and will definitely buy some more boxes in the future.
Our box arrived more than a few days ago.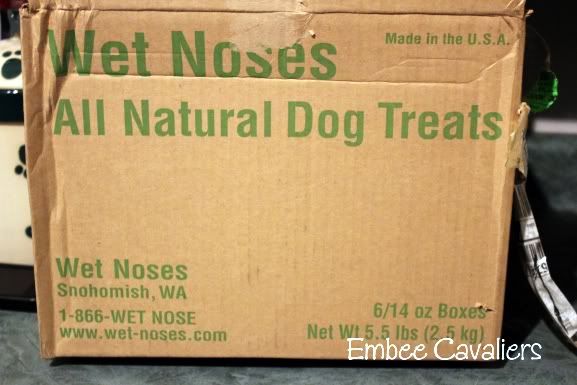 Inside was our replacement box of Pumpkin Cookies
Wetnoses was very kind to include a water bottle and a coupon! Someone has already been into my water bottle… and it wasn't me.

The coupon we hope to use soon.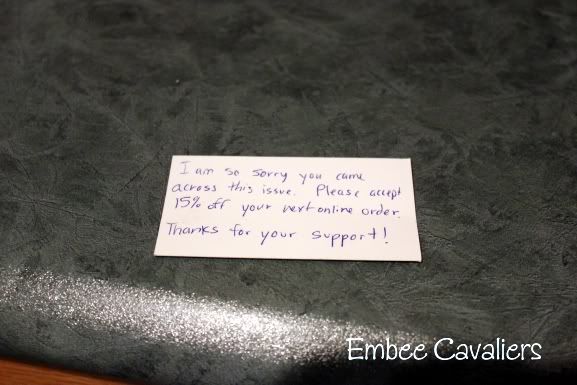 Thank you to
Wetnoses
for standing by your product. There are so many companies who don't and choose to ignore customers like me. (worst PR move you can make) My dogs really do love your cookies.
Unfortunately none of them were in the mood to be photographed tonight. I think that means i've been playing too much with my new camera and using them as props. Pure abuse around here.
Only this beautiful boy wasn't fooled by my lens.. but only for a few.
Last year I wrote an absolutely scathing review of
Winter Woofstock
at Toronto's Direct Energy Centre. I am the last person that thought I would find myself in attendance for this years event.
The poopy purple carpets, severe over crowding of people and dogs, and the complete utter chaos was not a scene that I was ready to repeat again so soon.
The Wednesday night before this years event I got a phone call from a good friend. "Are you interested in going to Woofstock?" Ugh, how should I answer? I absolutely love dog events, and dog events that are purely shopping for your dogs? Amazing. That being said I was very reluctant and the best answer I could give was maybe…..
2 nights later, on the Friday before Woofstock weekend, I receive another phone call from a another very good friend. "I want to go to Woofstock and you are coming with me."
So my decision was made. I attended Winter Woofstock last weekend with two very good friends of mine.
Winter Woofstock 2011, take 2
I am happy to say we had a complete blast and spent over 6 hours at the indoor event.
We did a lot of shopping. We did a lot of talking. We paid hugely inflated prices for drinks and something small to eat. We did more shopping. We enjoyed ourselves.
Kudos to Winter Woofstock for addressing the severe challenges of last years event. Also kudos for responding to my concerns on Twitter. You definitely earned my praises this year. Much better facility choice (same facility different rooms), wider aisles, no carpet, and a potty park for those who brought their dogs. Very welcomed and huge improvements.
Winter Woofstock potty park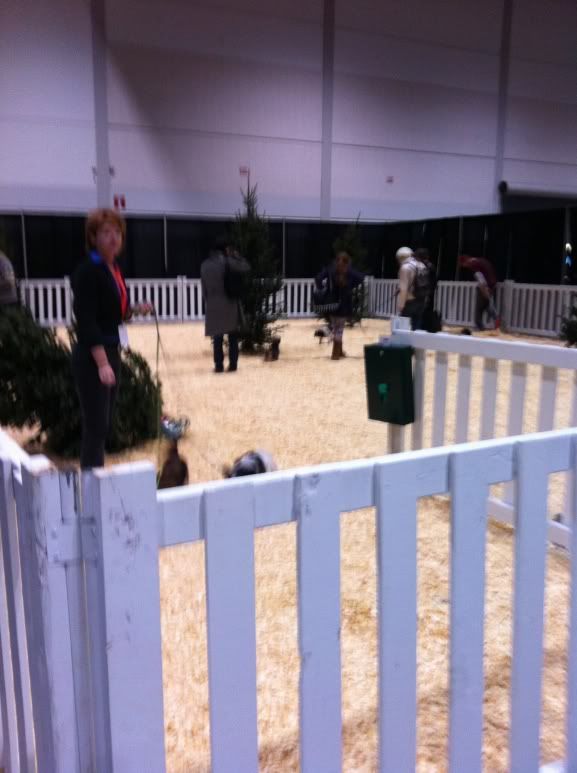 We were smarter this year. All of our cavaliers were left home. Yes even my little red dog stayed at home.
There were a few cavaliers in attendance but not very many. We did get to meet sweet Daisy and her beautiful sweaters from Dogs and Daisies
She was having a snooze when we got there but was excited to come out and greet us in typical cavalier fashion. Your sweaters are gorgeous Daisy!
My good friend Rebecca from
Pet Empire
was also there. For any type of grooming equipment her products are the best of the best. (Spectrum 10 shampoo & conditioner, buttercomb's and wooden pin brushes, need I say more?)
She had her sweet Havanese girl with her. Don't tell my girls but Havanese are on my short list of breeds that I'd love to own.
Shopping, shopping, shopping…was the word of the day.
Cookies for people or dogs? Dogs!
In case you didn't know what the small bags were for…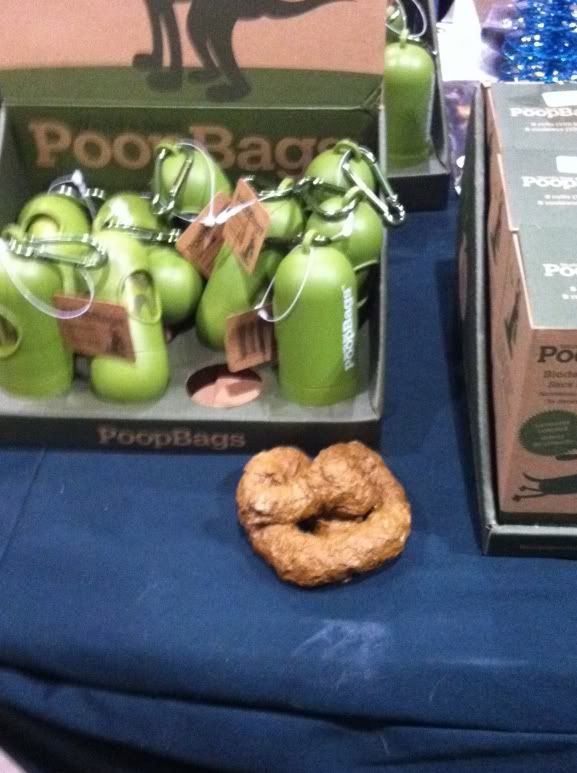 We almost came home with this and the matching jackets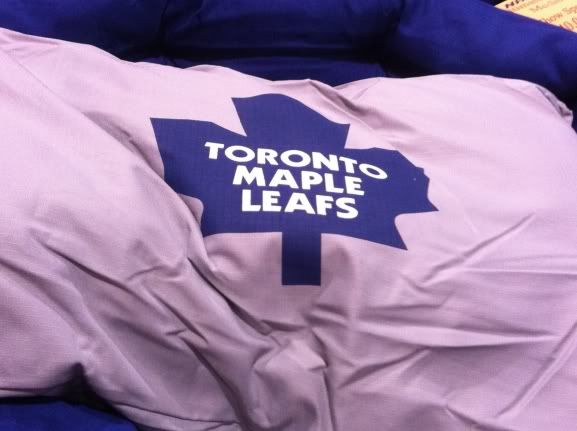 I really didn't end up spending too much money. I got a few bags of cookies, 2 larrrrge bully sticks, and a joint supplement that I am excited about.
Wellytails
– Their products look wonderful, I'm looking forward to trying them out.
My friends didn't fare as well with their wallets. 🙂
Now to start saving for the summer…
Embee Cavaliers
Embee Cavaliers is a small hobby breeder located in the Greater Toronto Area. We breed in equal parts for health, temperament, type and conformation. This blog was created to promote purebred dog ownership, preservation breeding and to celebrate living every day with royal spaniels.