The folder giveaway/snood making bonanza is almost complete. All of them should be in the mail this coming weekend. If you entered our giveaway and haven't emailed me your address to receive your folder and snood, this is your last chance! I'm definitely missing a few. embeecav at gmail dot com.
Just a fun post tonight in hopes of sneaking to bed a bit early. I can't wait for the upcoming long weekend. After two beautiful but exhausting weddings I am ready for a weekend at home with my dogs.
Zozo and her brother Winston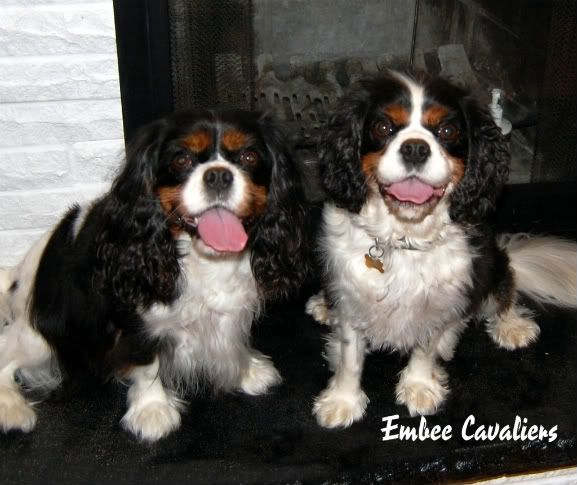 Definitely can't tell these two are related!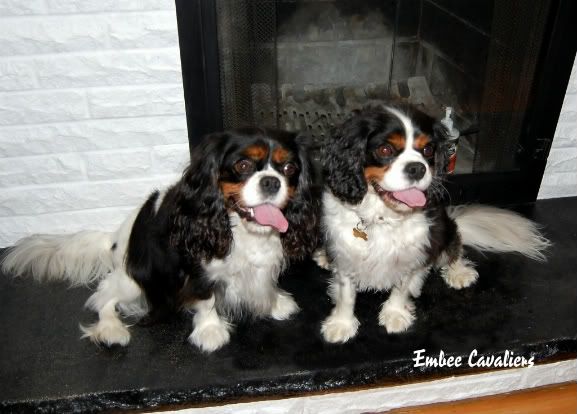 Princess Molly's gorgeous father greeting visitors to his property at the CFSO picnic.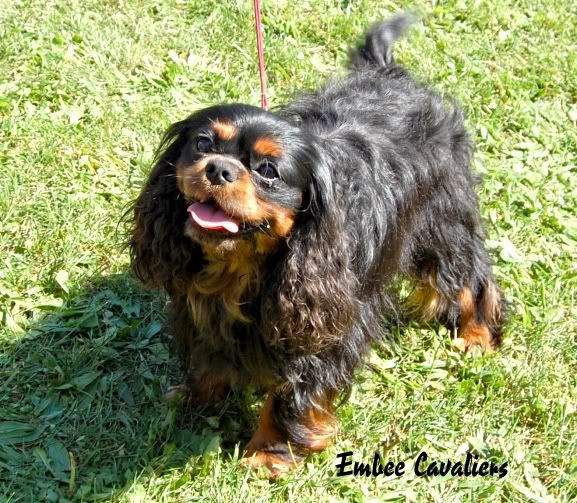 Would you be able to tell they are related?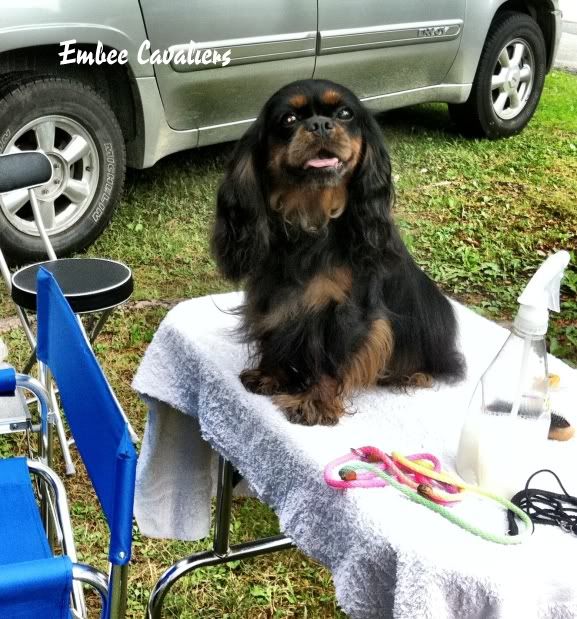 This post is best viewed with music!
Teddy Bear's Picnic
If you go down to Brinklow today
You're sure of a big surprise
If you go down to Brinklow today
You'd better go in disguise.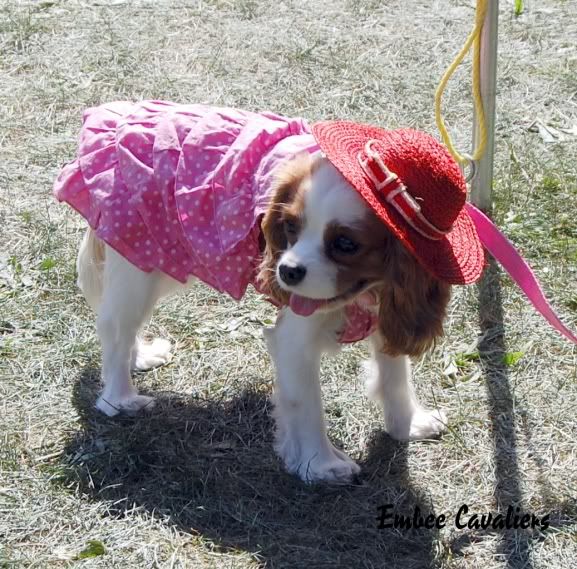 For every Cavalier that ever there was
Will gather there for certain because
Sept. 18 was the day the CFSO had their picnic.
Every cavalier who's been good
Is sure of a treat today
There's lots of marvellous things to eat,
And wonderful games to play.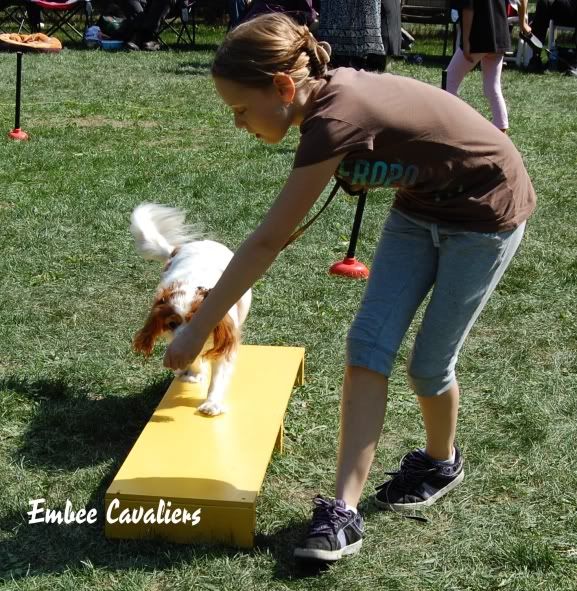 Beneath the trees where nobody sees
Cavaliers will stay as long as they please,
Cause that's the way Cavaliers have their picnic.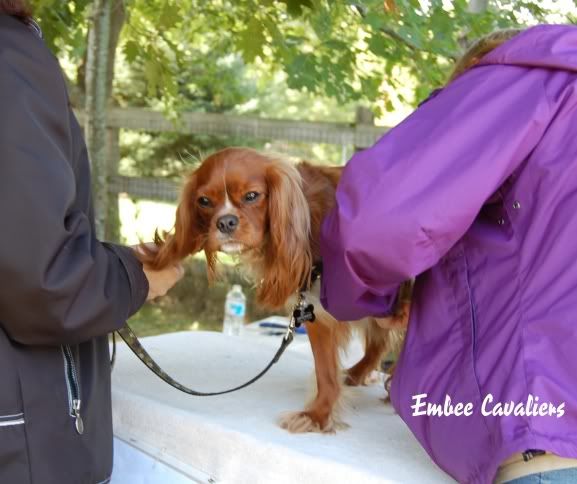 Picnic time for cavaliers
The little Cavaliers
are having a lovely time today.
Watch them catch
them unawares
and see them picnic on this special day.
See them happily prance about,
They love to wag and shout,
They never have any cares
At four o'clock their
mummies and daddies will take them home to bed
because they're tired little cavaliers.
On September 18th, the
Cavalier Fanciers of Southern Ontario
held their annual Cavalier picnic.
It is a special day where Cavalier owners and breeders get together to appreciate our wonderful owners and breed. It was an amazing time with lots of well loved cavaliers and very good friends.
A very big thank you to all who came and made it possible.
Also a special thank you to Blossom, Bentley, Mot and Bracken for the completely amazing raffle prize that I won. I was thrilled. Miss Molly is going to look beautiful in the show ring thanks to you.
Thank you to everyone who entered the first ever Embee Cavaliers giveaway. It was definitely a smashing success!
I am excited to announce that everyone who commented with what they will use one of our folders for will receive one in the mail along with a snood.

Health and education are so deeply important to me. Not all value the impact and strength of like minds collaborating together on one subject through the internet.
The protective barriers that used to exist between cavalier owners, breeders and fanciers are no longer. Through the internet transparency, education and dedication are what takes their place. The power is truly in all of our hands. By collaborating together we can make a difference. The health and future of our breed depend on it.
To all those who entered by commenting and letting me know what you would use one of our folders for:
Email me with your full name and mailing address, embeecav at gmail dot com
Include your cavaliers name and two of their favourite colours
I will not be contacting you if you do not contact me, make sure to email me and let me know!
Looks like I will be busily making more snoods this week!
My email is embeecav at gmail dot com
In return I would love to receive a picture of your cavalier with one of our folders and their new snood on. If I get enough I would LOVE to post them in an update. (I can't help it, I love seeing cute pictures of cavaliers…especially in snoods)
Thank you again to all. Cavalier owners truly rock.
Embee Cavaliers
Embee Cavaliers is a small hobby breeder located in the Greater Toronto Area. We breed in equal parts for health, temperament, type and conformation. This blog was created to promote purebred dog ownership, preservation breeding and to celebrate living every day with royal spaniels.