Welcome to my attempt at having a blog. Blogging is something I've wanted to try for a long time. I love reading blogs and I love the "concept" of a blog, I just never thought I had anything interesting to write about in one before! My blog will admittedly be almost entirely about my dogs. As the banner shows I'm the proud owner of two Cavalier King Charles Spaniels. I often say that I am owned by my dogs and not the other way around. I truly feel that this is the case, they have me completely wrapped around their paws and I am loving every minute of it!
Anyone who owns a Cavalier will tell you that this is the case. No other breed i've met can capture the hearts of those around them so fast as this devoted spaniel. They are just the perfect mix of lap dog, comfort, athleticism, and pure joy. They love everyone they meet and consider all as a good friend. Even though they were bred to be Royal lap dogs they are often very athletic for how big they are. They are always up for a good walk in the park, some Frisbee, a hike through the woods, or for the more ambitious, canine sports like agility, obedience and rally-o. They aim to please their owners and try their best for whatever you ask from them.
I know that wherever my life takes me and whatever I decide to do in the future one thing is certain, I will never be without a cavalier.
Jewelcroft's Bonny Lass – "Zoey"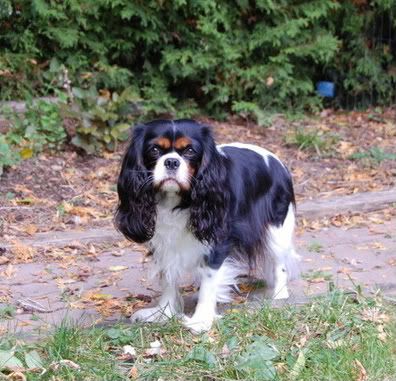 CA Cambridge Flirts with Evil – "Mylee"