Well I've been holding out on some very exciting news. "Little Girl" is now known as Presley (as named by her new owner) and hopefully will be heading to her new home very soon. 🙂 It was important to me to find the "right" home for her and I couldn't think of a better place for this little girl. She will have a cavalier friend, and an owner that will understand her problems and love her unconditionally. In the meantime I've been trying to keep her new "Mom" up to date on the progress she is making. I'm very excited about her new home however I will wait until she chooses to share it before I "officially" announce it on here.
With some time and some one on one attention she has turned into a very sweet little girl. She wants to stay with you at all times and is constantly watching where you are going and what you are doing. A typical cavalier "Velcro dog". It wasn't long ago at all where I could not touch her or approach her without her cowering or running away as fast as possible with her tail between her legs. She still has some "issues" regarding approaching her however with each day she is getting better and better about giving her trust. She will jump up on laps, give kisses, and loves cookies.
Here are some short video's I took to share with her new owner. As you can see she is having a wonderful time here with my girls and has come a long way from the scared, tail between the legs, unable to touch girl I picked up that day. Her tail never stops wagging! In the video's I'm calling her "Sheshe" She came with the name of "He-she" and as you can see she knows it. I couldn't bring myself to call her that name so I had been calling her She She. We're now working on getting her to learn her new name.
Running up to me to get some love. 🙂

Looking out the big front window.

Taking a Cookie.

Recently we have been adventuring out on walks. This has been a bit of a challenge as I live on fairly busy main road, and WOAH trucks are SCARY business. After we make it off the main road she quiets down very quickly. She is unsure but I think with time and two confident super excited about their walk partners she will hopefully see that walks are something to be enjoyed not stress over!
I still haven't replaced my lens, hopefully tomorrow. Sorry for the crappy quality pictures! It is also pretty close to impossible to walk 3 dogs, and take pictures while two of those dogs (that shall remain nameless) are in a HURRY to get going and enjoy their walk.
A Little Unsure

Looking Around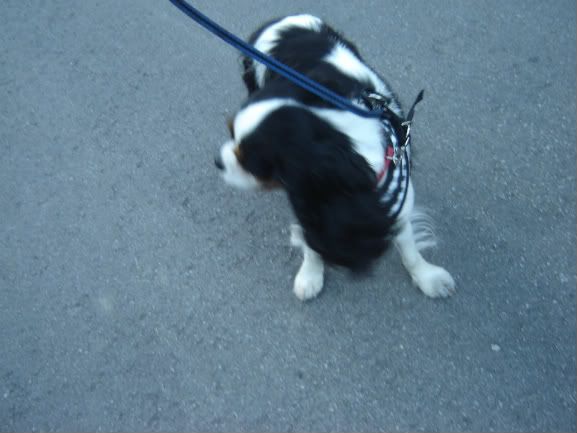 Zo and Mylee – "Why all the waiting around, Lets GO!"

Presley has also became very good friends with Zo and Mylee. Zo is an independent sort of girl who can be very bossy, protective and possessive. She gets along well with other dogs but in her home she is definitely in charge and makes that very clear to any new dog in our home. She is not a "cuddler" or a "pile'r" like some cavaliers. She prefers to been the Queen of her Castle and hog a bed to herself. So when Zo let Presley cuddle with her I was very surprised and excited. It must mean Miss Presley is good in Zo's books! She has only ever cuddled with Mylee before. Even her boyfriend Charlie doesn't get cuddles from her.
Presley and Zo Share a Cuddle

Mylee is my social love bug. She would prefer if Zo would let her cuddle with her more often. They do cuddle occasionally but not enough for my little red monster's liking. Mylee was an immediate friend to Presley and it is not unusual at night to find them curled up together.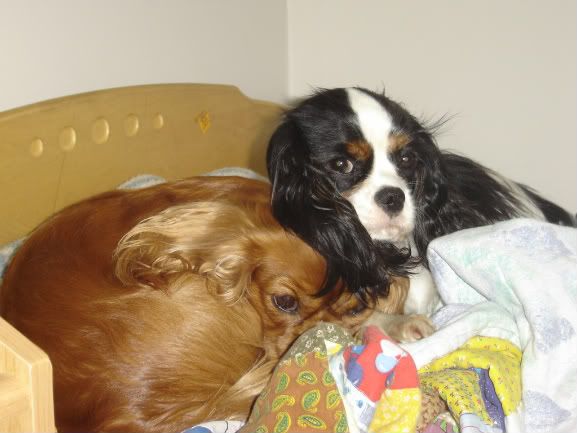 Overall this has been a truly wonderful experience. I love the process of supporting a rescue situation that I believe in. Getting a dog out of a bad situation, rehabbing it, and finding it a wonderful new home. To me rescues should be surrendered into rescue and not purchased from the places that produce them. I have loved having her here and know that her new owner is going to adore this little girl. I will miss her like crazy but I know she is going to the best place possible for her. I know she will keep me up to date on all her adventures and new life. I have a couple more weeks left with her and I'm going to enjoy her while she is here and see her off to her new home. If another dog comes into rescue that I can help along its way I will do the same thing all over again. 🙂