It's almost that time again. That time where everyone is busily getting ready and preparing. Last minute details are being put into place. Dogs are out in the ring getting some experience with showing. Owners are putting those last finishing touches on training, and crossing their fingers for a special day.
The Cavalier King Charles Spaniel Club of Canada's National Specialty is once again upon us. This year it is being hosted right in my back yard by my local breed club the Cavalier Fanciers of Southern Ontario. Each year the Specialty show moves in location and different Cavalier clubs have the opportunity to host it. Last year it was in Nova Scotia, the year before that Oshawa, Ontario, and the year before that Prince Edward Island. Next year it will be held out in beautiful British Columbia.
The pertinent details for this year;
September 17th, 18th, and 19th
Quality Hotel and Suites
580 Bruin Boulevard
Woodstock, Ontario
Friday is obedience trials, conformation handling and fun match, and the CKCSCC AGM.
Saturday is puppy sweepstakes, junior handling, and the CKCSCC National Specialty. The National Specialty Judge will be Mark Sedgwick of Pascavale Cavaliers from the United Kingdom.
Sunday is the Cavalier Fanciers of Southern Ontario Regional Specialty.
More detailed information can be found on the CFSO website or by clicking HERE.
All Cavalier lovers are more than welcome to attend. Come out and meet some breeders, owners, and see some beautiful examples of our breed! If you do come, please leave your Cavalier at home. At a dog show only dogs that are being exhibited should be on the grounds. As hard as it is to leave our dogs at home when they love to come and be with us, having other dogs ringside is often a distraction to the dogs who are competing. It only takes one or two seconds to have a ton of training, work, and effort go out the window. You don't want it to be your dog responsible for that.
I hope to see you there! I'm looking forward to a great weekend of Cavaliers. Having fun with friends, meeting new friends, and seeing people you don't often get to see.
As everyone has been busy getting ready, there have been no exceptions around here. I have also been busy getting ready for this weekend. Part of my job as being a member of the Cavalier Fanciers of Southern Ontario was to work with Zoey's breeder Bonnie Sands of Jewelcroft Cavaliers on the welcome "swag" bags given to each exhibitor. Bonnie deserves most of the credit for the "stuff" going into the bags. She is definitely talented at encouraging others to make contributions. I'm a bit more shy and reserved and it certainly is not my strength to approach others for donations. She always tells me the worst they can say is no. 😉 To my credit I did manage to get a wonderful donation from Ren's Pet Depot.
I will however be responsible for packing the bags, delivering them, and then handing them out on the days of the show. My front hall is fast becoming full of swag bag stuff. I think I have most of it now, just missing an awesome donation of snoods that will also make their way into the bag.
My front hall, with a little red dog who I think is trying to tell me she wants a bath. She loves being in that giant box of shampoo donations from Pet Empire

A sneak peak at the "Swag Bag"

Donations greatly received from;
Royal Canin
Ren's Pet Depot
Pet Empire
Global Pet Foods
Eastlake Cavalier Club
Cavalier Fanciers of Southern Ontario
Cavalier King Charles Spaniel Club of Canada
Donna Robillard – Winrob Cavaliers (snoods)
Peggy Wallace – Burbrook Cavaliers
and thank you to Joan Macintyre and Elaine Ellis for pressing and ironing all of those beautiful tea towels.
The welcome bags are looking amazing due to all of your help and contributions. Thank you.
Along with the welcome bags i've been making some snoods to go on the sales table. A few of these snoods are going on a journey to some friends by mail, some will be making a lonnnng journey. 😉 Some are also going to a good breeder friend. All and all though it has been snood city around here. My little old machine is getting a workout.
My little old machine that is very special to me. It is from my Grandmother who is no longer with us. It was the only sewing machine she ever had. My Mom who is an incredible sewer learned on it. Now I am learning on it.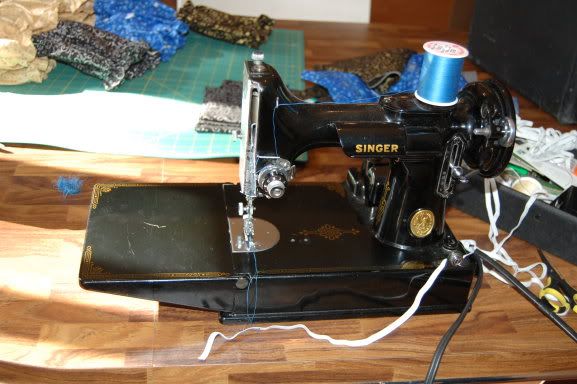 14 Snoods! Large, Medium, and Small in that order of piles. A bunch more to make.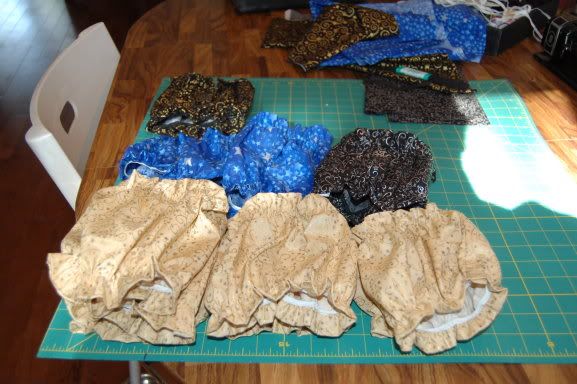 Mylee modeling a Mylee sized snood. 🙂 (small) for puppies or little cavaliers like Mylee.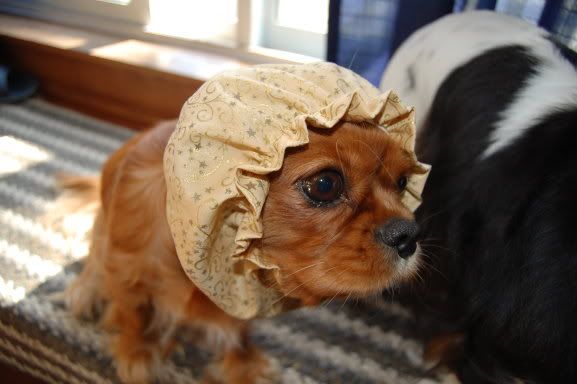 Hope to see everyone in Woodstock!
Keep your fingers crossed for this cute little face not to make flying leaps in the air on the diagonal. 😉 I will of course have my camera with me. We'll see how many pictures I manage. It is always a very busy weekend.