As I start to become better at my photography the more I want to get out there and play with my camera! It really is some sort of constantly evolving beautiful sickness. The more you do, the more obsessive you become. I am loving every minute of it.
Thursday was one of those perfect days for taking pictures. Warm enough that you could have a t-shirt on and not freeze while hiking. Cool enough that the dogs were not over heating. Overcast enough so that your pictures turn out gorgeous. Just a beautiful fall day. Fall is my absolute favourite season of the year, and also the one that is the shortest. It always seems to go come and go so fast. This year I really want to try and take full advantage while it is here. With all the great places to visit around me there is no reason why not. So I decided we should go visit Belfountain to get some fresh air, exercise and take full advantage of my camera to hopefully get some beautiful shots.
Belfountain is very small community right on the Niagra Escarpment. Our destination; Belfountain Conservation Area.
Taken from CreditValley.ca
"There is plenty to see and do at Belfountain. A nature trail spans the river gorge using a suspension bridge and then winds along the steep sides of the Escarpment requiring steady feet and approximately 30 minutes to walk. A short distance downstream is the juncture of the West and main Credit Rivers, the scenic "Forks of the Credit" area. These can be reached by a rugged hike down into the valley along the Trimble Trail that will take you out of the Conservation Area. The Trimble Trail is not a loop and you will have to retrace your steps to return to the Conservation Area."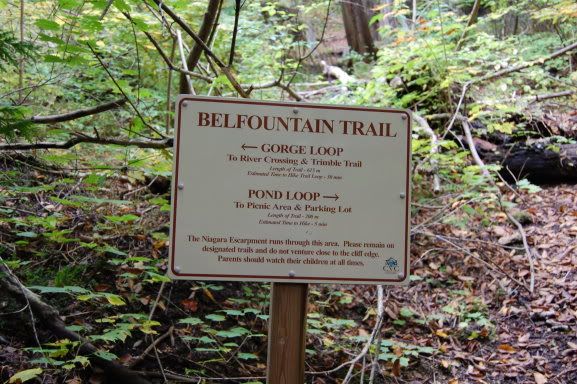 After a fairly short 45 minute drive through beautiful fall country side we arrived in Belfountain. The dogs like usual were besides themselves with joy. Most people could learn something from that! 🙂
We leashed them up and started to explore the beautiful scenery. Mylee of course was offering her opinion about how wonderful the day was in the form of her excited "yips" of happiness she makes when she is just overjoyed about something. It causes some funny looks from people nearby, but most of the time I enjoy seeing her so happy. It is quite the state. High pitched yips, with a little red tail flying back and forth a mile a minute. The trail wasn't too long or hard although steep in some spots. It was also a bit wet from the rain in the morning.
Mylee and Zo on arrival by the water fountain (before they were wet and muddy)

Take a walk with me?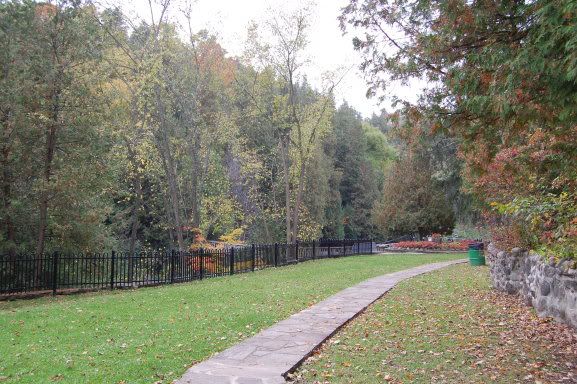 On the Move! Hurry up and LETS GO. Enough with the pictures.

Spring fed river

A very happy Zozo

Seasons changing

The Climb up the Escarpment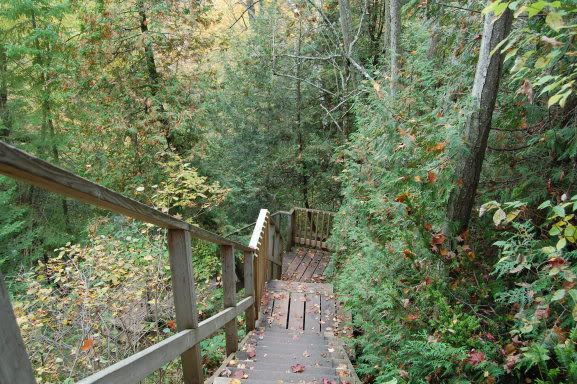 Beautiful purple flowers

One of my favourite shots of the day. I love the reflection off the water.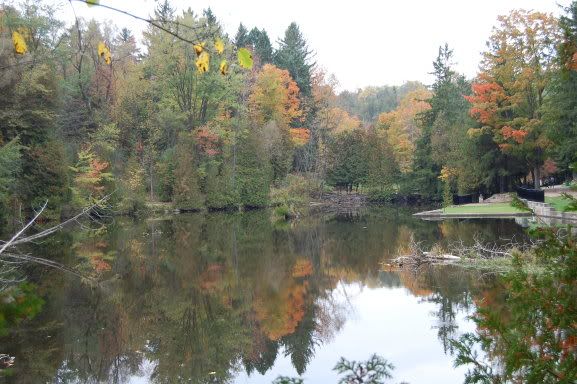 One very happy little red dog!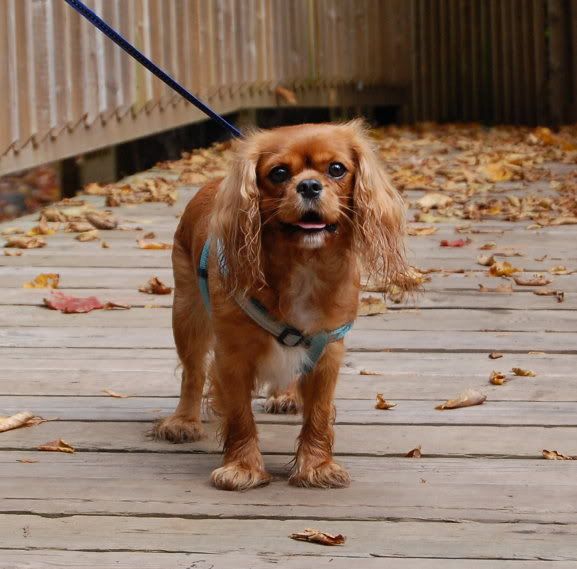 After all was said and done I ended up with some tired, wet, muddy, very happy doggies. Mylee completed our wonderful trail walk by going for a dip in the stream fed pond. I think she planned on adding fish to her list of things she likes to hunt. 😉 She really is a crazy little red dog sometimes!
I think next on our places to visit for the fall is Elora, ON. I hope every one is out there enjoying the beautiful fall weather. Happy trails to all!