I haven't blogged in a long time. A combination of time, and really not feeling like sharing a whole lot. After a wonderful vacation away and a line up of things that I'd like to share, it's time to get re-acquainted with this blog.
I've been home a week from vacation. We visited Las Vegas and the Hawaiian island of Oahu. Paradise and complete bliss! While shopping we stumbled across a Hawaiian doggy calendar with this cover. Since the only picture in it of cavaliers was on the cover it didn't come home with me. So adorable.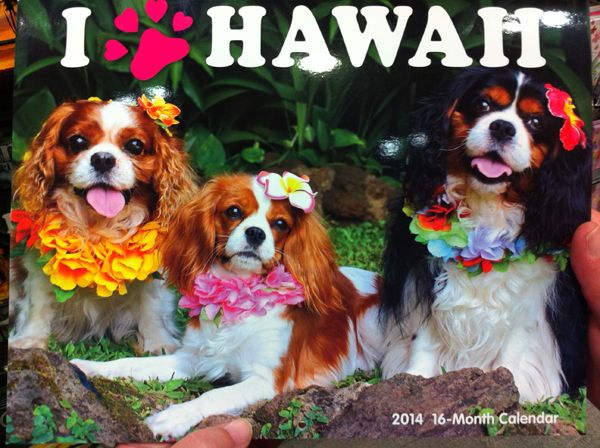 Prior to leaving on our holiday, Loki and I attended a 7 week Puppy Level 1 training class at Campaign Dog Academy. I'd really like to compete in some other avenues of competition with my cavaliers, so taking an introduction training class at a facility known for working with performance dogs was a great way to start.
The only photos I managed to take were on the last day of our class, graduation. The quality kind of sucks, but I decided to share them anyways. Too hard to take pictures and try and focus on training!
Campaign Dog Academy focuses on teaching through positive reinforcement methods of training. This is the only method of training I would ever recommend for any breed of dog. Since our favourite trainer and the incredible facility she works at are several thousand kilometers away, we had to find something just a bit closer!
Like all dogs, Loki loved to train and spend time 1 on 1 with just me.
I looooove training class! Look at my smile.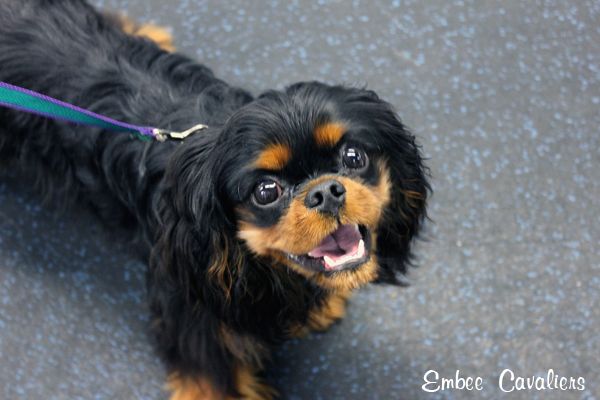 This 7 week session laid the foundations he'll need to further his training, or if we never take another session again(not happening, we loved it!), he has learned how to be a very mannerly little man.
I'm very good at doing sit/stay, and settle/stay. During my graduation I won the award for having the best settle/stay!



It also gave Loki the opportunity to socialize with many different breeds in a controlled environment. This gave him a better chance of making sure his experiences with other breeds were good ones.
There were many different breeds in his class. Everything from a tiny white Pomeranian full of spunk, to a very sweet Newfoundland. Funnily enough, it was the little white pom Loki was unsure of! My big brave boy was terrified of the little outgoing ball of fluff. By the second week in he seemed to realize that she was a girrrrl dog, and that he could go from being unsure to in looooove.
That little corgi was so smart!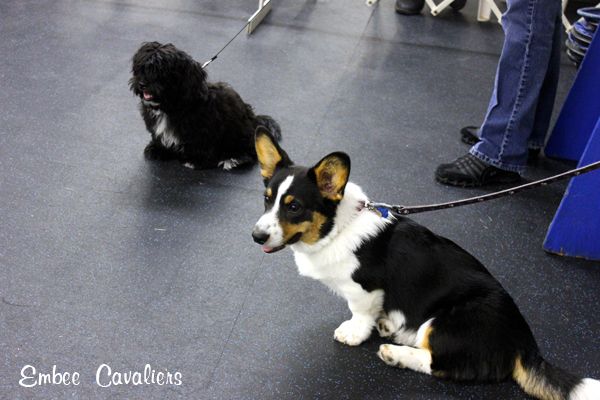 A very typical golden, always wanting to please his owner

We had two wonderful and patient instructors. There were owners with all types of experience levels and they did a good job of tailoring the class to meet our needs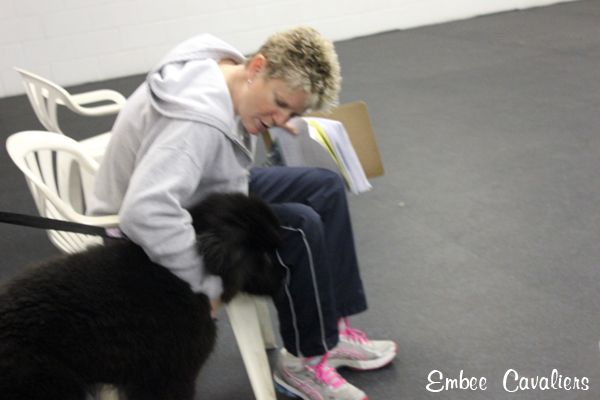 Recall with distractions. For some this was a real challenge. Loki never looked at the toys once, like most Cavaliers he's focused entirely on where I am!

Adorably cute and smart, ut oh a new breed to love

What do you mean training is over? When do we get to come back?

It's never a waste of money to invest in a good training class with your puppy. I encourage my puppy owners to take a good introductory puppy class. Even if you think you won't learn anything, it is an invaluable part of having a well socialized and mannerly cavalier. Make sure to check out the facility and instructors carefully. Training methods should include patience and fairness, with no methods that will cause harm or fear.
Happy training! Puppy Level 2 will be starting for us soon.