We are in full hibernation mode here and loving it.
I've consumed many cups of tea thanks to David's Tea advent calendar.
I've had my favourite foot warmer on my feet non stop (he's furry, black and named Loki)
I have completed several sewing projects.
My ensuite bathroom is scrubbed from top to bottom,
and I have even managed to do some much needed work on this website.
I always seem to get itchy for a new look when the seasons change. With all the beautiful snow outside I really wanted to dress everyone and go out with my camera in an attempt to get a new header photo. With -30 or so windchill I'm content to leave summertime Mylee and Loki awhile longer.
We've had Ebby visiting for boot camp. She's turned into a bit of a spoiled farm dog but we've mostly been working on getting her ready for a few upcoming shows. She's really matured into a beautiful girl and selfishly I wanted to steal her to get some updated photos.
Ebby is Nika's daughter.
So pretty!

Looking thoughtful

We also celebrated a very important NFL win this weekend. Mylee says Go Indy!

Someone insisted Zoey needed her photo taken too. Her ratty ears are a dead giveaway that she is overdue for a bath, tomorrow's job.

In my hunt for winter photos to turn into a new header, I came across photos of a very hairy winter beast.

Is it a dog? Can't be.

Busted, that face gives it away! It's Loki. What a difference a year makes.

Cavalier puppies definitely teach you a lesson in patience.

From that hairy snow photo though you can sure tell who his mother is.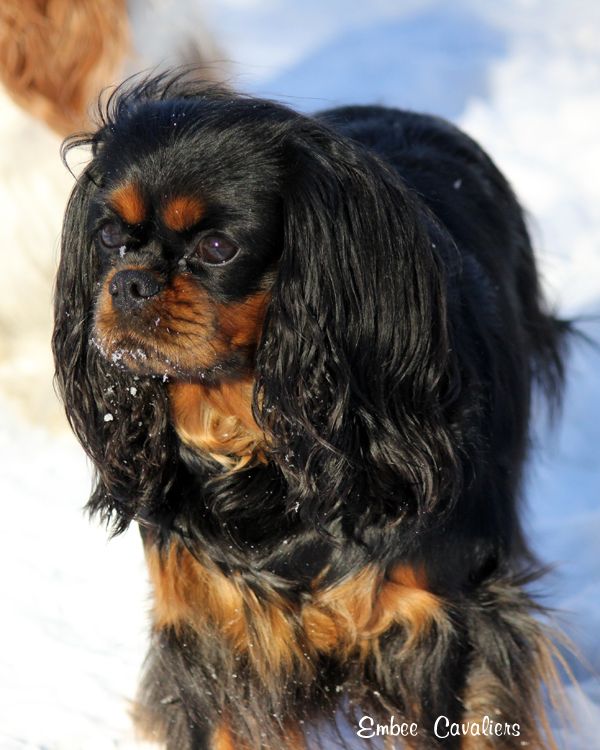 Stay warm and drink lots of tea. Orrr do what we did and book a last minute vacation to somewhere warm. This time next week I'll be sipping a cocktail on the beach.