One of the areas Cavalier owners are very fortunate to have here in Canada are some incredibly conscientious hard working breeders. For three years now a dedicated group of breeders have been participating in Syringomyelia initiatives, and trying to answer the many questions that surround this disease. So much progress and questions have been answered in those three years, however there is still a ton of information that is not known.
Back in August I wrote a post entitled "Tooting your Own Horn" in regards to our Club and its members and how proud they should be of what has been accomplished here in Canada. That post can be found here. I had said in it that I had written a large update in regards to Club activities and SM that would be going in the Yearbook and on our National site. Our National Club site is currently down for rebuilding and I'd expect it will remain that way for sometime. All members should now have received their yearbooks.
I would now like to share with visitors to this blog that update. Our numbers and findings are very much in line with other statistics taken.
As time and research move forward, Syringomyelia is fast becoming no longer *just* a Cavalier issue. It is being increasingly being found as a severe issue in many other breeds. I can only hope that the damage done to our breeds reputation can help other breeds move forward in the research and understanding of the Chiari Malformation and Syringomyelia.
UPDATE REGARDING OUR LOW COST MRI INITIATIVES AND SYRINGOMYELIA RESEARCH
Written by: Mary Beth Squirrell on behalf of the CKCSCC Health and Education Committee
The Cavalier King Charles Spaniel Club of Canada has much to be proud of for its overall commitment to MRI scanning and Syringomyelia research. The strong evidence of this commitment to Cavalier health is greatly seen by the participation of Club members in our low cost MRI breed screening initiatives at Matheson Blvd. Veterinary Services, and in the completion of Dr. Wolfe's research study on Syringomyelia at the Ontario Veterinary College at the University of Guelph.
The Syringomyelia research study in partnership with Dr. Wolfe and the Ontario Veterinary College started at the end of 2007. Dr. Wolfe has now completed her thesis project and a copy has been given to the Club regarding her findings. Her thesis is entitled Transcranial Magnetic Motor Evoked Potentials, Somatosensory Evoked Potentials, Spinal Evoked Potentials and Brainstem Auditory Evoked Potentials in Cavalier King Charles Spaniel Dogs With and Without Syringomyelia. A partial presentation of Dr. Wolfe's thesis was presented to many Club members on June 19th 2010 at a Cavalier Fanciers of Southern Ontario meeting at the home of Lang and Norma Moffat.
All of those who were in attendance were treated to a wonderful, clearly laid out presentation by Dr. Wolfe's on her thesis project. Her thesis unfortunately did not yield the results she was hoping for, however her presentation gave a lot of information and added clarity to a very complex and hard to understand disease. Many came away from her presentation having a better understanding of what Syringomyelia is. Dr. Wolfe is the first one to acknowledge that are many questions and a lot of unknowns regarding Syringomyelia. With time and added research we hope more is learned in the future.
We send our grateful thanks to Dr. Wolfe, Dr. Poma, Dr. Nykamp, and the Ontario Veterinary College for all their hard work, and appreciation given to our cavaliers. We thank them for their active participation regarding Syringomyelia research and hope that sometime in the future we may be able to work again on another research study involving our cavaliers.
More recently we have been working in partnership with Jane Sykes and Matheson Blvd. Veterinary Services in Mississauga, Ontario. It is hard to believe that the partnership between our Club and MBVS for providing lower cost MRI's to breeders has been up and running for well over a year and a half. What started as doing only a few scans as a favour has grown into arguably the best low cost MRI initiative for breeders in North America and, quite possibly, anywhere in the world. The quality of the images is second to none. There have been many Cavalier King Charles Spaniels scanned and the program itself is growing in popularity as breeders become more and more interested in having an MRI done on their breeding stock.
At the end of 2009 our findings were the following. These stats include all of our dogs that were scanned at the Ontario Veterinary College for Dr. Wolfe's research, and at Matheson Blvd. Veterinary Services including our over six scanning project .
One hundred and eleven Cavalier King Charles Spaniels were scanned of various ages ranging between one year of age and thirteen and a half years of age. Out of those scanned here is their breakdown of grades as provided by MBVS and OVC. As stated, they are combined together.
Chart of Combined Findings for the end of 2007, till 2009. Combined from OVC and MBVS.
Grade Definition
A – 30 Clear of SM on MRI.
C – 14 Clear of SM on MRI but under 2.5 yrs of age
D – 39 Clinical evidence of SM on MRI, no physical symptoms present.
E – 4 Clinical evidence of SM on MRI, no physical symptoms present. Under 2.5 years of age.
F – 24 Clinical evidence of SM on MRI, physical symptoms present on exam or documented history.
This year to date we have held three clinics with a total of 25 dogs scanned. We have had Cavaliers come from all over Canada with several coming from British Columbia and the majority from Ontario. We have also had several visitors come make use of our MRI scanning program from the United States. By the time this is published another clinic will have been held with 13 dogs participating. Our goal is to hold a monthly date for breeding dogs; however that does not always happen due to numbers.
In order for a clinic to be scheduled I must have a minimum of six dogs ready and committed to go for an MRI. Clinic days can be held during the week or on a Saturday depending on the needs of those wanting a scan and the schedule at MBVS. Depending on the date, large numbers of dogs can be arranged at once. It is often hectic and hard to arrange, however in the end we always end up with a date and things tend to move very smoothly.
Our great thanks and appreciation is given to Jane Sykes, Dr. Suhk Paul and all of Jane's staff at Matheson Blvd. Veterinary Services. We also would like to give a huge thank you to Dr. Janice Mitchell for providing our neurological exams on almost all of our clinic days. On the days that she was unable to make it Dr. Suhk Paul graciously stepped in. They love our cavaliers, and take wonderful care of them while they are undergoing their MRI's. The images MBVS provides are some of the clearest you will receive anywhere in the world. The machine used for our MRI's is a 1.5 Tesla in strength. Not many places have access to this type of machine including many Neurologists and Specialists in the United States and Europe.
As a recent change to our scanning scheme we will no longer be doing physical neurological exams on breeding dogs that are being MRI'd. This means that your report will NOT include a letter grading, however it will include all the information needed in the report to make an educated breeding decision.
As most are aware new guidelines regarding MRI breed scanning, reporting, and breeding, are being arranged in the United Kingdom. We will be able to provide imaging for those interested in participating in the panel overseas.
Due to limited information and the guidelines for the proposed Estimated Breeding Value's scheme not being released at the time of this report we will have to update you in the future. However we do know that regardless of the protocol's decided in the United Kingdom our Health and Education Committee has voted to continue on our current path with regards to MRI'ing and working diligently here in Canada. This means that we will continue to offer scanning choices. A "mini" for lack of a better term which scans to thoracolumbar 2 and is much more comprehensive than the "mini's" you are familiar with from the United Kingdom, or complete scan of the spinal cord or known to us as a "full body" scan. They will be read and reported on by Dr. Stephanie Nykamp. Whether you choose to participate in the eventual panel overseas, opt to do a full body scan or choose a slightly more affordable mini scan that will continue to be breeder choice.
For those wanting to make a significant contribution to research there has never been a better time. Right now the Cavalier breed is in desperate need of finding Cavaliers who are over six years of age and who scan clear of Syringomyelia. As part of an earlier initiative the CKCSCC partnered up in a joint initiative with Dr. Clare Rusbridge, Penny Knowler and For the Love of Ollie Fund, to partially fund and assist in scanning Cavaliers that were over the age of six years old. We'd like to thank the above mentioned for a large portion of the funding, and direction that was given regarding this initiative. Just as importantly we would like to send our great appreciation and sincere thanks to those who included their beloved "oldies" in this scanning research to find the gene.
Due to these very important contributions made here by our members significant progress has been able to be made on finding the genes for Syringomyelia and Chiari Malformation. Many of you travelled from great distances and it is always hard to put an older dog under anesthesia for any procedure. We thank all of those who helped organize, volunteer, and participate in our "Over six project." The contributions made here for this scanning initiative are recognized around the world.
The CKCSCC continue to have very high hopes for the Genome project commonly referred to as 'DNA for Healthy Cavaliers' and have read the most recent release regarding "finding the gene" on Dr. Clare Rusbridge's site. A clear explanation of this project is outlined on Dr. Rusbridge's website. We are still in desperate need of finding these clear Cavaliers who are over the age of six. If you believe you have an over six that would be beneficial to this scheme please contact Mary Beth Squirrell or Karen Kennedy and we can assist you with additional information. Without these clear over sixes being scanned Genome research is at a standstill.
If you decide you wish to have your breeding dog screened for Syringomyelia please contact Mary Beth Squirrell at mesquirrell@gmail.com or at 905-636-1421. Our low cost initiative is open to breeders all over the world who would like to be scanned. Jane Sykes and her staff are very accommodating and willing to work out many different arrangements if needed.
Please remember that this scanning process is NOT for diagnostics. It is for breeding screening only. If you are a breeder and have a pet person who is looking to have a cavalier scanned they are welcome to go through MBVS directly. They unfortunately do not qualify for our low cost initiative at this time. A diagnostic scan is very different FROM a general breeding scan. If you yourself are in the unfortunate need of a diagnostic scan please contact Jane directly. At this time also be aware that you will be required to sign a waiver form stating that you understand that our low cost initiative is not for diagnostic purposes. A copy of that acknowledgement and agreement will be provided to you prior to your appointment date. It must be signed and dated and returned back to Mary Beth prior to your appointment date.
Jane Sykes is excellent to work with and as tempting as it is to go through her directly to arrange breeding screenings, it is much better for everyone involved to contact Mary Beth (myself) directly. Jane and her clinic are doing so much for our Cavaliers that any extra work put on Jane is strongly discouraged. All results as always are strictly confidential, and none will be given on the day of your MRI. At this time no data from our breeding screenings is going anywhere for research purposes with the exception being Cavaliers over the age of six who scan clear of SM. If and when new research and data is needed owners will be informed and consents will be presented.
Our costs at this time remain the same.
$550.00 – Full body MRI scan
$450.00 – MRI scan to the Thoracolumbar 2
Up to $40.00 for a pre anesthetic blood profile. * price based on MBVS pricing; you may have to pay more at your local clinic.
Additional information regarding pricing for the EBV Panel based in the United Kingdom will be given at a later date.
At this time also be advised that we have moved to a deposit in order to hold your spot. When you send your application to Mary Beth include a cheque made out to Matheson Boulevard Veterinary Services for $200.00.
Unfortunately we have run into trouble with people canceling at the last minute, not showing up, or being incredibly late. To hopefully counter some of these issues we felt a deposit was necessary. Please understand that our lower cost that is being given for our breeding dogs is based on the number of dogs that show up. A late cancellation that I am unable to fill in time greatly impacts the day and Jane's staff. Her staff has to be paid their full salaries regardless if they scan one dog or six. The minimum number of dogs is set so that Jane's expenses are covered through the fees. It has a HUGE impact on that bottom line if you cancel last minute, show up very late, or not show up without saying anything. In the event that any of those things happen your $200.00 deposit is non refundable and will be used by Matheson Boulevard Veterinary Services to cover the costs encountered due to you.
If you have any questions regarding this report, syringomyelia, or our low cost MRI scanning program please do not hesitate to contact me at mesquirrell@gmail.com. You can also contact any other member of the CKCSCC Health and Education committee.
Joan Macintyre – Health Director
Karen Murray
Karen Kennedy
Peggy Wallace
Mary Beth Squirrell
Norma Moffat
Marianne Creary
Ann Chambers
Clare Pattison
Florence Saunders
Mylee's boyfriend Tyson getting ready to be imaged.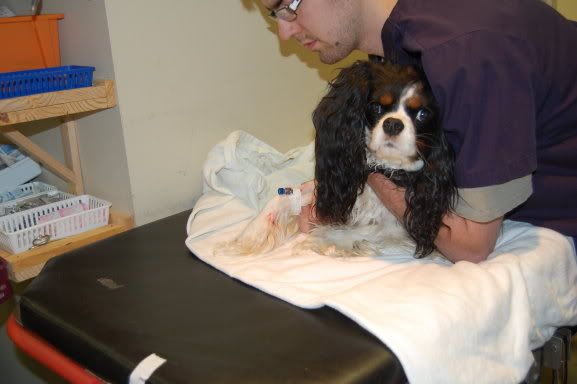 1.5 Tesla

All Stats Carefully Monitored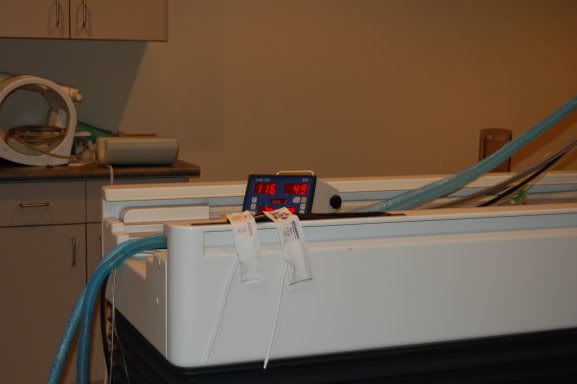 Ready to be imaged!

In Recovery, oxygen support, warm blankets, and a caring hand