Charlie and Tyson have been visiting while their Mom is on vacation. Zoey and Charlie have been the best of friends since Zo was 4 months old. He was the first cavalier she met out side of her breeders home.
Zoey 5 months, Charlie 4 years
Zo at 1 year old with her Charlie
Luckily for Zo, Charlie's Mom and I have remained very good friends too! It is amazing how dogs can bring people together.
Zo loves her Charlie, and Charlie loves to play the disinterested boy.. but truthfully he loves her too. They are adorable to watch, and we can't say Charlie's name in our house without Zo going madly looking for him.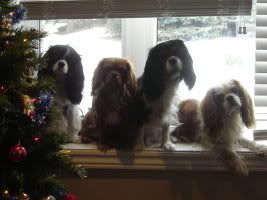 Tyson and Mylee are almost the same age, and came to live with our families around the same time. It is cute because they seemed to know from the start that Charlie and Zoey had a special relationship so they formed their own.
Mylee cuddles with Tyson, Tyson pees on her, Mylee follows him around outside, Tyson pees on her, Mylee gives him kisses, Tyson.. well you get the picture. Love at first sight.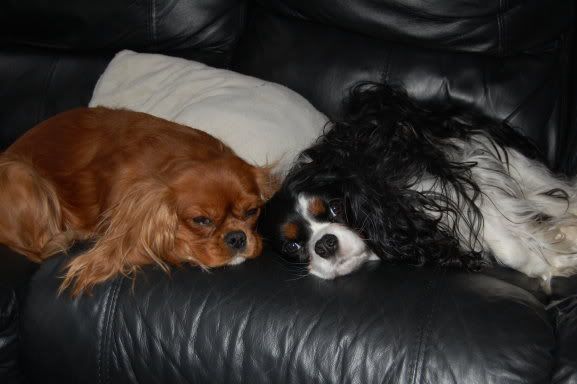 Does your dog have a very special doggy friendship? In dog years Charlie and Zoey have been best friends for thirty eight years!
Our gang together this week. Moving boxes and all; its been a lot of fun