12 days..
12 days away from these beautiful faces.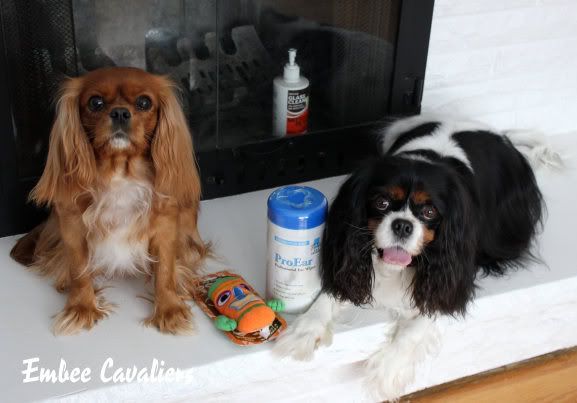 Don't worry though, they were spoiled rotten while we were away thanks to my sister. Having a sister who is able to come and stay in your home while you are vacationing in Maui is wonderful. I came home to a house the way I left it, and very clean doggies (I left her with dirty ones). It made it very easy to go away and not be worried..almost too easy.
Mylee would like for it to be public knowledge that Zoey and Molly had a tiki toy brought back for them, and all she got was ear wipes. My poor little red dog.
Maui was incredible. Anyone who loves beautiful weather, gorgeous beaches, snorkeling, hiking, and wildlife everywhere would enjoy Maui. We spent a lot of time on the beach, walking the streets of Lahaina, whale watching, touring gorgeous scenery, and getting carsick on the road to Hana and up to Haleakala's summit. (that last part meaning ME)
17 hours of travel on the way, 20 hours travel home, totaling 14900km or 9210 miles.. worth every one of them.
A taste of Maui, Hawaii through pictures:
Incredible scenery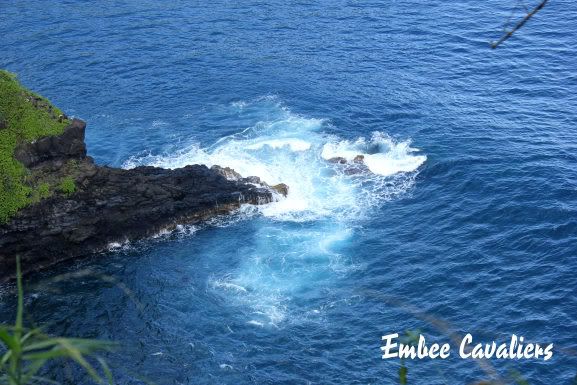 Sheraton Maui Resort & Spa – taken from the top of Black Rock, facing the Westin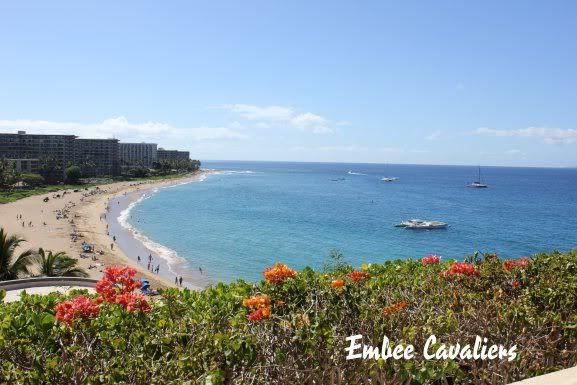 Beautiful ocean waters – still trying to figure out who took this amazing shot, I definitely took the picture after it and Mr. Embee took the picture before it.. bragging rights to be determined 🙂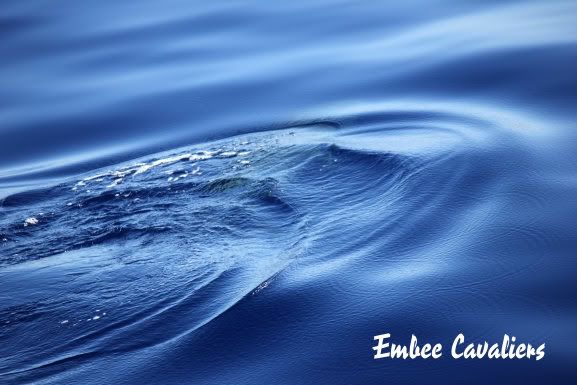 As an animal lover I'm always on the lookout for wildlife. I could watch animal behaviour for hours and any trip we take its a very important element for me. Maui was a perfect choice. There was wildlife everywhere! From the cutest little lizards in the hotel flowerbeds, to Humpback whales vacationing in Hawaiian waters, Maui exceeded my expectations.
Humpback whales everywhere

You just had to look at the ocean and you could spot them. I saw them in the car, from the hotel, eating lunch, sightseeing… you get the picture. On our snorkeling trip our boat captain said that the
Humpback whale
population numbers have definitely enjoyed a huge increase – an increase reflecting protection efforts.
We spotted this guy on our snorkeling trip. We also
snorkeled
with one at Black Rock (Sharaton Maui, our hotel) and spotted one from the shore.

Hawaiian roosters.. not sure why these guys were everywhere but they were


Hawaiian Monk Seal's are very endangered with estimates of only 1100 seals left in Hawaii. Approximately 100 of those are located near Maui. I was not expecting to see one of these while we were visiting.
This girl decided to rest on the very public and busy Kaanapali Beach. She has great taste in a beach but not so much in privacy!
What really impressed me was the response from both visitors and volunteers. These seal's have an entire team of dedicated volunteers for them. As soon as one is spotted on a beach, a team is dispatched to keep a watchful eye and setup an enclosure around them. This ensures that they have plenty of time and space to get all the rest they need. It is not unusual for them to spend between 24 and 48 hours resting on a beach. We found out from the volunteer that this gal had been resting since early in the morning. She ended up staying on the beach for about 33 hours.
Hopefully with
continued protection
, and the help of hard working volunteers, these seals will enjoy a healthier future. Unfortunately success has been limited so far.
Berries. We ate a ton of island fruit.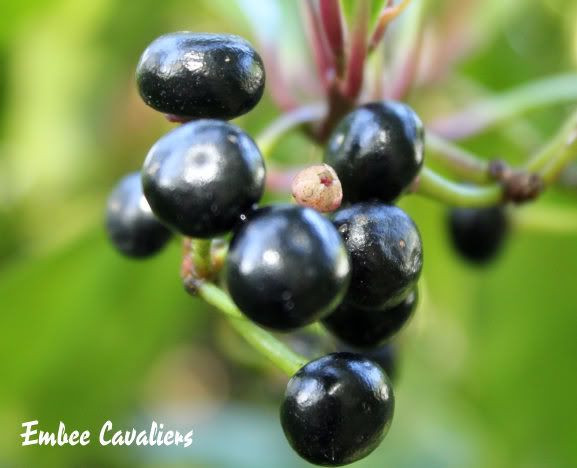 I contemplated sneaking home some
Okinawan Sweet Potatoes
(they were delicious) but thought better of it. Almost all fruits and vegetables are not allowed to leave Hawaii. They are very strict about it at the airports!
A hui kaua Maui, until we meet again.