Step One: Get tired of looking at the old header photo.
Step Two: Go through the 1000's of pictures on your computer and decide that none of them are suitable.

Step Three: Contemplate doing a photo shoot with the dogs outside.
Step Four: Decide its way too cold out for that!
Step Five: Convince the dogs to look cute inside with the help of treats.
Step Six: Spend too much time trying to figure out new camera settings and get frustrated. The girls are frustrated too as they haven't had any treats yet!
Step Seven: Start taking 100's of pictures with different settings and hope for the best.
Step Eight: Admire all the horrible shots you took just to get a few good ones.
I love digital photography.
We started on the couch with purple pillows… both Mylee and Molly are blurry and out of focus.
Cute but definitely out of focus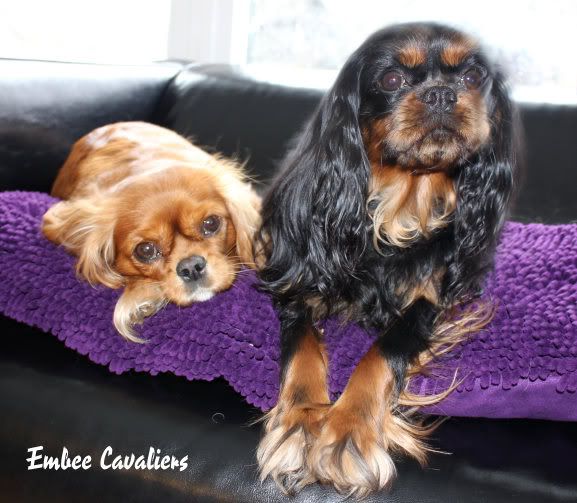 I managed to get this cute picture of Mylee before abandoning trying to get a shot of them on the couch. Even though its cute my focus is still off on her one eye.
Mylee loves having her picture taken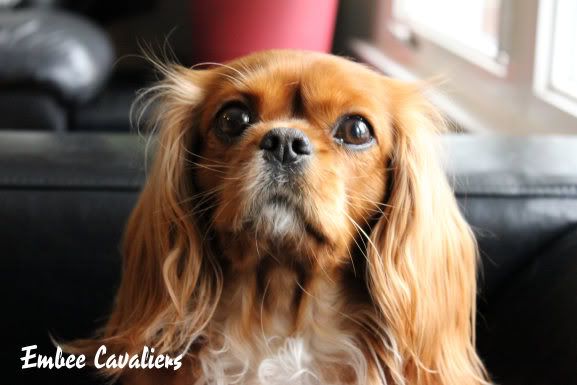 I decided to move our ottoman against the light grey wall of our living room.
Making progress… Molly looks adorable here but unfortunately its out of focus too.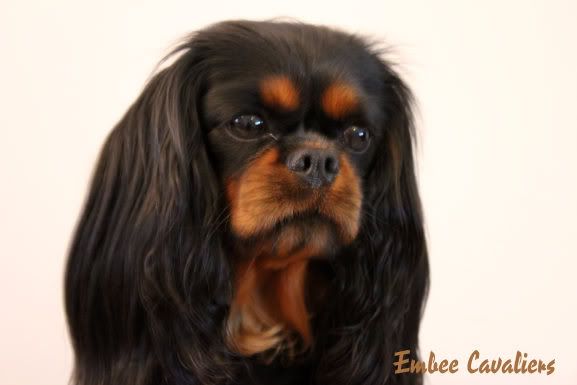 Finally getting somewhere!
Mylee and Molly pose for cookies
This next shot is easily the best picture i've ever gotten of three together at once.. now to try and replicate with four. (so not happening) I almost chose this picture for my new header. It may make an appearance later on!

Even Zoey has her tongue in!

At this point Mylee and Zoey abandon staying on the ottoman for harassing me up close and personal for their cookies. Molly became the star of the show.
I'll pose for you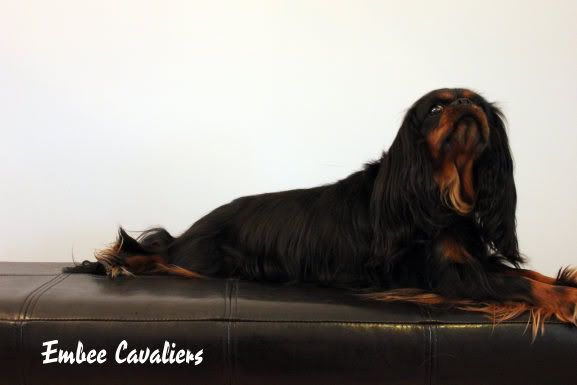 I've had enough are you done yet? Looking cute though.
And in our very last few shots… it happened. I captured this beautiful shot that captures exactly the personality of our princess. I knew it'd be perfect.
Original unedited off of the camera. A good photographer is only as good as his/her post production work. Mine is slowly getting better.
I'm so thrilled with our new header that I think it will be sticking around for a bit!
*************
I'd also like to share an important education initiative that I have been working hard on for the Cavalier Fanciers of Southern Ontario. Our printed versions are being dropped off today and distributed at our meeting on Saturday. The hard copy version is a three panel brochure to be handed out everywhere we can think of: dog events, vet clinics, pet supply stores..etc. The online version reads more like a little booklet but the content is the same.
This educational initiative stemmed entirely from my experience at this past years summer Woofstock. You can read the entire story in this blog post. I am so excited for them to arrive. There is so much to be said on a little brochure like this so we chose to stick to the very basics. We hope that it will prompt people to do more research before buying their first Cavalier.
You can have a sneak peak at the online version by clicking the following link: Cavalier Fanciers of Southern Ontario – Buy from a Responsible Breeder
Feel free to share and cross post wherever you see fit! The more education we can offer about this breed and the importance about buying from a responsible breeder, the better.