Last weekend the Princess and I attended the Purina National at the International Centre in Toronto. It's Canada's biggest dog show and it didn't disappoint. There were beautiful dogs everywhere, tons of shopping, and a good dose of education through breed club booths along the way.
I had a wonderful weekend spent with Cavaliers and good friends. I was even cajoled by two ladies with impeccable tastes into buying Molly a gorgeous gold with black beads show lead. They carefully picked it out for her and insisted that Molly needed it. When I saw it I completely agreed. I didn't necessarily need a new show lead but I have been on the look out for something nice. Turns out that gold lead must have came with a special kind of sparkle…..
First some photos of the weekend.
I was only able to bring my camera on Saturday and was late arriving to the show due to not feeling well in the morning. Molly wasn't showing on Saturday and I missed the Cavalier ring time, so no Cavalier photos. However I did manage to capture some pictures that I am very pleased with. My new camera and I are finally starting to get along.
Bring it on!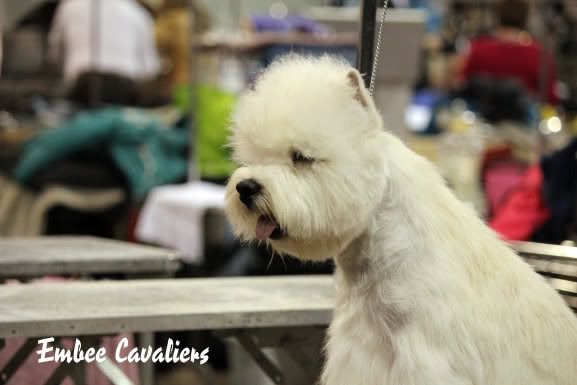 Adorable expression. This guy is a Dandie Dinmont Terrier that was educating at their breed booth.

Its not just Cavaliers who are subjected to snoods!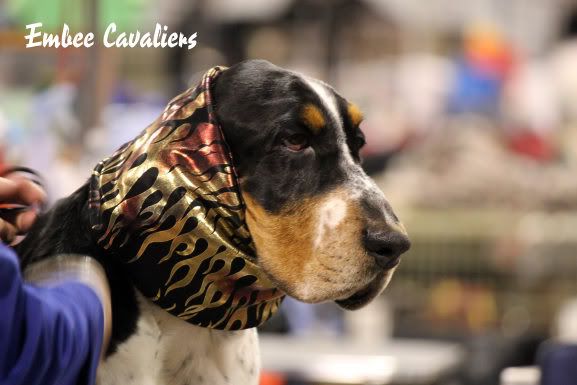 Once again the
Cavalier King Charles Spaniel Club of Canada
setup a breed booth during the Purina National. This year they teamed up with the
Cavalier Fanciers of Southern Ontario
in a joint effort.
I find it incredibly rewarding meeting people and talking to people at the booth. Molly and I spent several hours at the booth on the weekend. We handed out lots of our brochures. Hopefully with the help of our brochures, individuals who are interested in purchasing a cavalier will understand the importance of supporting a reputable breeder.
Our brochures looked quite spiffy on the table.

You can almost see the wisdom and intelligence in his eyes.

Show time!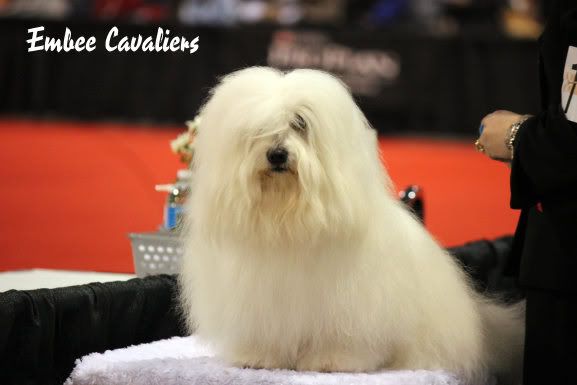 I'm also in love with this photo…so many to choose from and so many to share.

The life of a pampered show dog is clearly rough..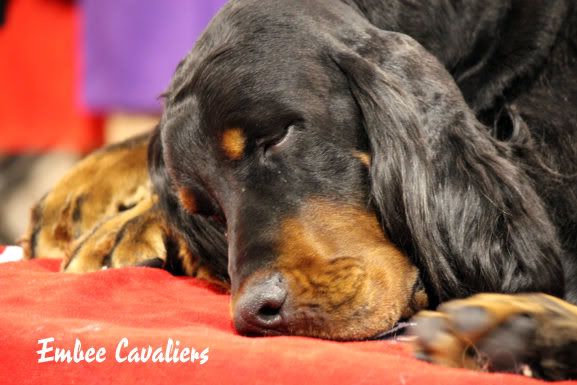 To top it all off, on Sunday for the Cavalier Fanciers of Southern Ontario booster show, my gorgeous girl showed her heart out for me. She strutted onto the red carpet like she owned it, and came home with Winners Bitch and Best of Opposite Sex. I'm so proud of her.
A special thank you again to her breeder and co-owner Karen Murray (Mysticmoon Cavaliers) for entrusting her to us. We now have to hunt down our final point for her Canadian Championship. This is a race against time as Molly is due to come into season anytime and will hopefully be having her first litter soon. That last point may have to wait awhile yet.
Congratulations to Orchard Hill Shirmont Backtalk "Macho" owned by Shirley Henry and Elaine Whitney for taking Best of Breed.
Winners Dog and Best of Winners was Burbrook Storm Chaser "Chase" owned by Carol Rose and Darlene Petralia.
It was a special win for us so Molly and I had a show picture done. I am thrilled with the picture but pissed about the quality of the printing. I've requested a re-print..hopefully it is better or I will really be mad. I hate being hard to please but it looks like crap in person! Printing lines right through it.
Here is a quickly Photoshopped version. (I edited myself out) If you'd like to see the real version let me know by email…. too many creepers around!
Mysticmoon's Danika (Princess Molly)
Happy St. Patrick's Day!
I hope everyone is having a wonderful weekend.