Being able to connect with cavalier owners all over the world through my blog never fails to amaze me. Not only has our beautiful breed continued to inspire me, i've also learned how truly wonderful cavalier owners are.
Last week the girls and I received a gift in the mail from a very good friend who clearly knows us inside and out. At first I was surprised at how well she knew my dogs but when stopped to think about it… of course she'd know them, shes been following and contributing to our blog since close to when I started it.
Katie thank you *so* much for our surprise in the mail. I couldn't have picked it out better myself. My girls are thoroughly enjoying every part of it.
Katie writes candidly and very passionately on her blog Lessons from and for 4 Legs. She owns two beautiful cavaliers named Maizey and Magnus. Katie works as a dog trainer and offers an inside look at the lessons she has learned from her dogs and their continuing journeys. She is especially well written on the ups and downs of living with a dog who suffers from high reactivity and anxiety. Her strategies and practical advice has helped me problem solve solutions for dealing with my own anxious girl (Zoey). If you haven't visited her blog before I promise that it is worth checking out and following.
Now for the mandatory pictures!
A box? For US?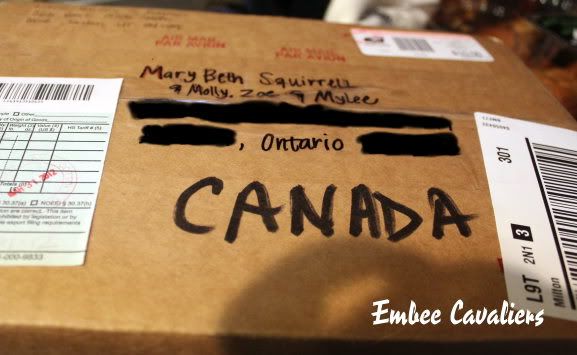 Thank you Katie, Maizey and Magnus!

Can I *please* open it?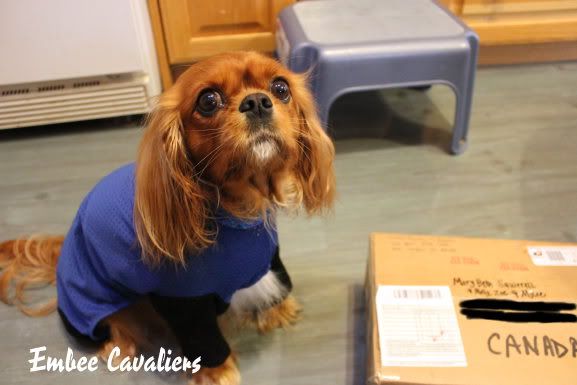 Ohh something smells good in here
Let me get to the bottom of this
I really like the tissue paper
Katie, Maizey, and Magnus definitely know us!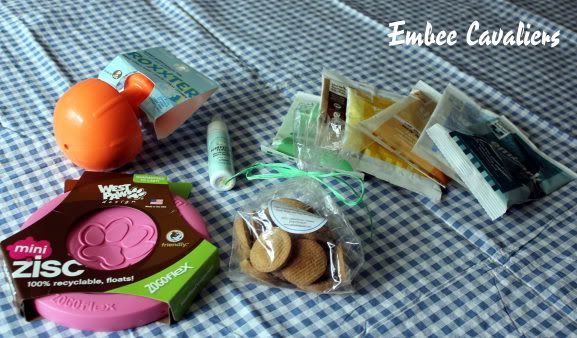 A PINK frisbee. I wonder who this is for? Zozo can't wait to try it out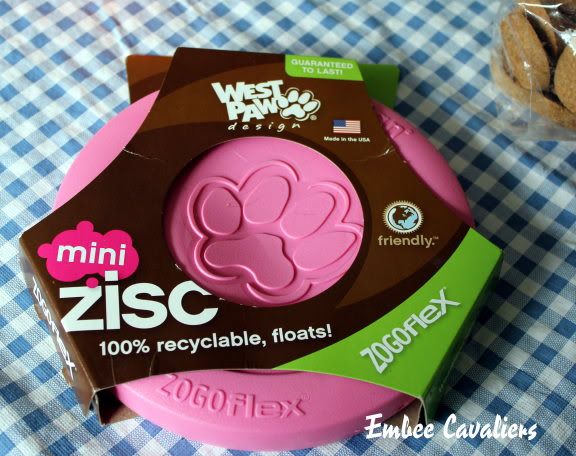 A new favourite around here. I've never seen these before in Canada. We love puzzle toys.
Zoey rocking the Roxxter and Mylee waiting to snarf the treats that come out of it…these two have a strange relationship.
We've already used this several times for a certain someone…I did notice a positive difference in the car (our biggest challenge)

Can I please have my new frisbee? I wish I was taller, I'd get it myself!
NO Zozo.. demanding it won't work! Where are your manners?!
We will have to wait a few more days to try it out. Wintery weather has returned to Southern Ontario. Who invited the snow for April?